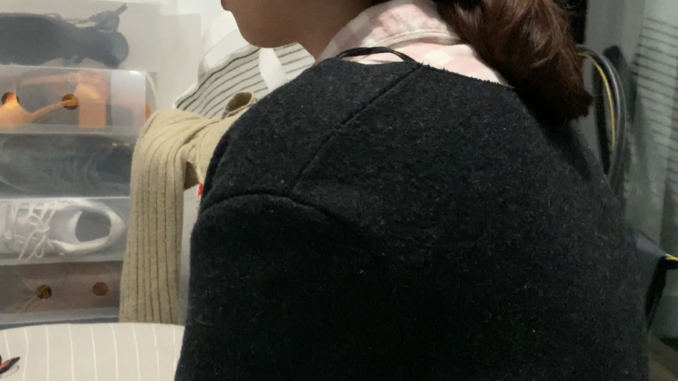 Night falls on the streets of Sydney in May. After classes, Ya Gao walks home to a Meriton apartment on Jones Street. It sounds like an ideal student home, but less than 3 square meters of this new apartment belongs to her.
"It is far from my ideal living environment," Ya Gao said. She is an international postgraduate student of International Health and she has been studying and living in Sydney for nearly a year. At school, she is a hard-working, diligent and a cheerful participant in seminars. Only a few of her friends know that she sleeps and studies in a tiny balcony space, part of an overcrowded share flat.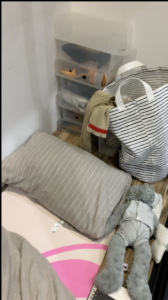 On Gao's balcony the temperature is conspicuously lower in winter than indoors, and hotter in summer. She cannot hang up curtains because the glazing is unbearable by glass windows. For this reason, she uses the foam pads as awnings which were left by previous tenants.
"The price of my share-room is 100 dollars per week, and my roommates pay 290 dollars per week for their bed", Gao said. In fact, her other two roommates share a bedroom of less 10 square meters with only half a fist of space between the beds. She moved here three months ago. The video below is a guided tour of her living space.
"My family paid most of my tuition, and I don't want my parents to worry about my living expenses." This is the last semester of Gao, and she wants to pay more attention to her academic study rather than the salary for paying the higher cost of renting by working two part-time jobs. She rented an apartment in Mascot at a lower price before but had to spend much more time shuttling among workplaces, school and home. Therefore, she can accept this tiny room to be close to the school.
However, a large number of international students also are facing the high price to rent and overcrowded living environment in Sydney.
According to the Canadian National Occupancy Standard, no more than two adults live in the standard household's bedroom. This CNOS criterion is officially recognized in Sydney. At the same time, a joint survey of student's housing situation shows that there are many students had negative living experiences in high rents, and even 10% of them did not sign formal rent contracts.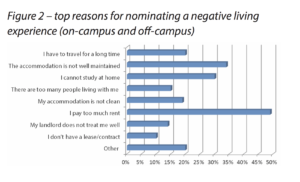 For lower rental prices, many international students choose to live in a sharing-room, and the places around the campus become more populated for shared room accommodation.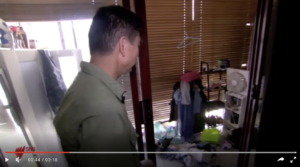 (You can see the whole video at SBS: https://www.sbs.com.au/news/ten-people-in-a-two-bed-unit-international-students-living-in-squalor)
Professor Nicole Gurran, the co-author of Informal accommodation and vulnerable households, pointed out that the overcrowded living environment is subject to the planning building regulations. She also believed that vulnerable groups and low-income people were affected by the housing affordability crisis, leading to the rental of informal or illegal housing.
What's more, this data of informal rent is easily hidden and difficult to be supervised. Ya Gao also rent a sublease from roommates without informing the real estate agent.
And Perry Zhang (alias), an employee of a real estate agency, said that the agency and the landlord would check the occupancy status of the tenants regularly. One is to ensure the integrity of the house itself, and the other is to know well the information of the tenants. Some tenants are allowed to sublet, but the rental agents must be informed of this situation and give the rights to tenants.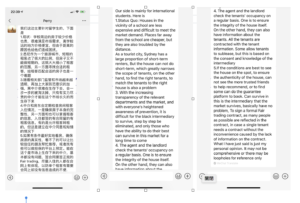 In fact, no one came to check Ya's situation until now. Due to the short lease period of cubicles, it is difficult for an intermediary to control the subletting of tenants. However, this rental mode may lead to many health problems and even security risks.
In 2012, a 21-year-old Chinese student lost her life in a fire because there was no fire-fighting equipment installed as required in her apartment. Zhang Kangni and Ginger Jiang were trapped on the ledge outside their bedroom when the fire became violently. They chose to jump out of the building. Finally, Ginger must live her life in a wheelchair in the future and Zhang died.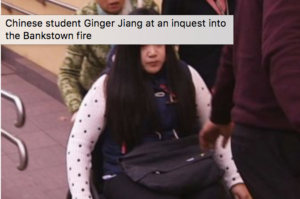 In addition, in 2014, 15 Japanese and South Koreans narrowly escaped fire from their Alexandria shanty town. Mark Reilly, the Fire and Rescue NSW superintendent, toldThe Sydney Morning Heraldthat unauthorized modifications would affect the effectiveness of sprinklers and smoke alarms. Furthermore, blocked exits and overcrowding also jeopardize the safety of residents.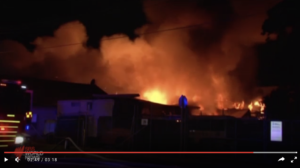 Except being overcrowded, the problem of international students housing also includes informal rental contracts. On May 22, this Wednesday, Inndeavor Realty hosted clients at The Head office of Mascot to answer recent tenants' complaints.
Anthony Tian, an overseas student in Digital Communication and Culture at the University of Sydney, is one of the tenants who filed a complaint. He said the main complaint was about the refund of housing deposits. According to the requirements of NSW Fair Trading, "A rental bond (Tenant pays the money before they start a tenancy agreement) cannot exceed four weeks", and all bonds must be submitted to Fair Trading.
However, Inndeavor charged Tian a deposit for six weeks and explained the six-week deposit included a four-week bond and a two-week advance deposit. The Fair Trading says that these two weeks rental fee in advance is not included in bonds. Additionally, Inndeavor also asked Tian and his roommate to pay the deposit for furniture.
Tian paid a deposit of $4,600 totally and the agency returned $2,800 after they check out. Up to the deadline, the agent still did not make an agreement with Tian about the cost description.
Therefore, international students are facing an overcrowded living environment and are at risk of contracts in the chaos of the short-term rental market in Sydney.
Professor Gurran told Domain that illegal dwelling productions are increasing in this city with insecure rental agreements becoming more and more common.
In 2015, a new City of Sydney investigation squad was a charge for exposing and shutting down the black market of dangerous short-term rent. However, now, in 2019, Zahra's Nasreen and Kristian Ruming reported that 27% of sharing-rooms in their survey are still overcrowded.
In her co-report, Professor Gurran made three pieces of advice, including
"increasing the supply of affordable rental accommodation, helping low-income and vulnerable people to join in routine system and raising tenants' awareness of rights".
In other words, for international students, these pieces of advice mean that controlling the price of housing around the campus, providing more convenience for international students to get part-time jobs and earn money for their living expenses, and improving legal awareness for international students.
Besides, Perry Zhang provides more practical advice to international students' rents, including on-site inspections, signing a formal Fair trading contract, and registering the information of all tenants on the contract.
---
If you like this article, share to: