Leaked documents, marked as "Confidential: Internal Only", was revealed by The Australian  (behind pay wall) suggesting Facebook is utilising data analysis to exploit the moods of Australians as young as 14 to allow advertisers to target moments when young people use words such as "worthless", "overwhelmed", "anxious", "stupid", "silly", and "a failure" on the site, according to the document.
The confidential document, details how by monitoring posts, comments and interactions on the platform, Facebook can use the information called "sentiment analysis" to find "moments when young people need a confidence boost."
From the report, the document said:
"Anticipatory emotions are more likely to be expressed early in the week, while reflective emotions increase on the weekend."

"Monday-Thursday is about building confidence; the weekend is for broadcasting achievements."
Facebook has since issued an apology, admitting it is a fault to target young children in this way, and said it had conducted an investigation into the practice.
In its statement to The Australian, Facebook claims:
"We care deeply about the people who use our services and understand the importance of ensuring their safety and wellbeing"
However, on April, 2017, Facebook released a second statement describing The Australian's story as "misleading".
Even though Facebook admits that the research did not follow established process of reviewing "the research we perform", it claims that the firm does not "offer tools to target people based on their emotional state".
---
How Facebook ads work
Bruno Rodriguez Armesto, a lecturer in the University of Sydney for the postgraduate unit "New Media Audiences", who have considerable marketing experience, reveals that advertisers could target Facebook users through algorithm and other data machine based on its users' behaviour, interests, financial states and demographics.
For example, richer Facebook users tend to follow pages about wine whilst users with lower income are more likely to follow beer pages. Hence, Facebook can also target emotionally vulnerable users when depressed users like or follow pages with the words of 'suicide', 'psychological damage', 'mental disorder', or 'psychotherapy'.
---
Online Privacy for Teens
Pew Research Centre issued a research regarding teenagers, social media, and privacy, illustrating that most of the teenage Facebook users are concerned about their privacy; 60% of them limit third-party access to their personal information on Facebook by managing their privacy settings and give only approved friends permission to view the information.
Remarkably, among the 9% in total who said they were "very concerned about third party access to the information they share", teenage users of 12 to 13 years old (who are now 16 to 17 years old) consisted of a much more considerable proportion than older adolescents. This may imply a growing concern amongst the new generation about their privacy on social media sites; at least it is evident that teenage Facebook users nowadays put increasing emphasis on the issue.
In addition, Facebook is the most popular (71%) social media platform for teens according to the report of Pew Research Center. However, the site exploits the high level of expectation of teenagers who assume that their privacy would be protected; they do care about their privacy when they expose themselves on the Internet.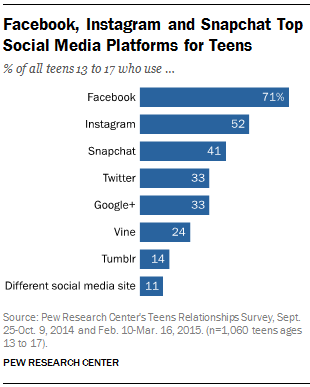 ---
"I feel betrayed…"
Ivan is a 16-year-old high school student who uses Facebook "almost constantly".
"I use it very often, like every five minutes. It is addictive, and I use Facebook on my phone whenever I feel uncomfortable or want to pay attention to somewhere. So most of the time I Facebook when I am walking alone, when I am in an elevator full of people, or during lessons."
I first met Ivan at Darling Harbour, he was a little introverted and shy. He always tried to avoid eye contact with me when we are chatting. It is more obvious in the clip of an abstract of the interview below; he was looking at different directions and avoiding eye contact even while he was responding to my questions.
However, when I look at his posts on Facebook and other social media sites, it seems that he is a different person online; he is active in posting his daily life, always comments on others' posts. He shares a large number of his paintings and sketches, videos of entertaining with his cat, and of his piano clips. He told me that receiving a lot of "like" from his friends would give him a sense of self-accomplishment. "Every time I receive 'likes' from my friends, it's like an approval for me", said Ivan.
For him, Facebook is a place where he can truly be themselves, implying things and saying things they would not in real life.
"Facebook… it's like, it's my private space. If I can't get privacy at school, at home, I think, at least, I should get privacy on a social media."
When he knew that Facebook conducted "sentiment analysis" on teenagers to target them based on their emotional state, he feel uncomfortable and betrayed.
"This is terrible. Yes, I had posted some status on Facebook when I was sad. But I don't know they stalk my post, and even analyse me!"
He is sharing almost everything on Facebook, sacrificing his personal information to gain more benefits from the Internet; he provides more information on his profile such as his demographics, interests, and organisation to gain more audiences (his friends and followers) for his personal page, and thus to receive more "likes". "But," he said, "this is not to say that I don't care about either Facebook or third-party access my data."
This is not the first time that Facebook utilises data analysis to monitor users' emotions in order to target them. According to BuzzFeed, a 2016 report issued by ProPublica revealed that Facebook gives advertisers the ability to exclude people based on "race, gender and other sensitive factors"; it calls these specific groups as "Ethnic Affinities".
The ubiquitous social networking sites like Facebook arouses the social issue regarding tensions between users' desire for their online interaction in especially personal ways and their assumptions that their privacy would be protected when they disclose of themselves on the Internet. For example, we may have been irritated by promoting advertisements that pop up when we scroll down the screen though, we still enjoy the benefits that the Internet and social media offer.
Ivan said:
"I trust them… I share, like, everything. How I feel about my life, my photos of myself and others. If it is really the case, then someone I don't know is indeed stalking my posts and analysing me, I feel… it is a bit cringe."