The chosen Article for Assignment 1 is by Vice, following the topic of Covid-19, specifically Australia's first drive thru testing station in Adelaide, South Australia.
Layout
– The simple design allows for an easy read.
– The headline is centred, bold and larger.
– The chunk of the copy is clear, concise and separated appropriately.
– Above the headline is a small hypertext titled coronavirus, linking users easily to other related articles by Vice, a convenient way for users to continue reading about the topic without leaving the webpage.
– The unrelated advertisements are distracting and in the middle of the article, rather than on the side of the page.
– The interface is the same on desktop and smartphones.
Search Engine Optimization
– the headings, subheadings, hypertexts, copy and other content has an average number of keywords relative to the topic, giving it an average chance to end up in online search results.
– Social media network share buttons improve it likeliness to be shared.
General
– The article relays the significance by explaining what will happen by answering the 5ws and a h in 6 paragraphs and used one image.
– Additional resources, facts, and quotes by experts and international case studies would improve its search results and its overall quality.
– Published at 4pm, playing with the notion higher online traffic times.
– Author is mentioned with quick links to socials and other work.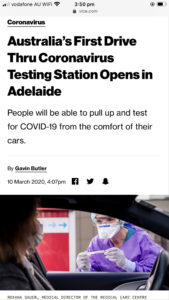 By Krystal de Plater.