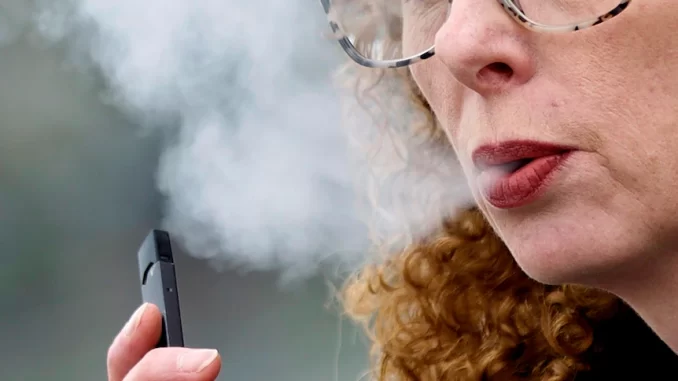 In a move to prevent second-hand smoke, the South Australian government will ban smoking in public places and the use of e-cigarettes.
The use of e-cigarettes and smoking in outdoor public places will also be banned near schools, shopping centers, buildings, and children's playgrounds.
Tobacco production, marketing, and consumption affect the environment as well as human health.
There are significant resource inputs involved in the global tobacco supply chain that negatively impact the environment, such as using harmful chemicals on tobacco farms, deforestation, residential and bushfire emissions, and non-biodegradable waste.
The study also found that e-cigarettes are concentrated among young people. The New South Wales Population Health Survey, by 2021, 16.2% of adults had used an e-cigarette and 5.5% were current (daily or occasional) users.
In 2020-21, the use of e-cigarettes was highest among 16–24-year-old, both former users (32.7%) and current users (11.1%). Men were more likely than women to have used e-cigarettes (37.4% versus 27.7%).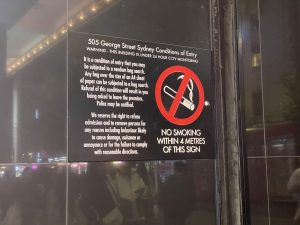 (This picture was taken in Townhall Sydeny. Photos form: Xiaoting Zhu)
Interview with a non-smoking IT student at the University of Sydney.
"Sydney has signs prohibiting smoking in some public places. In that case, I will let them know that smoking is not allowed at this establishment."
"If you continue to behave in this manner, the police will arrive and fine you," said Jianqi.
"I find it difficult to avoid them because I see many people smoking e-cigarettes as I walk around the streets because many people believe e-cigarettes don't have a strong taste, so they won't affect others."
"Many people smoke e-cigarettes, but there is no clear statement that e-cigarettes are not allowed on the no-smoking sign," said Jianqi.
He said even though they don't smoke in front of me, they smoke in small public places, allowing the smell of smoke to linger for quite some time."
"I have noticed that many toilets in shopping malls smell like smoke, for instance. As far as I'm concerned, I cannot comprehend and hate this kind of behavior," said Jianqi.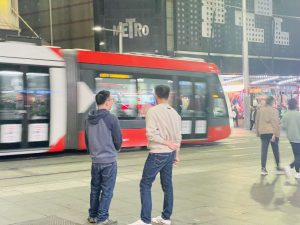 "In Sydney, public places should be banned from having cigarettes and e-cigarettes for the same reasons. I have seen that there are no signs banning smoking in many public places,"said Jianqi.
"Additionally, I have not seen any signs indicating that smoking is not allowed."
"Non-smokers will feel safer and more comfortable in a good public environment with this policy."
"It's because of the relatively slow air circulation speed of the mall's toilets that the unpleasant odor of cigarettes will remain in the toilets for a long time," said Jianqi.
(Public place where two men were smoking. Photos form: Xiaoting Zhu)
"And I am one of those people who always smell cigarettes coughing, so I dislike behavior like this that indirectly leads to secondhand smoke smoking."
Do you think smoking is harmful to our health?
"Smoking, in my opinion, directly impacts the throat. As an example, smokers are more likely to suffer from pharyngitis and respiratory diseases which will weaken their immune systems,"Mr Lin said.
He said it is also known that smoking damages the brain and can cause mental decline. So, teenagers who smoke tend to have poor moods and deterioration in their memory.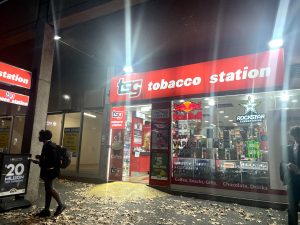 (This picture was taken in tobacco station in Sydeny. Photos form: Xiaoting Zhu)
An interview with a Sydney tobacco shop clerk
Do you think there will be many minors buying cigarettes in your shop?
"We all know that selling cigarettes to minors is illegal. It happens all the time."
"Tobacco products and alcohol are also subject to the 18-year-old consent age in Australia. The purchase, possession, or smoking of tobacco products by minors is prohibited," said Xinyu.
She said many underage people are still interested in trying cigarettes. Every time they pass by, I think they would like to purchase them.
"But I always let them know that cigarettes and e-cigarettes have certain health risks."
"Because the more addicted people become to cigarettes, the drier their skin will become. And I don't think they have that much spirit," said Xinyu.
She said there have also been several measures taken by the Australian government to ensure the enforcement of tobacco laws.
"For example, smoking is banned in public places and on public transport, and there are signs in public places saying that smoking will result in a fine,"Ms Chen said.
Is there a possibility that your store's income will be affected if smoking is banned in public places?
"There have been a lot of job losses due to the ban on e-cigarettes, since many people make money from these products, and there are no flavored e-cigarettes on the market, which is also a problem for us,"Ms Chen said.
"In this situation, we are affected, but I think it is a positive change. But I don't think it will reduce smoking rates because so many people vape, and then people vape on the road,"said Xinyu.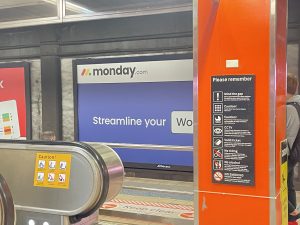 (This picture was taken in Sydeny Railway station. Photos form: Xiaoting Zhu)
"To better remind citizens that they will be fined if they smoke in public places, the price of fines should be updated. In addition, it is a good reminder that we can reduce smoking and protect the environment."
"I think it should be written in different languages and show the fines for smoking in public places."
Suggestion for Banned Smoking from Public Places
Tobacco and e-cigarettes are banned from public places through increased legislation, enforcement, education and support, the Albanese government is taking strong action to reduce smoking and eliminate vaping. This is especially among young Australians.
Australians will be protected from tobacco and vaping-related harm with $737 million in the 2023-24 budget.
(In Syndey public places, smoking should be banned. Video from : Xiaoting Zhu)
The most effective way to eliminate smoking is through physical activity, according to many experts and young people. "Quitters," a YouTube truth series that follows young people using this is Quitting smoking, focuses on Brian's passion for cycling.
McCall Mirabella runs whenever she feels the urge to vape. She chronicles her journey on TikTok and YouTube.
She created a customized smoking cessation challenge with Truth that reached over 2,500 young people in six days after partnering with her.