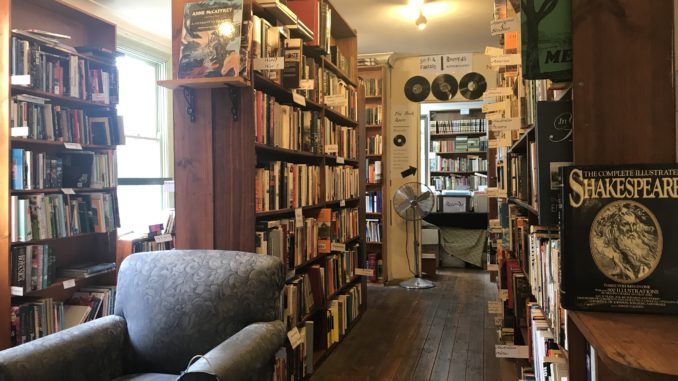 Ten years ago, King Street alone had at least five secondhand bookshops: Last Books, Fine Print Books, Books on King, Gould's Book Arcade and Elizabeth's Bookshop. Today, only two remain.
Even with their numbers dwindling as secondhand book-sellers attempt to compete with eBooks, Amazon and Booktopia, owners still have hope that the community they have built around their stores will keep them alive.
Sappho Books, Cafe & Bar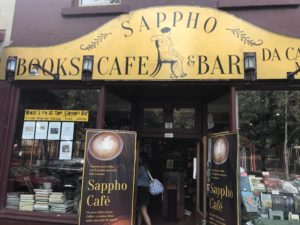 Frequented by students and avid book lovers, Sappho Books, Cafe and Bar is home to people to throughout the day who love to read, dine, study and enjoy evening events like poetry performances and live music.
In 1996, Meredith Baillie began Sappho Books, originally a bookshop which later added the cafe aspect when costumers came in asking for coffee.
The shop is across the road from Victoria Park on Glebe Point Rd. Dark brown bookshelves cover the majority of the wall space in what can be the Victorian style library of your dreams. A set of white creaky stairs in the right of the shop leads to two more book-filled levels — each room with scattered reading chairs and perfectly organized by genre and author. From children's books to psychology books, any book lover can be sure to find a title that piques his or her interest.
"I had always wanted this place and I love this building — it has so much character with the chance to go over two floors and have a huge courtyard," said Baillie.
While you're visiting Sappho,  you can hear in the background the clattering of plates and the hiss of the coffee machine in the courtyard. At first thought, it might be disturbing, but after a few minutes between the hum of the clattering, the murmur of people's voices, the soft music that echoes in the room… it feels like home.
Baillie said the best way to compete against the modern online experience of shopping is by offering an enjoyable alternative. By making Sappho a community place with a friendly cafe environment it soon became what Baillie was hoping.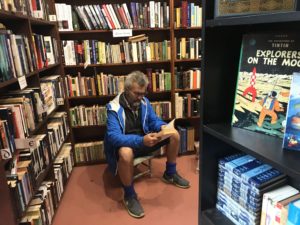 "It's surprised me," she said. "It just happened."
Students frequent the space of Sappho — to study, escape, eat lunch, or to find a good read.
"When I can't focus on my schoolwork at home and just don't feel like being at uni I come here and study while enjoying a nice cup of chai," said Sarah Huges, creative writing student at the University of Sydney. "Often, I also come here with my mates to catch up and chill for a bit."
Even though Sappho's is close to the University of Sydney, Notre Dame University, and the University of Technology Sydney, Baillie said that the customers range vastly in age, easily from late teens to 80s.
"It takes a lot of work these days to keep a bookshop going," said Baillie. "But the interaction with people makes it special."
Ampersand Cafe & Bookstore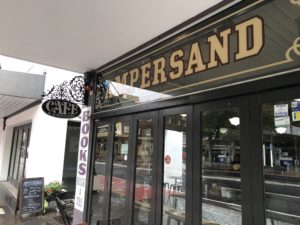 Unlike Sappho Books, on entering Ampersand Cafe & Bookstore you are immediately greeted by the grinding coffee beans. After passing the counter, black wooden stairs invite you into the unique experience of dining while being surrounded by the musky smell of books that cover every inch of the walls.
"It feels like home, the setting, surrounded by books — it takes them back in time," said Vangel Cvetkoski, the current owner of Ampersand.
Cvetkoski bought Ampersand from its previous owners five years ago because he liked the concept and the vibe of the combination of a bookshop and a cafe.
Cafes and bookshops have a symbiotic relationship where people who come in have the opportunity to dine while being surrounded by books they can purchase. Several bookshops in Sydney have embraced this business model.
Cvetkoski's main focus for Ampersand is the cafe — he wants to provide good enough food and coffee that will make people continue coming.
Cvetkoski said that women in their twenties frequently spend their time at Ampersand. Many bringing their laptops to study in the various tables available throughout the five rooms in the shop.
Ampersand hosts different events throughout the year. Some of their past events included book writing workshops, plays, book clubs, corporate events, and parties.
"It's a social setting, they come here to catch up and talk about what they've done since the last time they were together," he said. "There are people who enjoy reading so quite often they'll look around, they'll find books and they'll take them home."
Gould's Book Arcade
A Newtown treasure, Gould's Book Arcade was established in 1988 and ran by Bob Gould — left-wing activist, founder of the anti-Vietnam War movement, and local hero — until his passing in 2011. The shop was considered an icon by the LGBTQI friendly and book-loving community of Newtown. Gould's used to live on the city end of King Street, but due to the rising cost of rent of the iconic two level brick store, Gould's closed their doors and re-opened their doors on the southern end of King Street in 2018.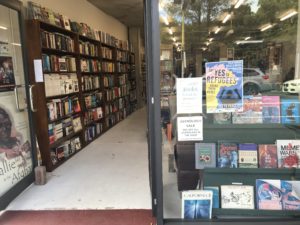 The new Gould's Book Arcade is easily missed in 536 King St if you are not actively keeping an eye out for it. The only way you'd know you arrived at the right place is if you pay attention to the A4 paper taped on the glass window and the cart filled with books outside the door.
"A lot of the customers don't even know we are here, to be honest – we are not terribly good at social media and we haven't done a lot of publicity," said Natalie Gould, daughter of store founder Bob Gould.
However, people still come in a browse through the rows of books.
"Browsing books online is not the same as browsing books in a store," she said. "Online you have to know what to look for, at a store you are actually browsing."
Gould believes that secondhand bookshops by their very nature will have a better variety of book than new bookshops because secondhand shops will have a vast collection of stories from the past which attracts varies people.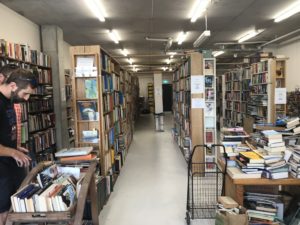 After the downsizing of the shop, Gould's began listing and selling their inventory online in hopes to stay afloat.
"Half of the second-hand bookshops have gone internet only," she said. "We've got to try every avenue you can."
Unlike Sappho Books and Ampersand, Gould's does not have a cafe attached to it, nor does it plan on having one any time soon.
"Most bookshops that survive on the cafe are kind of just cafes with book decorations," said Gould. "[Gould's] is the only bookshop like it in town. It was a treasure."
Other popular bookshops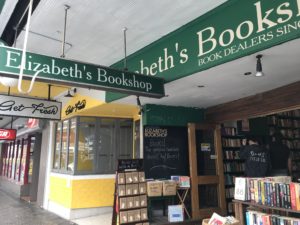 Elizabeth's Bookshop is less than a 10-minute walk from Newtown Station. This hole in the wall shop with its green bookshelves is well known in the Newtown community — however, Elizabeth's was originally established in Perth in 1973 and branched out to several different locations throughout Australia.
Popular for its blind date with a book — Elizabeth is an iconic store in Newtown even though it's not Sydney native. The shop's general manager and owner of Elizabeth's Bookshop were not available to comment.
Gleebooks is an independent bookshop with multiple locations throughout Syndey. However, recently Gleebooks' secondhand bookshop consolidated into the main bookshop at 49 Glebe Point Rd — neighbor to Sappho Books.
While it does have a used book section, it is minuscule, taking up less than a third of the available space on the second level. Hence, Gleebooks cannot truly be considered a secondhand bookshop since it is not its primary focus anymore.
Do you frequent any of these bookshops? If so, what do you like about them?