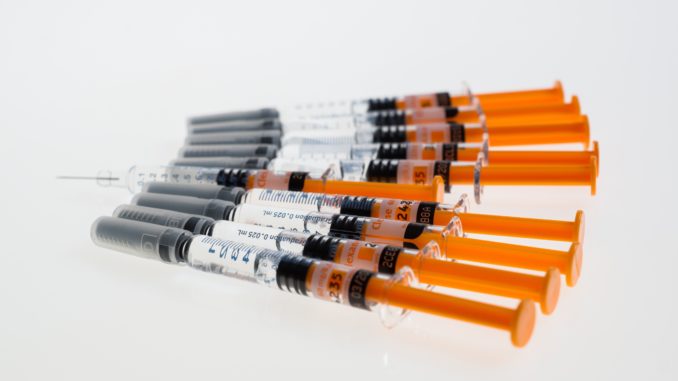 "Common side effects from flu shots include sore arms, mild cold symptoms, aching all over the body, and you might feel really tired afterwards." Xiaochen Wan, a registered nurse at Redfern Station Medical Centre said to me after I got my flu vaccination.
In the next few hours, I had a sore throat and aching arms. I felt tired and almost fell asleep at 7pm because of extreme exhaustion. Before I completely lost consciousness, I asked myself:
"Did I really need to get a flu shot?"
The answer is yes, we all do, and the best time to get a flu shot is right now.
Australia is suffering from a killer flu season.
According to ABC News, the 2019 flu had infected 12339 people by May 11 this year, compared with 1348 at the same period last year. So far, 105 people have died during this flu season, mainly elderly people and children.
In Victoria this year, 23 elderly residents and 3 children have died from flu, according to The Guardian. A total of 37 people have died in NSW, and 17 have died in South Australia, including 13 elderly residents and a 15 years old teenager who had no pre-existing conditions,  ABC News reported.
Chief Medical Officer Professor Paddy Phillips said when he was interviewed by ABC News that at least 18 nursing homes were in lockdown due to over 50 outbreaks of the flu since January this year. He said the number of flu cases by this point of the year "have never been seen".
The 2019 flu strain is not only dangerous but also highly contagious.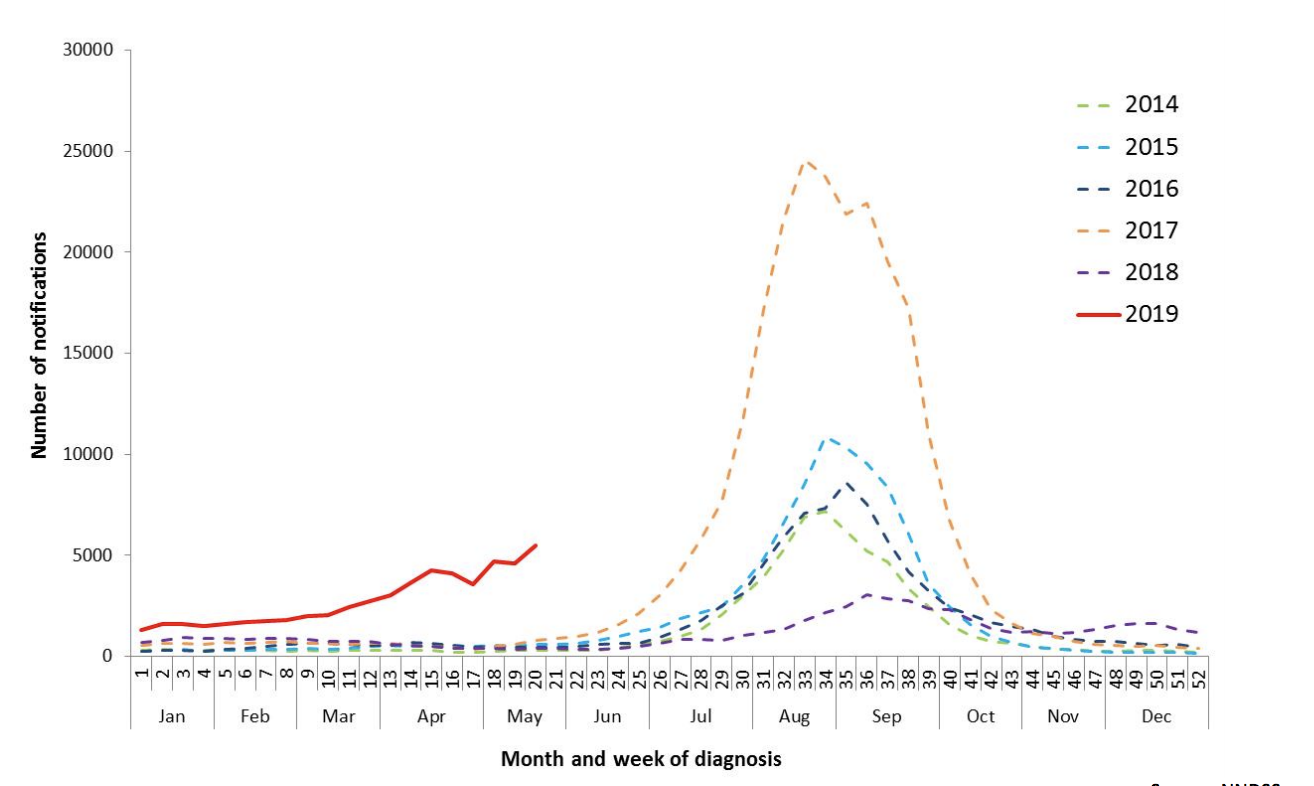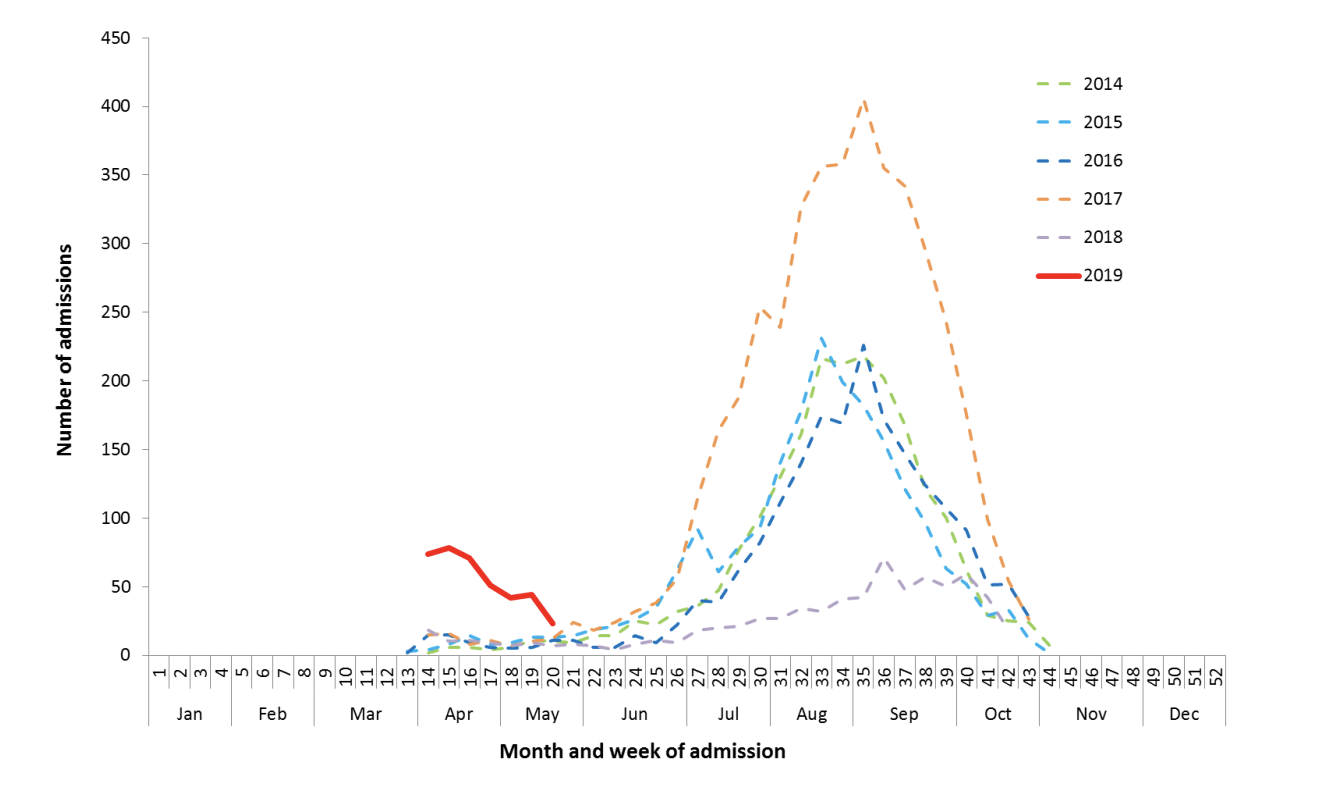 The annual report(PDF) from The Australia Department of Health has published the data spanning up to May 19, which shows that notifications of laboratory-confirmed influenza has remarkably higher than the past few years.(Screenshot 1).
The report also shows that confirmed flu cases during the fortnight before May 19 are three times as many as the average over the same time period in the last 5 years.(Screenshot 2).
Medical Experts predict that over 4000 Australians may die from flu in 2019. Children, teenagers, and aged residents are facing serious threats from influenza;it is also suggested that those who have existing health issues should take actions to protect themselves and families from the deadly flu virus.
It's time to get vaccinated.
Why is the 2019 flu so dangerous?
According to The Australia Department of Health, the 2019 flu in Australia includes a new type A influenza H3N2 strain.
In the past few years, H3N2 has always been one of the most dangerous strains of flu in Australia. It is naturally more severe than other strains. One of the reasons is that people have less chance to expose themselves to H3N2 and develop a natural immunity. The other reason is probably the easy-mutation characteristic of the H3N2 flu strains, which makes the situation much more complicated.
Research about the evolution of the H3N2 strain in humans points out that the H3N2 influenza virus shows dominate killing powers in 3 out of 5 influenza seasons, and its mutation has been fast since it appeared in 1968.
Luckily, the 2019 flu vaccine include four virus strains: H1N1, H3N2, B Colorado, and B Phuket.
Dr Annie Taylor, who works at the Redfern Station Medical Centre, suggests that those who got a flu shot last year should also get one this year:
"It is possible that you could get some degree of immunity from last year's shot, but it's recommended that you get flu shots annually because the vaccine this year will cover different strains."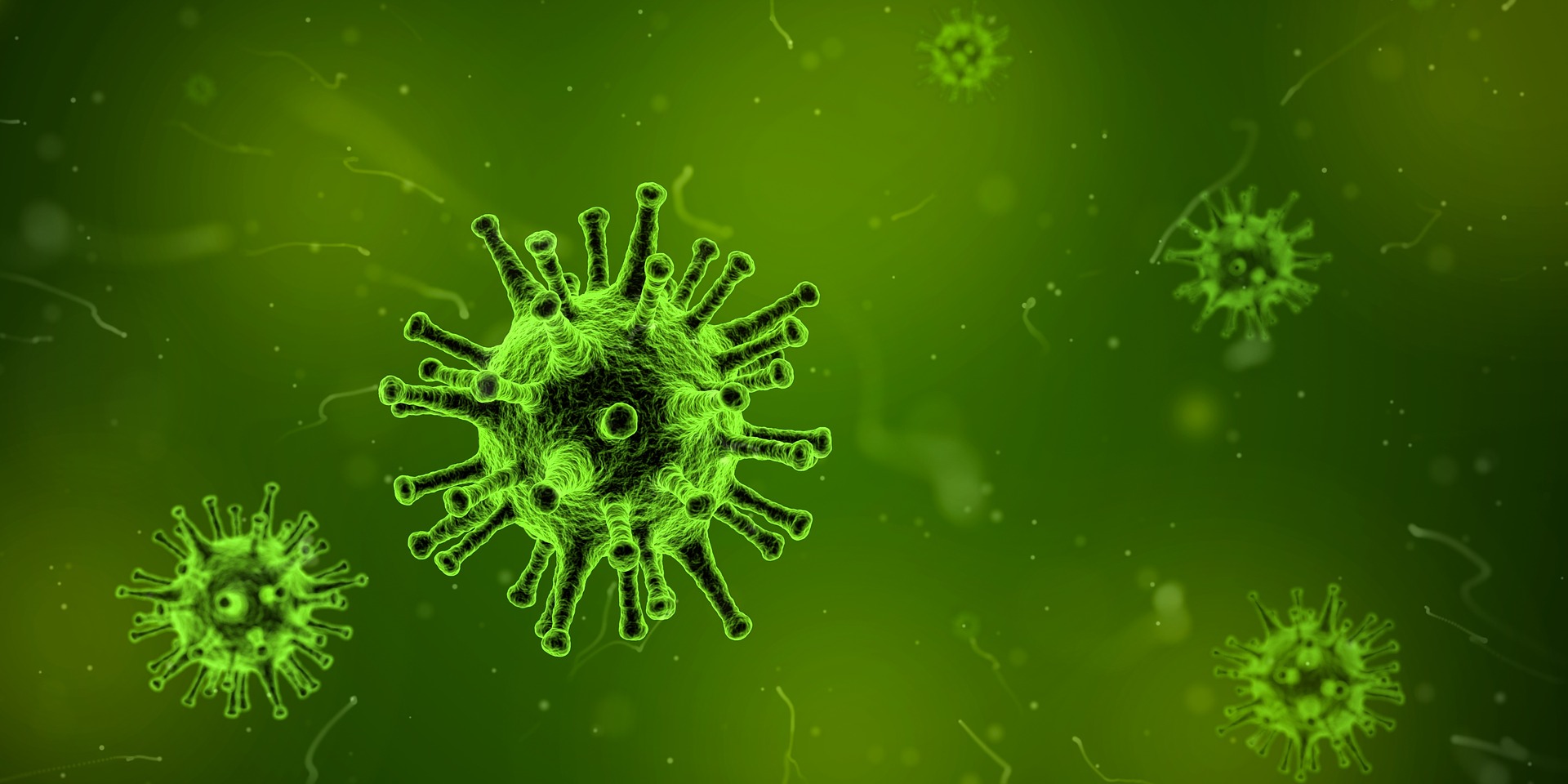 Flu shots won't cause the flu.
The side effects I had from the flu shot are quite similar to the influenza symptoms, which made me wonder, "Am I going to get flu because of a flu shot?"
"This is a common concern, but the flu vaccination we know can not cause influenza," said Dr Annie Taylor. "We know that you can occasionally get flu-like symptoms, but they will go away by themselves."
It is possible to confuse cold or flu shot side effects with influenza because they both entail relatively benign symptoms, including coughing, fever, sneezing, sore throat, and fatigue. However, some symptoms of influenza could include vomiting and diarrhoea for certain people, which are much more severe and dangerous.
"Drinking a lot of water will help."  Xiaochen Wan suggested to me in order to reduce my flu shot side effects.
In fact, the flu shot is still the most effective way to prevent people from getting influenza.
"As far as I know, there are no other ways to prevent influenza. Vaccination is the best way we know." said Dr Annie Taylor.
Another doubts that I had before getting vaccinated was," Am I too late to get vaccinated?"
Influenza usually starts in June and reaches its peak in August; however, it can occur much earlier than that. The monitoring of the influenza trend by the government usually begins in April, and some people already got their flu shots before April. The flu vaccine is able to help people develop immunity after two weeks from the time they get the shot and stays effective for two to four months. The effectiveness of vaccination in April might not last long enough to protect people and their families during the whole flu season.
They need to get another shot, not to mention those who haven't gotten any flu shots this year.
In short, it's the right time to take the flu shot at the end of May, and it will allow you to develop immunity for the rest of the flu season.
What should I know before getting vaccinated?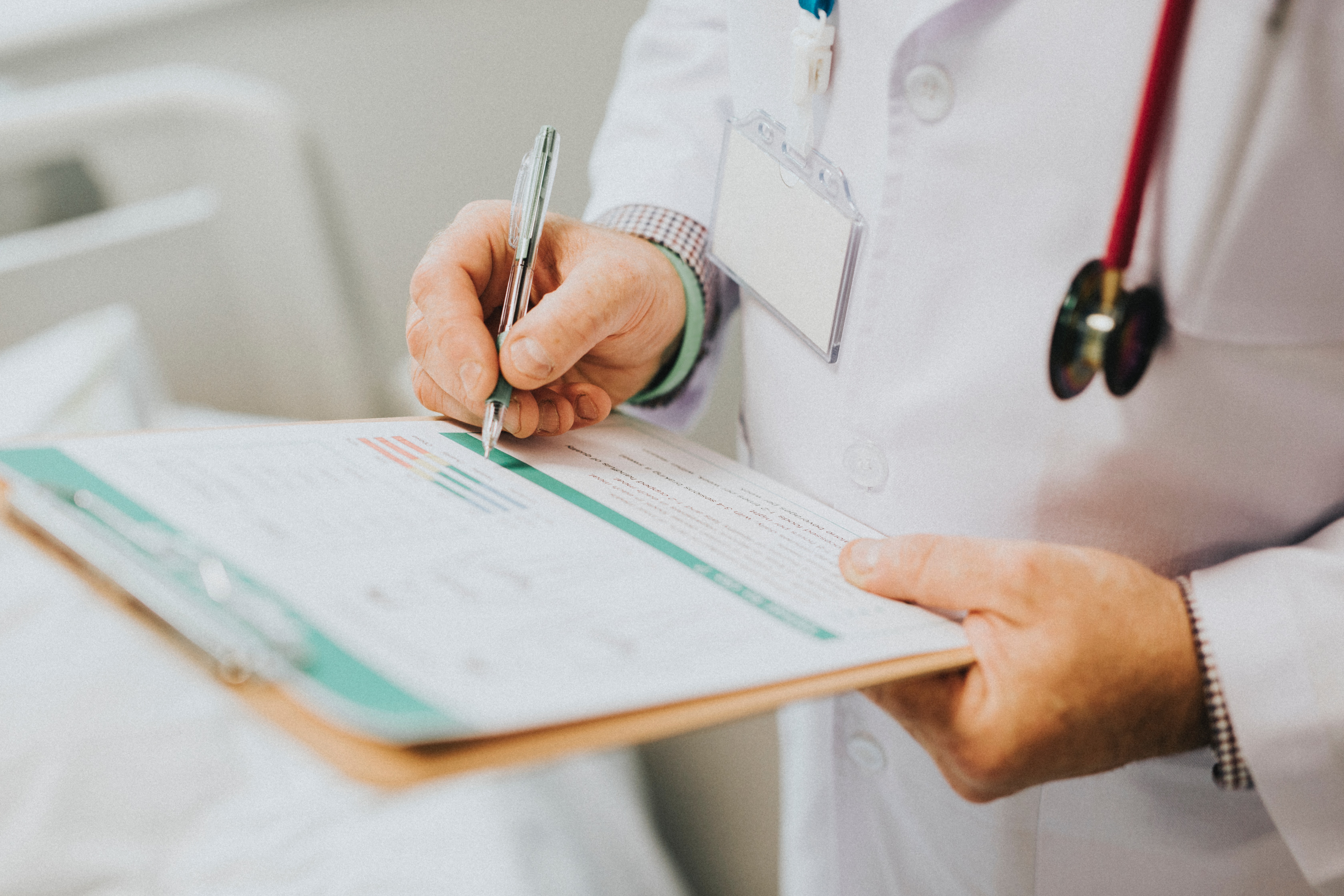 It's vital to know your health condition and allergies.
Gelatin and antibiotics are common ingredients that might threaten certain patients' lives if they are allergic to these ingredients. The medicine you take before vaccination should also be checked. "There are certain medications that might interfere or cause symptoms such as bleeding,"said Dr Annie Taylor.
The CDC , a leading health service, points out that certain types of flu vaccine are not suitable for people who have a history of Guillain-Barré syndrome. However, it's dependent on the specific situation, so Dr Annie Taylor suggests that people who want vaccinations should communicate with the doctor prior to getting the injection.
"Anyone who comes to get a flu shot, we will talk to them about their medical history and medications they are taking."said Dr Annie Taylor.
Find the vaccine that is suitable for your family.
Normally, children younger than six months old are not able to take flu shots, and there are specific types of flu vaccine that are approved for children older than six months.
According to NSW Health , children from six months to five years in age can get free flu shots, residents can take their children to any clinic or other medical centre. This type of vaccine is able to reduce their chance of getting influenza and spreading to other children.
As for children under six months old, NSW Health suggests that mothers get a flu shot during pregnancy, which could confer immunity to their babies for several months.
I've gotten a flu shot, what about you?