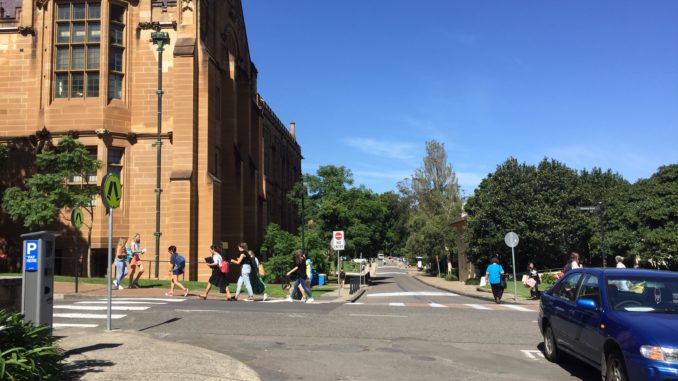 The Daily Telegraph
reported that providers of essay cheating service for college students would face two-year jail under new laws.
"I even have trouble with understanding the question of an assignment, how can I finish my work on time without help," "Sue" asked. She is an international students and studies financial and accounting in Australia.
There is a necessity for prohibiting the service. More importantly, addressing students' problems could be another way to decrease the number of contract cheating.
Students are surrounded by advertisements and websites of essay-writing service, especially for international students.
When the final comes, students can get access to these ads from social media platforms, small paper posted on the wall, e-mail box or websites. These services can even be found on eBay and Taobao which are websites for online shopping.
It is hard to ignore them because they appear in every place.
[smartslider3 slider=10]
Some advertisements are in Chinese and say that they can finish any assignment of various subjects. Every work can even be attached with a report from Turnitin.
"To be honest, the fee makes me hesitated, not the punishment," "Sue" said. The fee is very high. People who choose the service may have to pay up $1 for a word.
Universities have taken many efforts to make students reliese the serious punishment for essay cheating.
The University of Sydney (USYD) considers contract cheating as a serious form of academic dishonesty. For students themselves, involving in contract cheating may lead to failing units, suspending studying and even losing student visa for international students.
"Sue" said that, "I do know the serious consequences of contract cheating, but I assume that it will not happen to me."
It is a common thought of students. They tend to believe they can escape from detection and punishment. A survey of 14,086 college students in Australia found that 42.5% respondents used to engage in contract cheating, and 15.3% used to trade services.
"Sue" had not taken any courses for academic writing in her country because she passed the Ielts Test. But she found a big gap between Ielts writing and academic essay after studying in Australia.
The minimum Ielts score is 7.0 overall and international students can accept business education in USYD.
But not every student is willing to attend in the English learning project considering the educational fee and time. "Sue" put lots of her efforts on passing the Ielts test. It cost her almost $2,000. She really didn't want to spend more money on learning the language.
Judith Morrison, an English teacher at University of Sydney Centre for English Teaching, noticed the problem. She admitted that it is hard to evaluate academic ability of international students due to the large number of candidates.
Judith also recommended that students who have not taken English-speaking class attended in the learning centre. "It provides an opportunity to get familiar with academic writing in English," Judith said.
Chi Zhang is a student who attend in fifteen-week English learning certre. She spent almost $10,000 including expense for learning, eating and living. Amy said, "I feel I have already failed a class before I actually go to the college."
International students may need help with writing English academic essay. A handbook of academic writing for every international student may be effective to address several problems before they actually get into the campus.
Additionally, candidates who want to join in the university could get a chance to evaluate their ability. They will have chance to think again about their choices.
"Sue" blamed the negative feedback for her thinking mode which was vary from tutors and native-speakers. She got used to follow every step that suggested by the tutor and divided her essay into exact parts that tutor mentioned in the class.
"The first time I nearly fail the unit was a result of following the assignment requirement online and I failed to do more work to make the work more creative and innovative."
Chi shared the same confusion with "Sue". "Should we follow the guide exactly? Or we can just consider it as a basic rule and do more creative work?"
"Sue" wish the essay writing service could do better at least not be asked to do the assignment again.
Multimedia assessment and essay required a few in-class materials should be considered. The thoughtful design can prevent students from using a cheating essay to pass the unit. In addition, students can be estimated from multiple dimensions.
Timing-management is another a big problem for "Sue". She said, "When I feel stressful, I would rather watch cartoons than write the essay."
When Sue comes to friends and look for some to talk, she disappointed because all of them were working on their own assignments.
A psychotherapy could be useful, but she did not know the existence of metal health support in the university. The service could be advertised through social media, websites and even e-mail to replace the annoying advertisements related to contract cheating services.
Contract cheating services are surrounding college students. Punishing the service provider is useful. But with the existence of students struggles, the services may just hide instead of vanishing.
Change the entry requirements based on differently cultural background, design the assessment deliberately and deliver positive, legal, and effective method to every student to help them to find a way out.