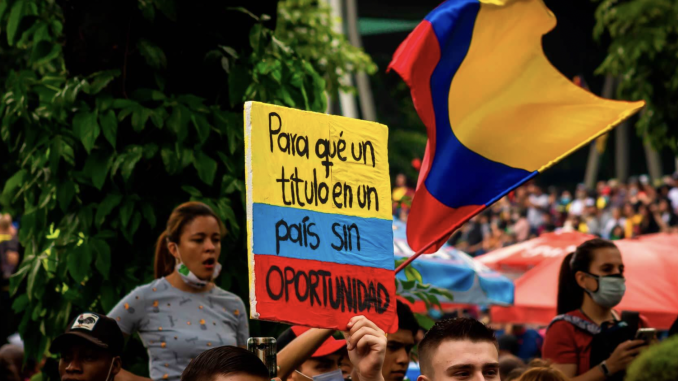 The covid-19 has significantly impacted economies and labour markets worldwide, and Colombia is no exception. The country has been facing a shortage of economic and work opportunities for years, and the pandemic has only worsened matters. As a result, many young Colombians are leaving the country for better opportunities and a brighter future. 
The lack of opportunities in Colombia has been a longstanding issue, particularly for young people. In 2022 the country's unemployment records reached 13%, with youth employment (people between 19 and 28 years old) being 19%, significantly higher than the national average (DANE, 2022). This situation has made it difficult for many young Colombians to find work and build stable careers. 
In Colombia, monthly salaries for recent graduates surround 430 and 600 AUD, just over the 330 minimum wage. Additionally, in recent years private universities' costs ascended to 17000 AUD per year. While public universities are still affordable, student and staff strikes usually prolong a five-year undergraduate into, on average, to an eight-year program. Therefore, most students opt to fund private education with governmental and bank educational loans, which interest oscillates between 11% and 28% annually effective. (ICETEX, 2021)
In the current Colombian panorama, many young people have decided to migrate. Indeed, in 2022 migration records reached a peak of almost half a million Colombians leaving the country without the intention to return, figures never seen before (Voz de America, 2023). The most common countries to migrate to are the USA, Canada, Spain and Australia. In Australia, Colombians constitute one of the largest communities of students. Since visa 500 (student visa) is the most current way for Colombians to start their migration process. 
Why is Australia a country to migrate to? Is Australia open to Colombian migrants? What are the challenges young Colombians migrants face in Australia? In this feature article, we respond from a personal angle to these questions. To do so, I will interview Santiago Diaz and Andrea Rodriguez, Colombian migrants based in Melbourne, to obtain their perspectives on why they left Colombia and how they adjusted to Australian society. Moreover, I will use the migrational data from The Colombian National Administrative Department of Statistics, the Colombian Ministry of Foreign Affairs and the Colombian and Australian embassies to statistically inform the reader. 
The article has two target groups. On the one hand, the Australian community interested in migration which the article aims to inform on a new migration diaspora. On the other hand, young Colombians want to migrate, to which we search to expose a realistic perpective of how living in Australia is. As our article aims to communicate to two different groups, global digital media, such as Vice, will better reach both expected audiences. We expect to publish the article in a media known for opening a platform for individuals' voices. For the multimedia content, we will use personal photos of the interviewees to narrate their stories visually. If possible, we will include an interviewee in Sydney that can allow us to record a video, but this is yet to confirm. Moreover, statistics will illustrate the data. 
References
Botero, M. C. (2022, June 17). El Estado sigue en deuda con los jóvenes colombianos. Universidad Javeriana. https://www.javeriana.edu.co/pesquisa/estado-en-deuda-jovenes-colombianos/
Cancillería Consulado de Colombia en Sídney. (n.d.). Guia inmigrante colombiano Sydney. Consulado de Colombia en Sídney. https://sydney.consulado.gov.co/sites/default/files/FOTOS2019/guia_inmigrante_colombiano_sidney.pdf
CEPAL. (2020, November 1). Los efectos del COVID-19: una oportunidad para reafirmar la centralidad de los derechos humanos de las personas migrantes en el. Repositorio CEPAL. https://repositorio.cepal.org/bitstream/handle/11362/46353/4/S2000618_es.pdf
DANE. (2022, May 6). Estadísticas de migración. DANE. https://www.dane.gov.co/index.php/estadisticas-por-tema/demografia-y-poblacion/estadisticas-de-migracion
DANE. (2022, September 12). Mercado laboral de la Juventud. DANE. https://www.dane.gov.co/files/investigaciones/boletines/ech/juventud/boletin_GEIH_juventud_may22_jul22.pdf
Datos Abiertos Gobierno de Colombia. (2023, April 1). Colombianos en el exterior de 25 a 40 años. Datos Abiertos. https://www.datos.gov.co/Estad-sticas-Nacionales/Colombianos-en-el-exterior-de-25-a-40-a-os/3k8j-4d42
Datos Macro. (n.d.). Desempleo 2023. Datosmacro.com. https://datosmacro.expansion.com/paro
Gómez, C. (2019). Migración de estudiantes colombianos a Australia. ESUMER Institución Universitaria. https://repositorio.esumer.edu.co/jspui/bitstream/esumer/1836/1/Migraci%C3%B3n%20de%20Estudiantes%20Colombianos%20a%20Australia.pdf
ICETEX. (2021, January 14). Tasa de interés del crédito de ICETEX presenta una reducción del 2,19% con respecto a la registrada en 2020. ICETEX. https://web.icetex.gov.co/es/-/tasa-de-interes-del-credito-de-icetex-presenta-una-reduccion-del-2-19-con-respecto-a-la-registrada-en-2020
Index Mundi. (n.d.). Tasa de desempleo – Comparación de Países. IndexMundi. https://www.indexmundi.com/g/r.aspx?v=74&l=es
Organizacion Mundial Del Trabajo. (2020, August 11). Los jóvenes y la pandemia de la COVID-19: efectos en los empleos, la educación, los derechos y el bienestar mental. ILO. https://www.ilo.org/global/topics/youth-employment/publications/WCMS_753054/lang–es/index.htm
Revista Semana. (2021). La Generación en Suspenso. Semana. https://especiales.semana.com/coronavirus-colombia-generacion-en-suspenso/index.html
Revista Semana. (2022, August 17). Cada vez más jóvenes colombianos están optando por terminar sus estudios en EE. UU. Semana.com. https://www.semana.com/finanzas/trabajo-y-educacion/articulo/cada-vez-mas-jovenes-colombianos-estan-optando-por-terminar-sus-estudios-en-ee-uu/202253/
Rojas, P. (2022, August 24). Descubre los mejores países para emigrar desde Colombia. GrowPro Experience. https://growproexperience.com/global/mejores-paises-para-emigrar-desde-colombia/
Torrado, S. (2023, February 18). La emigración de colombianos rompe todos los registros. EL PAÍS. https://elpais.com/america-colombia/2023-02-18/la-emigracion-de-colombianos-rompe-todos-los-registros.html
Voz de America. (2023, February 21). ¿Qué hay detrás de la cifra récord de colombianos que emigraron en 2022? Voz de América. https://www.vozdeamerica.com/a/analisis-2022-cifra-record-colombianos-migraron-causas-/6971747.html