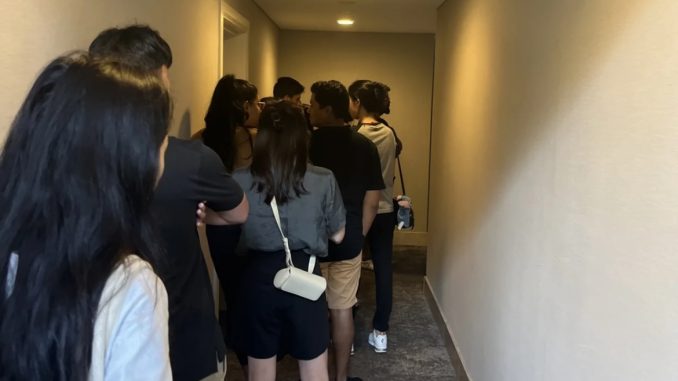 The influx of international students to Sydney has brought attention to the challenges they face in securing suitable accommodation amidst the city's rental crisis. As rental prices soar and housing supply dwindles, international students are caught in a struggle for equal rental opportunities. With financial pressures, discrimination, and limited support, they are left wondering if universities and government will step in to address this pressing issue.
Education has long been a cornerstone of Australia's export industry, with international students playing a significant role. In 2022, Education managed to contribute over $29 billion to the economy, despite the challenges brought about by the pandemic. International students contributing $25.5 billion, while an additional $3.5 billion was added by students studying online. In January 2023, the Chinese Ministry of Education claimed that it would no longer award degrees to remote students in order to maintain equity in education.
Navigating Housing Challenges and Cultural Values
According to PFEC Global, accommodation ranks among the Top 7 Challenges for International Students Who Study in Australia. Moving to Sydney after the pandemic, international students are finding community and settling into life in a brand-new city. Sydney, the city with the highest cost of living in Australia, is in a situation where there is less housing and more people. While integrating into the new society, students also consider Chinese traditional cultural values. The value of the house is a primary consideration, including factors such as proximity to the school, convenient transportation, and the safety of the surrounding environment. Recent data from Domain indicates that the country is currently undergoing its longest period of sustained rental price increases, with Sydney's median price surpassing $600 across the board for the first time. Notably, the number of property viewings near campuses has surged by 106%, while the average rent for a two-bedroom apartment exceeds $1,050.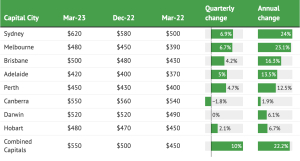 International student tenants face several common challenges and concerns when searching for properties in Sydney. These include rental affordability due to the city's high cost of living, limited rental history in Australia, and a lack of local knowledge about the rental market and application process.
Yating, a student from the University of New South Wales, resided in a two-bedroom, two-bathroom apartment in Zetland, located near the university. Despite its location outside the city center, the weekly rent for the apartment was approximately $450.
During the initial weeks after arriving in Sydney, Yating faced challenges in finding suitable housing and had to resort to staying in hotels. "As an international student, the process of searching for an apartment proved to be demanding and time-consuming," Yating said. She mentioned that the main challenges she encountered were the crucial task of selecting a trustworthy agent and the additional hurdle of not being able to physically inspect the apartments.
Yating further revealed that the stark disproportion between income and housing expenses is indeed distressing. She experienced multiple rejections in her rental applications due to landlords' concerns about her ability as an international student to meet the rent payments. In Australia, the minimum wage is $21.38 per hour, and international students are typically limited to working a maximum of 48 hours per fortnight. Yating is currently interning 18 hours per week, resulting in an approximate weekly income of $378.
In contrast to Yating's concerns about financial capability, a student from the University of Sydney Jianing said, she had a relatively challenging experience in renting due to being frequently overlooked, primarily because she is a girl from Asia.
"I have submitted seven rental applications, but most of them did not receive any response. So I kept asking the properties for the reasons, and they informed me that the landlords prefer tenants who work full-time in Sydney, especially those who have a prior rental ledger in Australia," Jianing said.
"They also mentioned that some landlords have personal concerns that girls might make the room messy and communicate difficulties with someone like me, who is a non-native English speaker and from a different ethnic background. If I want to have priority, increasing the rent is my only competitive advantage."
Insights from Landlords and Real estate agents on Sydney's Rental Market
Mr. Gao, the landlord, has 7 years of leasing experience in Sydney. He said rental price, leasing period, payment method, and qualification of potential tenants are the main factors he considers.
"It has been a booming period in the property leasing market since late 2022, especially in areas convenient for campus communities such as Darling Square, Central Park, Zetland, and Green Square, with at least a 50% increase," Mr. Gao said. He also acknowledges the challenges faced by international student tenants and attributes the current state of the property market to labor shortages, rising construction costs, and escalating land prices.
We're tracking the impact of rent bidding since mid December 2022 when initial reforms were implemented.

Information will be used in ensuring rent bidding reform is effective. You can complete for each instance of rent bidding at different properties.https://t.co/YDPZ1Ww1OX pic.twitter.com/FPRJDnWOAL

— Tenants' Union of NSW (@TUNSW) May 26, 2023
Like Mr. Gao, Real estate agents Mr. Peng shed light on the rental situation in Sydney, noting that it is a popular destination for international students.
"Rental prices near university campuses are typically higher due to the high demand, prompting landlords and property owners to adjust prices accordingly. The demand for such properties can fluctuate based on factors like student enrollment, population changes, and housing market shifts," Mr. Peng said. "Government policies, including visa regulations and international student quotas, can also impact the demand for rentals near universities."
Despite the challenges, international students remain hopeful and advocate for comprehensive measures to address the rental crisis. Collaboration between educational institutions, government, and private stakeholders is seen as essential in creating more affordable housing options near universities and alleviating students' burdens.
Yating and Jianing advocate for fair and inclusive rental practices that ensure equal treatment for all tenants, regardless of their nationality or ethnic background. "Increased awareness, education, and stringent legal measures can help combat discriminatory practices within the rental market," they said.
Mr. Gao calls for targeted support programs, such as affordable housing initiatives and rental subsidies, tailored to assist international students.
Mr. Peng suggested beneficial support include providing purpose-built student accommodations and implementing rental assistance programs or subsidies, to alleviate financial burdens.