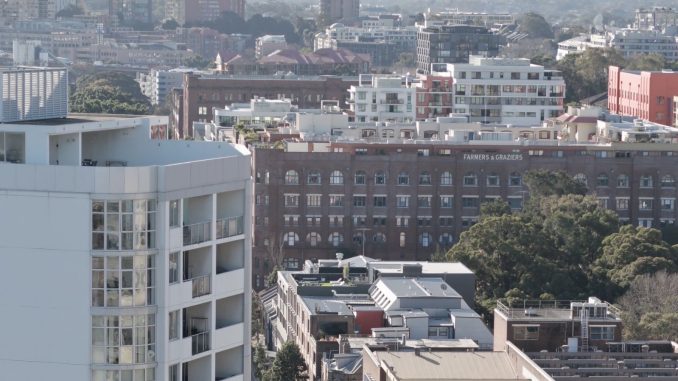 International education plays a vital role in Australia's economy. However, the ongoing rental crisis is severely impacting the lives of international students, raising concerns among an increasing number of people.
Alex Gao, a postgraduate student studying public relation at the University of Sydney, received a notice from his landlord on February 25th of this year. The notice informed them that their lease would be stop in a month, and the landlord did not plan to renew the lease. This meant that Alex and his two roommates had just one month to find a new place to live.
Alex said "We were frantically searched for houses on Domain and Real Estate, even communicated with agents during classes. We were anxious everyday.". He has already given up on the luxury of living near university or in the city due to the difficulties in finding a place. One significant obstacle is the high rent. He found that most houses ranged from AUD 950 to 1100 per week, which is a bit hard for him to afford. What's worse is that they barely have any options to choose from.
"Every time we went to view a house, there was always a long queue outside, with about 20-30 people, most of them locals or immigrants," Alex shared. Compared to them, international students have no advantage in the application process. By March 24th, Alex and his friends had still not found a new place and had to ask the landlord to extend their stay until April 6th. They were forced to pay the landlord's Airbnb costs, a total of AUD 1800. For the students, this is an extra expense they can hardly afford, but they had no other choice.
Eventually, the three friends found a two-bedroom house in Erskinville for AUD 950 per week. Although it was significantly more expensive than their previous rent, they were relieved not to be homeless.
Alex expressed, "I have classmates who have been living in hotels since returning to Sydney. They're in an even more pitiful situation than me, it's truly horrifying!"
In January of this year, the Chinese Ministry of Education suddenly announced that it would no longer recognize qualifications from overseas distance learning courses. Following the release of this new policy, 40,000 Chinese students immediately entered Australia, the large influx of international students further exacerbated the already stringent Australian rental market.
Take Sydney, for instance, one of the cities with the most international students, it has been bearing an enormous housing pressure. According to the March 2023 vacancy rate survey conducted by the Real Estate Institute of New South Wales (REINSW), Sydney's residential rental vacancy rate has reached 1.3%, the lowest in 13 years. With high demand and scarce housing supply, the competition has become particularly intense.
Lina, a property manager at Otto Property, revealed that since the announcement by the Chinese Ministry of Education, the volume of her consultations has skyrocketed. Many Chinese students, who haven't yet arrived in Australia, are urgently seeking accommodation. Even now, she is still inundated with inquiries from students, struggling to respond to them all.
Under this pressing demand, landlords have begun to significantly increase rents. Lina said, "Students usually prefer to live in areas closer to schools or with convenient living facilities, such as Zetland, Ultimo, Haymarket, and Burwood, but the rent increases in these areas have been quite severe." The December quarter rental report from Domain indicates that the median rent in Zetland has risen by 23%, while Ultimo and Haymarket have also seen an increase of 20%.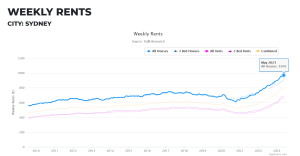 Abbott Ma, an undergraduate student in Project Management at the University of Sydney, is also grappling with rent increases. He lives in a studio in Central Park, and his lease will be stop in June. The landlord informed him that the rent would be adjusted to AUD 750 and bills would not be covered. The landlord claimed that this was already a concession. Abbott has been living there for a year, and the previous rent was AUD 650. He found the increase unacceptable.
"I contacted real estate agents to check other houses, but the rents were similarly high. I also considered student apartments, but they were even more expensive and harder to get," Abbott said. He prefers solitude and enjoys the freedom of living alone, so he's unwilling to share a place with others. As a result, he decided to renew the lease with the landlord at AUD 750, even though it puts some pressure on his life.
Like Alex Gao and Abbott Ma, many international students are facing similar dilemmas, with outrageous rents and a tense rental market eliciting strong reactions from students. Unable to bear the hefty rents, a group of students in Sydney took to the streets to protest the major parties' lack of action on this issue. Additionally, an education officer at the University of New South Wales organized a rally, also calling on the government to take action.
Neither major party wants to harm the profits of landlords and developers. So need to force them to.

SNAP RALLY Friday February 24 at 5:30PM to call for an immediate end to the rental crisis. The solutions are obvious- rent cuts & freezes, banning evictions, more public housing pic.twitter.com/13ENuhX2tQ

— Cherish Kuehlmann (@__cherishk) February 20, 2023
The rental crisis doesn't just affect the students currently studying in Australia, but also raises concerns among those planning to study abroad. International education company IDP Connect conducted a survey of 21,000 prospective and current international students from over 100 countries. The results showed that 51% of the respondents were reconsidering their study plans due to rising living costs.
David Liu, an educational consultant from China, said, "Many students have already heard about the skyrocketing rents in Australia from their friends or relatives. Some students, not wanting to burden their families, start to explore cheaper countries." He indicated that students and parents who come for study abroad consultation often ask about exchange rates, commodity prices, and other living cost-related issues. These factors play a significant role in their choice of country.
Last year, Australian universities hosted 360,358 international students, contributing AUD 25.5 billion to the Australian economy. Therefore, Australia's educational economy largely relies on international students. However, with the tight housing market and rising living costs, Australia could face a decrease in international student numbers, potentially affecting its education economy.
As seen, the housing plight of international students in Australia has evolved into a significant issue that could impact the educational economy. The protests and concerns of the students are urging Australian universities to provide more effective assistance to their students, and the government must take immediate action to address this rental crisis.