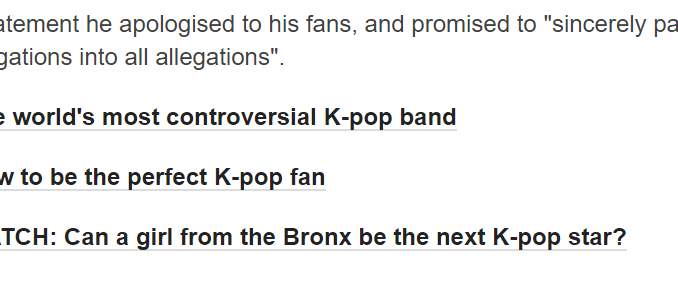 The link: Big Bang: K-pop star quits showbiz amid 'sex bribery' claims
This news is from the international mainstream online news site: BBC. This news clearly describes the issues with direct language and simple words. The text is properly broken up into sections and with appropriate subheadings. Readers can gain the specific information and know more about the scandal. However, this online news could be more readable and understandable if some problems are taken into consideration.
In terms of the improvement, this story needs more links to relevant sources. Although the article contains the detailed description of the issues, other related news stories about this ongoing issue can be added as links. The news provides several links to other sources, but some links are not in direct correlation with this scandal. For example, the three links showing below are not closely related to this ongoing issue.

There are images in this news story, but the problem is the lack of more relevant images. Another problem about the images is the lack of latest pictures or photos. As a current ongoing issue, the news story should contain the latest images. The photos or videos of the Seungri's press conference for this scandal can be contained so that readers can acquire more definite information about this story.
(Word Count:203)