I analyzed a story about getting emojis on number plates published by VICE, while the news story has four parts need to be improved.
First of all, in this news, five kinds of emojis that can be used for number plates are mentioned, author should provide effective images to inform the audience which emoji expressions are specific and improve functionality.
Moreover, although the news provides the original link to the Brisbane Times, providing specific details of this decision, the author should place the link in the first paragraph of the article, which can improve the user readability and experience.
In addition, there are unsuitable underwear advertisements and fund advertisement in the middle of the article which are automatically played.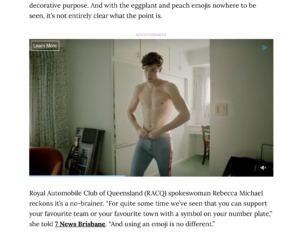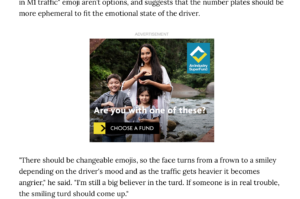 There is no connection with this news, and user interaction cannot be improved. I suggested that advertisements should be replaced with advertisements about cars or emojis' products.
Finally, multimedia content for audience is not rich enough, and related videos and screenshots of social platforms are not available, author should make news content as attractive as news title.