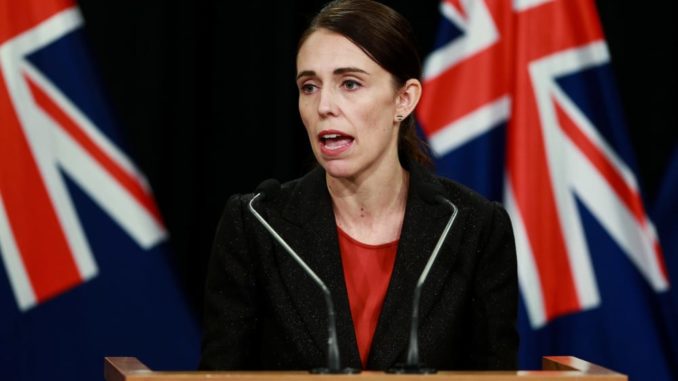 Comparative Journalism Analysis
News Coverage
ABC News: New Zealand PM Jacinda Arden says gun law changes to be announced in 10 days after Christchurch shooting
Buzzfeed News: "Our Gun Laws Will Change," New Zealand's Prime Minister Says After Mosque Attacks.
Publications
'ABC News' is an legacy national news service in Australia, which constructed by the Australian Broadcasting Corporation, and owned and funded by the Australian Government. However, ABC News has the editorial independence as a media type through the Australian Broadcasting Corporation Act 1983. With traditional TV channel and radio foundation, the major content of ABC News are serious news, but it also have diversity news channels over life fields like sports or health. According to Roy Morgan's data (2018) from ABC News, It's website is becoming one of the major and trusted news sources of Australian.
'Buzzfeed News' is an independent news website which belongs to 'Buzzfeed',a digital-born American internet media, news and entertainment company with a focus on pop culture articles. As Buzzfeed features of providing coverage on a variety of popular topics including politics, entertainments, stories with multiple-media displays of the content, Buzzfeed News tend to pay more attention on serious news. However, without strict orthodox journalism writing style like 'Inverted pyramid' or 'No commentary principle', American tend to take news from Buzzfeed News as an unreliable news source. (Mitchell&Amy, 2014). However, it now is still a fast-growing global media company and also a representative of digital-born news websites.
Demographics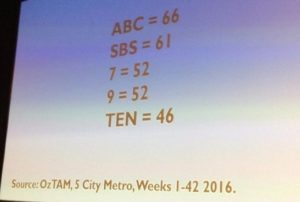 It is believable that major audience of ABC News are older people than Buzzfeed News. According to OzTAM data (2016), The average age of ABC News TV channel viewers is 66 years old. While ABC News have millions of younger followers on Facebook, it is still a big part of ABC News' original audience in middle age or old age group. With serious news writing structure and contents, the target user group of ABC News will be majorly male whom aged from 25 to 70 years old.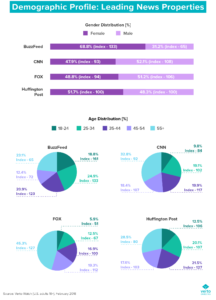 In contrast, the statistic from Verto Analytics (2018) shows that, over 60% of Buzzfeed audience 's age are under 44 years old, and 68.8% audience of Buzzfeed are female. It fits into the entertainment tendency of Buzzfeed contents, and take target group as young and middle age group of female can be helpful of increasing network flow.
Comparative Analysis
1. Journalistic writing and content production
The ABC News's story have accuracy and source credibility of news content. There are four videos, several pictures and embedded hypertext links to relative news like 'Mosque shooting affairs' or data like 'New Zealand gun law', which is useful for satisfying audiences further research about the news. According to Bradshaw, Paul, and Lisa Rohumaa (2018)'s 'BASIC' principle of web writing, Scnnability is a important indicator of measuring a web article, in terms of that,  the news also have five good tags with scannability: 'murder and manslaughter', 'Crime, law-crime and justice', 'terriosm', 'unrest conflict and war', 'New Zealand' separately. However, 'BASIC' principle also highlights the brevity of article, in this dimension, the news length is too long with not only news of New Zealand prime minister's promise, but also news about gun store and gun show without subheadings to divide contents into smaller pieces.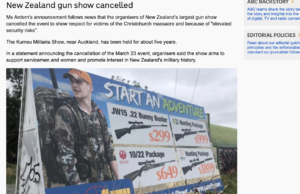 The Buzzfeed News' story have accuracy and source credibility of news content. But only have two pictures, and two embedded hypertext links to relative news of 'Mosque shooting affairs', which is not abundant enough for providing background information to audience. And also, further audiovisual enhancement contents like videos of New Zealand Prime Minister Jacinda Ardern' speech should be added into the news. The scannability is good for readers to search it, and brevity is wonderful with less than a half of contents of the story from ABC News. However, the content could be better with bulletin points to highlight the key points like 'the gun laws change may include a ban on semiautomatic rifles', so that the article will be more clear to audience.
2. Online delivery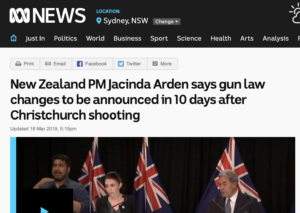 The ABC News' story have news sharing buttons in the top of the news with links to nearly 10 platforms, including Facebook, Tumblr, Reddit, LinkedIn, etc. However, no contact details displayed in the page about authors or editors of the news, and also no user-generated content part. Therefore the interactivity in the website need to be improved, especially among content publishers and readers. It would be better to engage audience to talk about or even help to adjust the news.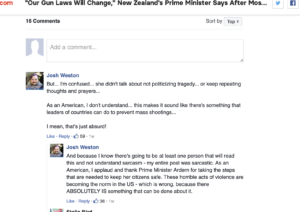 The Buzzfeed News has better design in terms of interactivity. As the Michael and Christer (2015) points out, the main reason for interacting and contributing, in the news context, is not primarily to create opinion or to debate, but rather to express personal matters. Except news sharing buttons to platforms like Facebook or twitter, Buzzfeed also have commentary area for website users to comment about the news and talk with each other. Every authors' photos and mail address will be available in the article, and they even have personal news profile pages for audience whom like any specific journalist, which is good for increasing readers' intimacy and engagement feeling to this website.
3. Technical delivery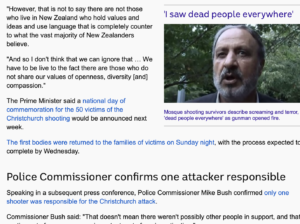 The ABC News has a clear layout which is easy to navigate. By offering clear headings lists, navigation menus and thumbnail images, Audiences can easily find what they are searching for. The links inside the article also works very well, and every new pages' name are illustrated clearly, the only problem is that the links are too much, with nearly 20 links in one news story. This may lead to distraction of readers while they reading news. In terms of text, word size is appropriate for audience to browse, and hypertext are showed in clearly blue characters.

The Buzzfeed News has a nice layout for navigation. Except similar headings lists, navigation menus and thumbnail images as ABC News, it also have 'trend story navigation', which introducing most popular news topics over the world. That is easier for people to search latest popular news in the website.  The links inside the article works very well, but the name of links not clearly enough to indicate readers what new pages will be open. And also hypertext are showed in same color as other text with only underline, which may lead to people's neglect over links.
Summary
In summary, the news coverage in ABC News have better contents, links navigation, news structures and audio-visual materials group, while the one in Buzzfeed News have better interactive methods, news brevity and website layout.
Reference
1. ABC Audience Metrics. (2017). Retrieved from:
http://www.abc.net.au/corp/annual-report/2017/audience-metrics.html
2. Bradshaw, PandLiisa Rohumaa. (2018). The Online Journalism Handbook: Skills to survive and thrive in the digital age. In Zain Mahmood (Eds). Writing for the Web (pp. 72–98). London, Britain: Routledge.
3. Mitchell&Amy. (2014, October 21). "Appendix C: Trust and Distrust of News Sources by Ideological Group". Retrieved from:
https://www.journalism.org/2014/10/21/appendix-c-trust-and-distrust-of-news-sources-by-ideological-group/
4. Michael Karlsson, A. B., & Christer Clerwall, K. F. (2015). Participatory journalism – the (r)evolution that wasn't. Content and user behavior in Sweden 2007–2013. Journal of Computer‐Mediated Communication, 20(3), 295–311. doi:10.1111/jcc4.12115. ISSN: 1083-6101
5. It's official: Most Australians now visit news or newspaper websites. (2018).Retrieved from:
http://www.roymorgan.com/findings/7595-top-20-news-websites-march-2018-201805240521
6. David Knox. (2016, November 29). The average age of TV viewers. Retrieved from:
https://tvtonight.com.au/2016/11/the-average-age-of-tv-viewers.html
7. Connie Hwong. (2018, March 7). Chart of the Week: Tracking the News: Reader Demographics. Retrieved from:
https://www.vertoanalytics.com/chart-week-tracking-news-reader-demographics/
Word Counts:
1296