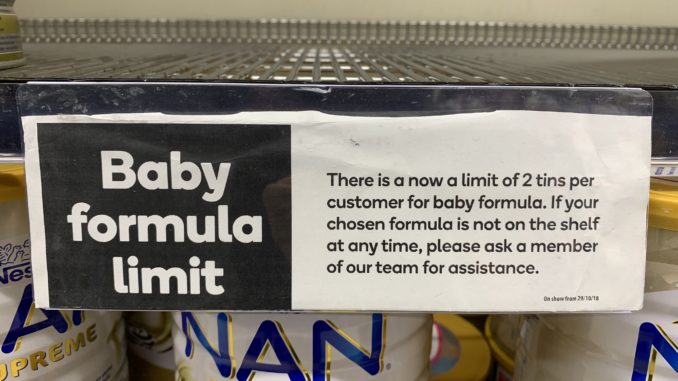 Australian baby formula is extremely popular in China, which gave birth to a new career, daigou, and it means Chinese personal shopper. It is a job that helps Chinese people purchase overseas goods from the areas of origin in lower prices.
Daigous ship 30,000 baby formula packages from Australia to other countries per day. However, due to the purchase limitation of baby formula in supermarkets and pharmacies, daigous barely satisfy the heavy demand in China.
Why Chinese desire Australian baby formula daigou?
After the 2008 melamine scandal, which caused six babies' death and thousands of illness, more and more Chinese parents choose brands from Australia and New Zealand because of the high quality baby formula.
Meanwhile, the retail prices of overseas baby formula in China with additional import duty are much higher than the Australian prices.
Take A2 Platinum Milk stage 3 as example, its retail price is 30 AU dollars in Australian supermarkets and pharmacies. On Chinese biggest online shopping site, Tmall, the price is up to approximately 50 AU dollars plus 4.37 AU dollars of import duty. In total, the Chinese price is almost double the Australian price.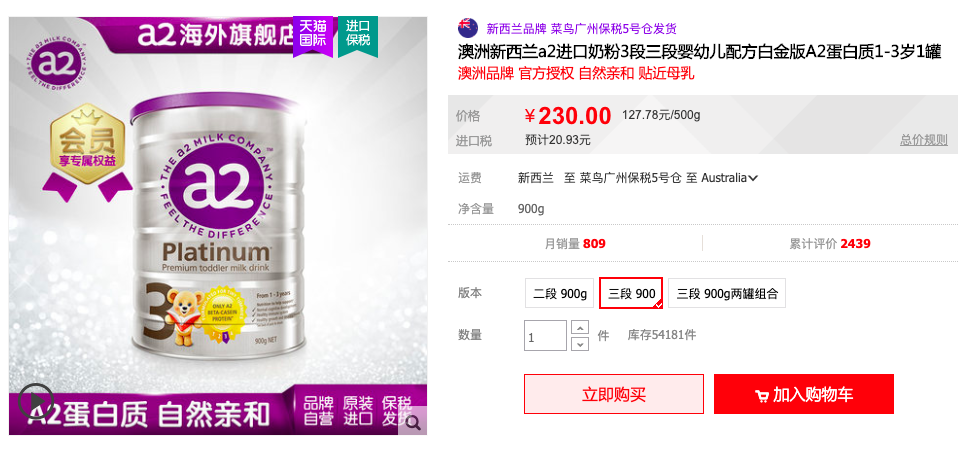 Why has daigou become the nightmare of Australian parents?
Driven by great interests, there were gangs smudged baby formulas. Sydney police arrested a family-run crime syndicate on stealing baby formula in early April. The syndicate stole products and sold to Asia, especially China. The $1 million-worth baby formula went overseas and turned into huge profits.
An ABC investigation in Adelaide's CBD showed that a group of Chinese daigou running in and out of supermarkets to get their two-tin baby formula. In the video, a man admitted that he was a daigou and purchased baby formula to sell overseas. There were about 10 tins of formula in the trunk of his car.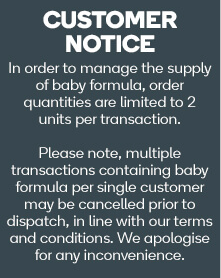 Australian chain supermarkets, such as Coles and Woolworths, now limit customers to buy two tins of baby formula per transaction.
Media reported how Australian parents complained about they were trying so hard to buy formula for their kids because pharmacies had no remaining stock.
Chinese daigous thought the "biased" media reports have exposed them to abuse since they were reported negatively.
Dr. Mathew McDougall, from the Australia China Daigou Association suggested cooperating with supermarkets and using a dedicated register for Australia's 40,000 daigous, which would allow them to place unlimited orders online. It would be a win-win strategy for both supermarkets and consumers.
So far, no supermarket acts on Dr. McDougall's suggestion.
It is unfair to hear from only one side. Daigous' voices should be heard as well.
A real world of daigou
Tong Li became a student daigou in 2016. He started his daigou business because there was a newborn in his girlfriend's family. The little baby was allergic to cow milk, so Li helped shipping goat milk formula back home.
"I did not mean to be a daigou at first," Li said. "But later more and more people, like family's friends, friend's classmates…They added me on WeChat and asked if I could buy them Australian baby formula."
Indeed, China's Two-child Policy greatly increased the number of babies born. A total of 17.86 million babies were born in 2016, an increase of 1.31 million over the total in 2015.
Along with the baby boom, the market of baby products expanded, while the demand of baby formula grew. Due to the distrust of domestic baby milk, Chinese parents were more likely to purchase foreign baby formula.
Li found that an infant would need to have baby milk for at least two years, so he built long-term relationships with some of his Chinese customers.
"I don't post ads on Moments, but old customers will recommend me to their friends if they think I am trustable," Li said. Moments is a social-networking function of WeChat, where most daigous promote products.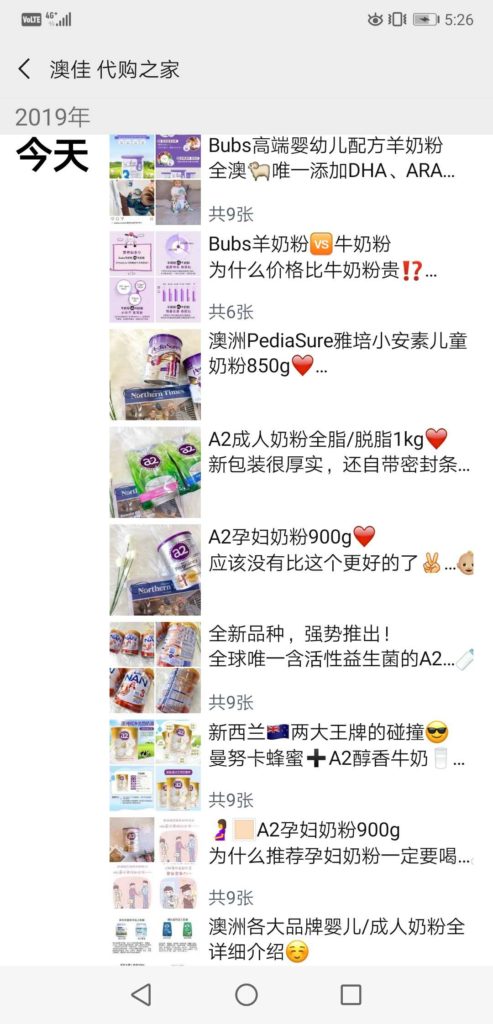 To ensure he can provide enough baby formula for customers, Li has to check the online and in store stocks of supermarkets and pharmacies regularly, and stores tins of baby formula at home.
"My roommate was shock when he saw a 'baby formula pyramid' in ours living room," Li said. But the pyramid was not built in one day.
Usually, he buys baby formula from supermarkets and pharmacies with the original retail price, and pays attention to any promotional event to get the lowest price. He charges 10% to 15% "fees of daigou" from customers. Even though there are extra fees for Li and international shipping fees, the total prices of baby formula are much lower than those sold in Chinese stores.
"There was a time I went into an import shop in China, I saw a tin of Karicare goat milk was tagged over 500 yuan (about 105 AU dollars)! Almost twice the price of mine."
Speaking of the negative media reports on Chinese daigou, Li felt wronged because he has never rushed in and out of stores several times a day and fought with local parents.
"I don't think daigou is the only reason of baby formula shortage. The milk companies should be responsible for this problem as well if their production cannot meet the market's requirement," he said.
Milk companies realize the high market demand as well.
"You can imagine… every month we are increasing production quite significantly." Jayne Hrdlicka, CEO of the A2 milk company, told the 9NEWS.
So, where is the missing baby formula?
Actually there is another type of daigou. Unlike personal shoppers, they are so-call daigou shops, which are the boutiques that mainly sell Australian goods to China. They can be seen everywhere in Australia.
No matter the chain or individual boutiques, they restock a certain number of baby formulas from milk companies directly with a wholesale price. Customers can purchase baby formula without two-tin limit, but the price is slightly higher than that in supermarkets and pharmacies.
Aiming at overseas markets, daigou shops cooperate with express companies to ship the packages everyday.
"Although I run this physical store, most customers place orders via our official WeChat account," Ning Yang, the owner of Koala Boutique, said. "They don't need to come here, but just leave me messages of items and shipping details, and then pay on WeChat or Alipay, I will ship the packages to their homes in China."
There were many factors that led to baby formula shortage in Australia, but daigou definitely was not the only one should be blamed.