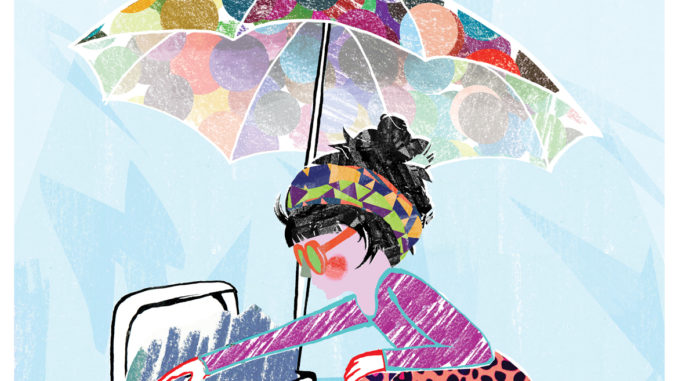 Along the Goods Line between the Power Museum café and the Frank Gehry UTS building, there were two rows of stalls made up of suitcases. The suitcases were full of various colourful and well-arranged goods, including vintages, clothing, books, jewellery, seconds. That is Suitcase Rummage, a mini scaled community market which provide people a space to treat the things they not need but still be valuable.
Attention, Suitcase Rummage shares not only second-hand items, but also unique handmade and original products.
One of the most important purpose of this project is to support and engage with arts and cultural industries. As Isabel FitzGerald, the organizer of this community project, said, "There were also a few things that were important to us which we wanted to infuse into the project we were creating – that it was something to connect community; support local creative industries, design and production."
Local original designers have participated in Suitcase Rummage to show their works.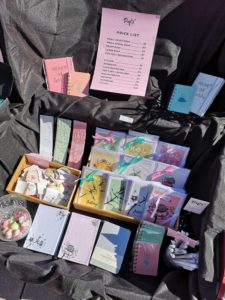 "I wanna create some unique products which still present Australia but not just the Opera House, that has been done a lot."  Sara Lindberg, the founder and the designer of Firefly Creative Studio, attended the activity. The printeds which were neatly placed in the basket have native Austrlian flowers in pencil colours. Sweet-scented and colourful hand-made soap were also showed in suitcase.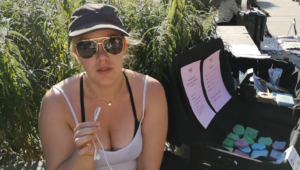 Li May, a girl who likes painting and reading, was selling her handicrafts on Suitcase Rummage. With fresh watercolour flowers in the background, inspiring lines printed on the bookmarks in clear handwritten fonts. "For bookmarks, I made it for interest. When I s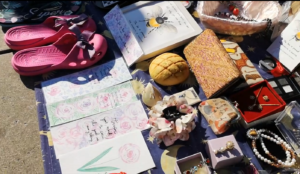 ee anything inspiring, I record them on the bookmarks. Cause I love read, it's really useful."
For creators who are willing to share their hobbies with others, Suitcase Rummage is a good choice due to the low cost.  "I found it's hard to sell in shops, you need to pay for rent. But Suitcase Rummage is open to public and it's not too expensive. I just hope I can cover the cost not really to make money." Li May said.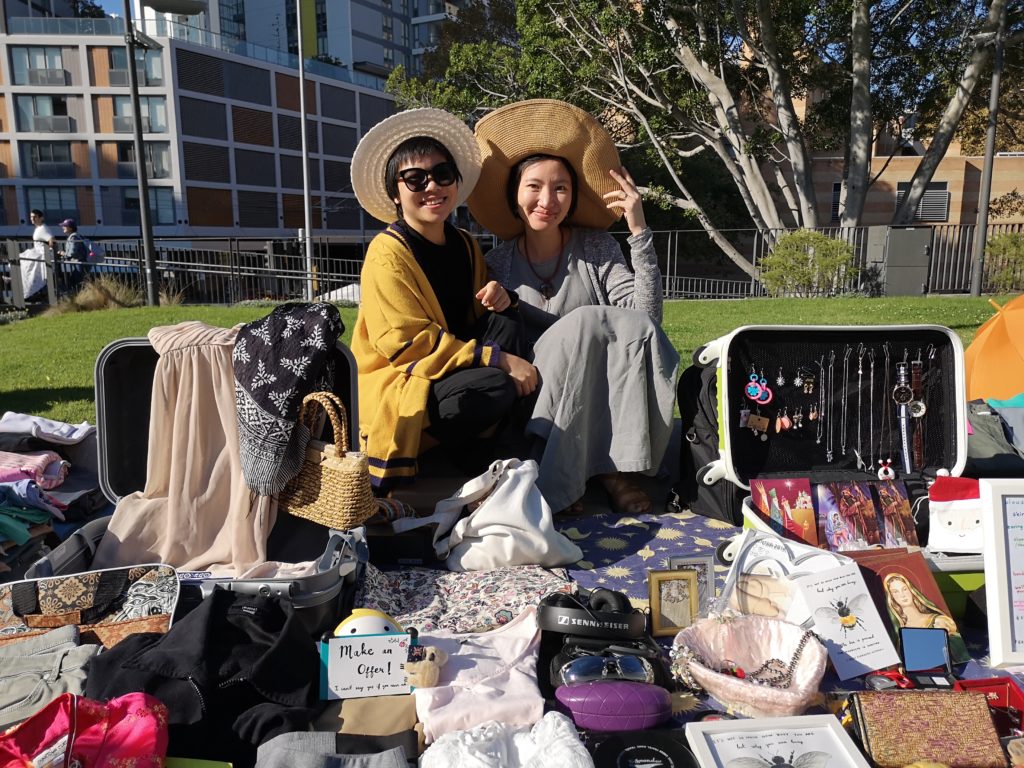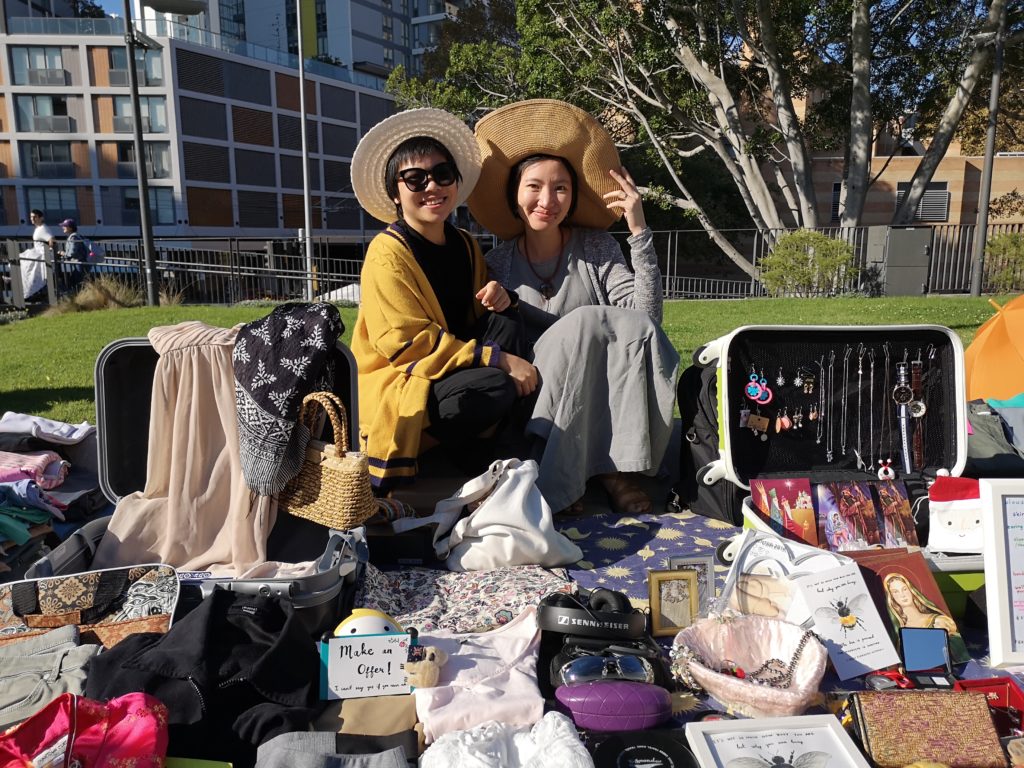 Suitcase Rummage provides original creators, emerging entrepreneurs and small business a testing market without the high risk.
The stall owners only need to pay AU$30 as register fee.
"We also realised that there wasn't a platform for emerging entrepreneurs to test their goods on the market before signing up to one of the bigger markets where vendors might need their own infrastructure, insurance and often need to cover high application fees. We saw a need for a step before this and believed Suitcase Rummage would fill this gap." As Isabel said.
Different cultural handmade arts products started their business with Suitcase Rummage.
Suitcase Rummage also attracts foreign traditional cultural products to join.
The Indonesian girl Loka showed the hand-stamped batik, an Indonesian traditional heritage on her suitcase stall. The craftsmen used hot wax to paint patterns, which mostly inspired by nature of local life philosophy, on the fabric. Then, they use hot water to remove the wax from the clothes. With wax resisting dyes, the craftsmen could selectively paint the clothes.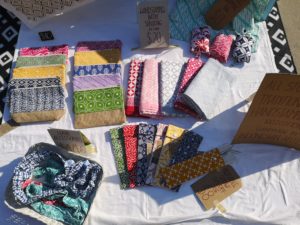 Loka is trying to introduce and spread her homeland culture. Suitcase Rummage was the first time for her to sell Indonesian Batik products in Australia. "Before you try the big market, you should try a mini-scale market first. That's for the beginning, for testing." She said. For entrepreneurs who want to start business models, this mini market project is a suitable platform for testing their products' attraction and potential value.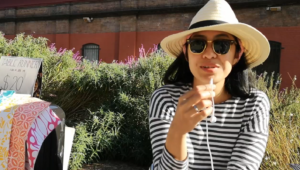 With the same thoughts as Loka, the striking goods at Pelin Sahin's suitcase stall were Turkish needle lace works, necklaces, bracelet and vests. This stall owner is a business analyst from Turkey, who has lived in Australia for 3 years.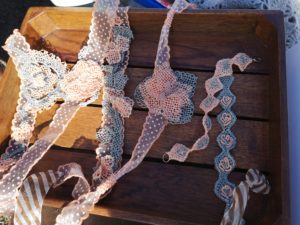 "I'm trying to introduce Turkish art, Turkish handmakes. There are a lot of Turkish women do that as a hobby. I'm thinking in the next future stage to work on it as a business model. That's my goal. That's why I'm trying to understand how popular these products would be when it offered to the market. I'm trying to check, so I came to this market."
These elegant handmade decorations were popular in this mini market. Three Turkish weaving vest were sold out quickly. Pelin said it makes her more confident. She was thinking the next step could be export from Turkey to Australia, to introduce Turkish arts, handmakes to Australian people.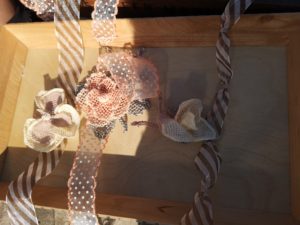 The shortcomings of this project are also obvious. It held only 6 times in Sydney every year, which might lead potential creators to miss the opportunity and make it difficult for participant creators to build a deep impression of their products.
The price of the original handicrafts is another problem. Most of stalls at Suitcase Rummage sell second-hand items in a low price, such as each second-hand book for AU $1, second-hand high heel for AU$5, which means the price of original handmade products cannot be too high.
"My handmade things are beautiful and original, but at same time, it took a long time to make. For example, I spent hours to make this one (a decorative painting), but I sell it only 5 or 10 dollars." Li May said.
To sum up, Suitcase Rummage is still a good showcase platform for original handicrafts and art creations. It offers them a chance to share their works or test their business rather than make money with a low cost. For consumers, there are more unique designed handmade products hidden in the corner waiting to be discovered. It is fortunate to be able to buy beautiful and exquisite products at lower prices at Suitcase Rummage. Look forward to discovering more original handmade products at the next Suitcase Rummage.