In this blog post, I will provide three ways the Sydney Morning Herald could improve the online delivery of, 'Australia bans travellers from Italy'.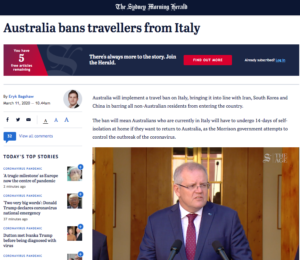 1. SEO
Based on Google Trends, this headline is not search engine optimised. According to Google, the major search terms associated with 'italy' are 'coronavirus', 'italy' and other variations all using 'coronavirus'. The Herald failed to capitalise on that huge key word.
2. Links
The entire article contains only one hyperlink. Readers could have benefitted from hyperlinks to a coronavirus explainer (the article gives little information on the disease) and to previous Herald stories reporting news on Italy. This would provide context, such as when the country announced it was going into lockdown.
3. Images and video
The article contains just one small image in the lower half, which does not have a clear connection to Italy. In order to hold a reader's attention, it would have been more eye-catching to include a picture of people in Italy closer to the top of the page.
The article lacks a sentence to foreshadow the content of the video of the prime minister speaking. While there is a caption underneath the video, it fails to say who features in it. The video autoplays, so readers could miss the prime minister's opening title card. Further, knowing this information earlier, people may want to avoid the video entirely.