The article 'Boris Johnson 'to be investigated' by Parliament watchdog over Caribbean holiday' by Harriet Line at digital native site 'Yahoo! News' at first appears to be an easy to read, straight forward article. However, after close analysis, the composition of this article is riddled with issues.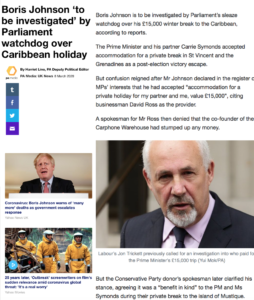 Although the article presents many coveted attributes of online articles such as being easily scanable (succinct, utilizing white space etc.) the articles lack of hyperlinking, cross-references or additional links to the ongoing investigation leads the reader to question its credibility.
Additionally, the article failed to employ SEO effectively, with no consistent use of key words. Suggested keywords that should be employed for this story are 'Boris Johnson', 'Investigation', 'Prime Minister', 'Caribbean Holiday' to ensure relevance to the readers search.
Regarding interactivity and community/conversation although the article is easy to share (social media icons to click at bottom of page e.g. click on twitter icon and it generates a tweet with the link and tags Yahoo!) readers are required to have account to comment or see other comments (hindrance/deterrent).
The article could also be greatly improved by the inclusion of more relevant imagery (no visual in article of the subject of the article i.e. PM Boris Johnson).