In the latest  BBC news, the latest article on the closure of cities to prevent the further spread of the coronavirus needs to be improved in several areas.
source:https://www.bbc.com/news/world-51862347
Hypertextuality
The purpose of hyperlinks is to help readers better understand the news and provide independent additional information for the relevant content. In this news, a lot of hyperlinks are used, and the hyperlink's title is very long, which will make readers confused, unable to understand the information provided by the hyperlink in the first time, and the long title makes the whole news confused and unclear. In addition, when the hyperlink opens, the previous page is overwritten, which makes it more inconvenient for some mobile users to read the news — they need to click the back button to get back to the previous page.
Multimediality
In this news, text, pictures, video and other forms are used. There are some problems in the selection of pictures. For example, before the text "as countries struggle to contain the outbreak of the coronavirus, schools around the world are closed, sports events canceled, and cultural institutions closed," there is a picture of an iron gate with several people standing in front of it. The photo itself has little to do with what the text is trying to say, and the reader can't see the impact of the coronavirus on schools or institutions.
Interactivity
This report reflects some of the interactions between users and media and between users and users. For example, a question box is set so that users can learn about coronavirus and get more useful information by searching for keywords.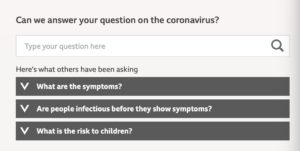 However, until the end of this article, users could not interact through comments, and had to share through other social platforms.