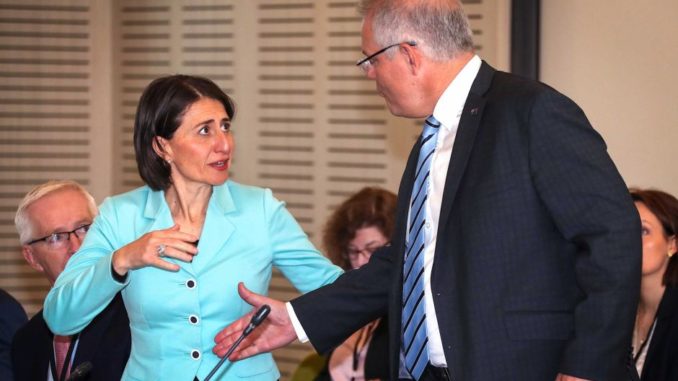 original link: https://www.abc.net.au/news/2020-03-13/coronavirus-scott-morrison-coag-premiers-cancelling-events/12053382
Here are some points that I think need to be improved:
Functionality
Content
In fact, this news story is consist of three different news stories, and the headline is only about the first news story. Although the article did use  subtitles to separate each part to make the news clear, but that still looks messy.
The stories can be separated into three news or the title can be changed into one which is more general.
Picture

The picture didn't fit the theme well. The information of this picture can't help readers to understand better, or even would mislead some readers who would only take a glance of the title.
The picture is intersecting and impressive, but it would be better to change into another one.
Usability
Hyperlinks
There are lot's of usage of hyperlinks, and the content they lead to is very useful. But the hyperlinks just contain too many words, and people might not see the points.

(screenshot of the news)
For example,  the words used to create hyperlinks, "travel bans to foreign nationals coming from China……", can be reduced into "travel bans".
Information push
While reading the news, the information push would always make a gap of our reading process, which really  affects the reading experience
.

(screenshot of the news)
Put the information push aside would be better.