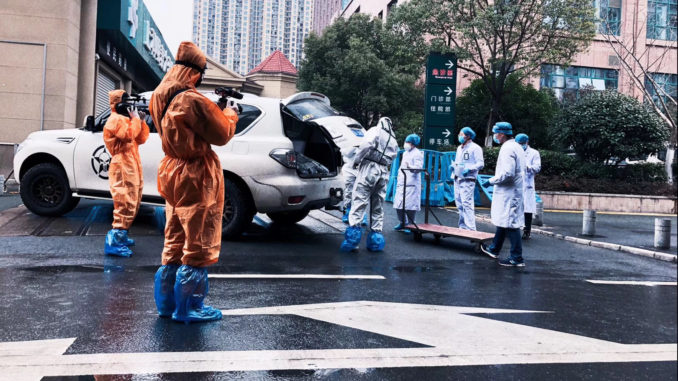 "A large part of the significance of documentaries is the role to record the history," the film director, Wan Xing said.
Staying in Wuhan where the COVID-19 outbroke, Wan Xing, the director of the series documentary As winter goes by, tried to retrospect the scenes when he was shooting.
"You may never experience such a broad influenced epidemic in hundreds of years like COVID-19 which happened in Wuhan. The recording documentary will become historical materials," he said. "These shots, these voices, these people and what they said will become irreplaceable parts in the historical memory."
Apart from official productions like The lockdown: One month in Wuhan made from China Global Television Network (CGTN), the documentary of As winter goes by was produced by Youku which is one of the largest Chinese online video companies. It aims to focus on the ordinary people in Wuhan, fighting against the COVID-19. Kang Chengye and Wan Xing are the two main directors in this production team.
With only 5 members, this team finished three 30-minute film series in 10 days in February. The first documentary was released on March 8th, 2020 and gained a high mark of 8.2 on Douban (the most influential review-aggregation website for film in China).
The whole series can be also watched on YouTube, published by the Youku Official channel.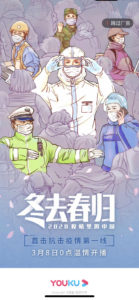 Preparing
"We started to make preparations on February 9th and the whole shooting lasted ten days," Wan said. "In fact, we were short of hands."
He then explained that some high-risk communities were strictly blocked so it was difficult to gather enough professionals within a short time. The other reason he mentioned is the security concerns from the staff's families and themselves.
"Although Wuhan was not totally lockdown at that time, controls have been enhanced in many places," he said.
Not like authoritative media organizations that possessed official permits, Kang and Wan applied for the volunteer certifications to allow free commute. They also made great efforts to apply for the "Antiepidemic Pass" for their vehicles to transit heavy equipment.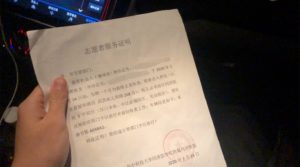 Shooting
The director, Kang Chengye, has recorded the world's first images of successful extubation surgery for a seriously ill COVID-19 patient in the ICU ward of Tongji hospital.
He has been to the intensive care units, also known as "red zone" for 5 times, wearing three layers of protective clothing, two layers of protective caps, protective gloves, and shoe covers. The longest time he spent in the "red zone" is more than 5 hours, close to the working limit for medical staff (6 hours).
"According to different hospital conditions, there will be 4-5 buffer zones between the contaminated area and the clean area. The setting of these multiple buffer areas is to allow the protection layers to be removed in sequence," he said. "The outer surface of protective clothing is contaminated, which shouldn't be contacted inside, otherwise it's exposed to contamination.
"One of the biggest problems is the damage and expenses of equipments." He revealed that two cameras, two lenses, and the material card for two days shooting had been destroyed due to the high-temperature sterilization process.
"Hospital, Wuhan and China are like three doors. Each person outside the door is unable to experience the environment inside," he said.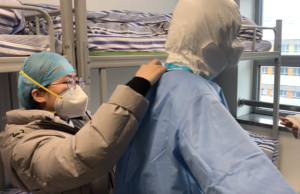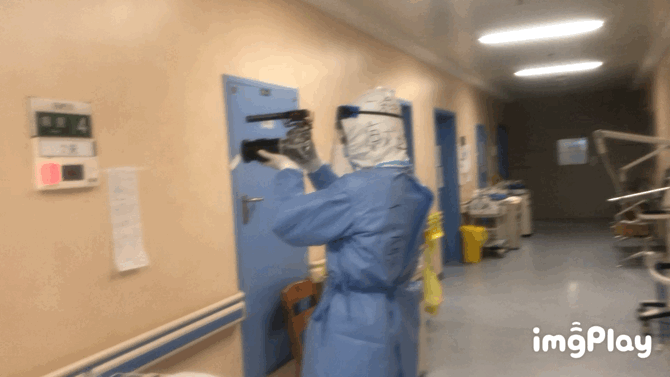 The other director, Wan Xing, has been to some restaurants and communities in Wuhan. He also recorded the daily routine of a volunteer who delivered reliefs to hospitals.
"Of course, we were definitely worried," he said. "Because whether it is the photographer or the interviewee, everyone was hesitant about [this thing]. Once people get together, there would be risks.
"What we could do is to take basic safety precautions." He then laughed and said: "It would be fate if we still catched the COVID-19."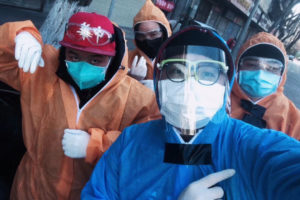 "The community workers we interviewed are actually very sensitive of their identities," he said.
Wuhan has adopted strict community network management in containing the epidemic. This includes the responsibility of community workers to supervise and provide residents with their daily needs.
In the Bai Buting community, there are 150,000-180,000 residents but only hundreds of community workers. The average salary of a community staff in Wuhan is about 3,000 RMB/month (approximately 600AUD/month).
"We learned that [their] job was tough and exhausting. At first, [they] had to stay in the community center every day without rest. After a deeper understanding of the challenge [they] faced, we discovered that especially in old communities, some unreasonable residents still resisted to stay at home, and even broke the fence and insulted community staffs.
He found the lives of community workers are gruelling. "For example, the community workers would consolidate a list of essential medicines the residents wanted and but them" he said, "This sounds very simple, right? But in fact, it's not. Only few pharmacies opened at that time.
"A community worker would have to queue at 3.am. or 4.am. outside a pharmacy until it opens at 8.am. He would then collect a ballot for purchase. By the time he returned to the community, it would be nearly midday," he said. "You can never image their hard work behind the scene.
"The first time [he] met us and said, 'please report positive things and not spread negative emotions.' [He] explained that since everyone has to stay at home, being positive and optimistic could help them get through this period easier."
He mentioned the other reason that the film was executively produced by National Radio and Television Administration, so the content hasn't fully presented.
"It's pity," he said.
Back to present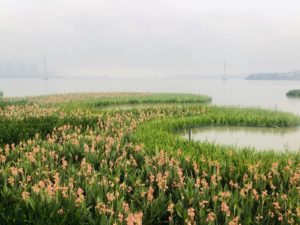 As a native of Wuhan, Wan indicated that his feeling of experiencing this is very complicated.
"I think we just recorded the facts," he said, "showing people what Wuhan looked like and what citizens were doing at that moment. I think it's enough."
At present, while parts of Wuhan have restored the city's prosperity, these video materials is preserved as the epitome of thousands of people who suffered from the COVID-19. Winter has just passed, but the winter of 2020 will remain in memories.