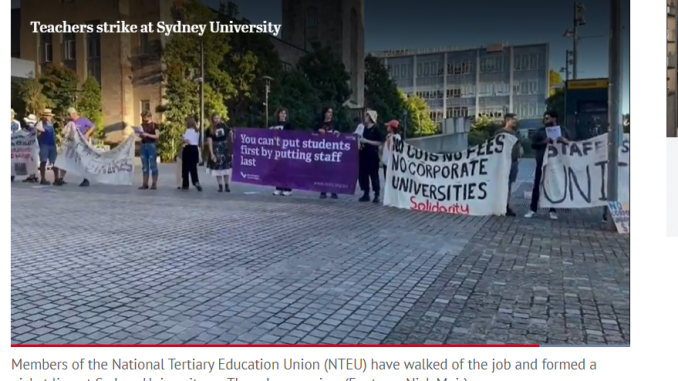 'This is the hill we will die on': Sydney Uni academics go on strike, from the Sydney Morning Herald.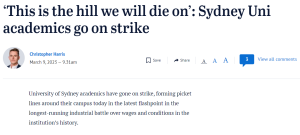 Headline
This is an effective title, which can not only directly indicate the ongoing strike at the University of Sydney, but also allow the audience to experience the attitude of the strikers for the first time.
Hypertextuality
There is no link in this news story. Although it has given a certain amount of space to the demands of the striking faculty and the university's response, the information about the background of the strike is still insufficient. For example, it could place a hyperlink in the position of "the University of Technology Sydney, Western Sydney University and Australian Catholic University" to provide readers with a proposal to understand the salary ratio of these universities. It can also add a hyperlink to "the National Tertiary Education Union (NTEU)", so that interested readers can more easily understand this organization and what it has done.


Multimediality
The pictures and videos here are all from the scene of the strike. There is no problem with the use of these pictures and videos, but there are some repetitions. If it can make some comparison charts of the salary ratio of the University of Sydney and other universities, and the trend chart of the salary level of the University of Sydney and the current inflation situation in Australia, it will make the news more convincing.