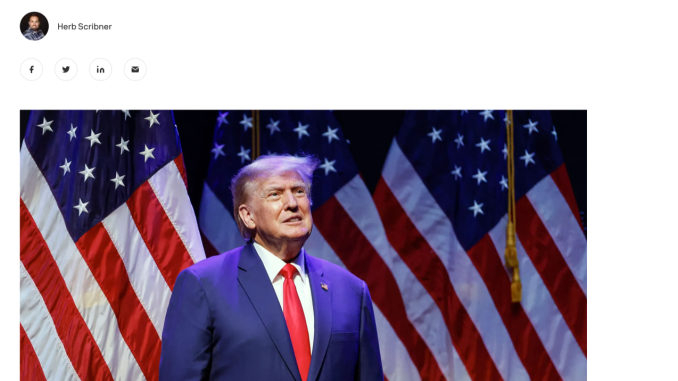 For this analysis, I will choose two news stories from ABC and Axios. They both focus on Trump posted on social media that he would be arrested on Tuesday. ABC and Axios use similar headings but there are some differences. Unlike ABC, Axios highlighted Trump's attitude and called for protests.
---
Publication's biographical
ABC
The Australian Broadcasting Commission (ABC) was formally established in 1932 by Prime Minister Joseph Lyons and ABC radio broadcaster Conrad Charlton (ABC, n.d.). On 1947, the ABC began airing its first independent newscast as a result of years of discussions with the Australian Government (reporter, 2020). It launches online service in August 1995, embracing the digital era before many other media outlets (ABC, n.d.).
As one of Australia's most influential broadcasters, ABC News is primarily supported by Australian Government direct grants, and a government-appointed board is in charge of its administration. The company's profitable business ABC Commercial contributes to the finance of content production (Jolly, 2014). The ABC is a publicly owned organization that is totally accountable and politically impartial. The service broadcasts to Australia and the rest of the world and covers both domestic and international news.
Axios
Axios is a privately owned American news and information website founded in 2016 by former Politico executives Jim VandeHei, Mike Allen, and Roy Schwartz. It covered business, technology, politics, media, and health care and aspire to be a cross between an Economist and Twitter. In 2016, it secured $10 million in financing (Nast, 2016). Afterwards short-form native advertising and sponsored newsletters are how it makes money. Evan Ryan, the Deputy Secretary of State for Educational and Cultural Affairs and a former member of Vice President Joe Biden's administration, joined Axios as executive vice president in January 2017 (Nast, 2017). It was acquired by Cox Enterprises in 2022.
Users
According to the chart, the distribution ratio of male and female target audience of ABC is 55% and 45% respectively. Visitors who are 25 to 34 years old make up the largest age group.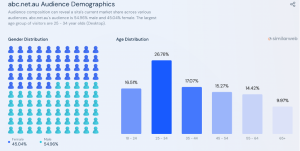 We can see that the audience more care about news and media publishers. ABC News has a reputation for providing in-depth analysis and investigative reporting, which appeals to a more discerning audience.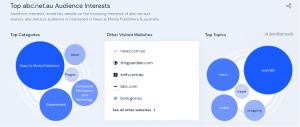 ABC's advertising sales are mainly divided into two categories which are direct ads and programmatic ads. The advertising shows diversity, with 27% of ads related to arts and entertainment and 15% shopping.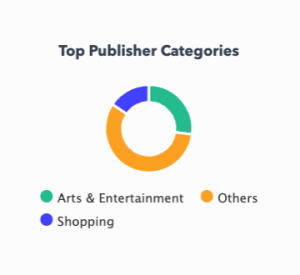 Compared to ABC, Axios has a larger male audience at 68%, while the female audience is only 32%. The most popular age group continues to be 25-34 years old.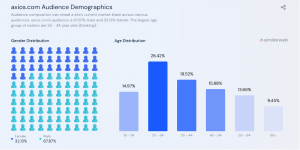 In addition to news and media publishing, Axios' audience is also most interested in banking credit and computer electronics. They are more flexible and casual than ABC's, focused on technology and the future.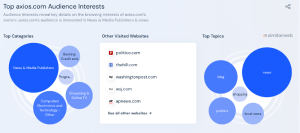 From the ad sales, there are 94% of this site's ads are native. Its advertising types focus on arts, entertainment, and news.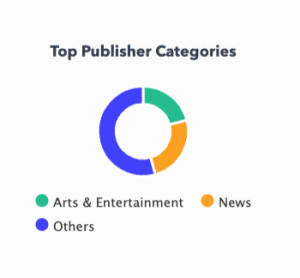 Besides, they prefer horizontal advertising.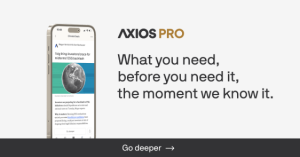 ---
Writing and content production
In their 2016 paper, Dorr and Hollnbuchner outlined an ethical framework for "algorithmic journalism" and recommended that news organisations and journalists take into account questions of objectivity and accuracy as well as how it might be possible to practise transparency and disclosure regarding the inputs and other components used (Bradshaw, 2017).
In ABC news, the author narrated the whole story in an objective manner. At the beginning of the article, the author uses the first person to indicate that it is not clear whether Trump has been arrested.

According to Sheikh (2019), First-person narratives can also serve to demystify difficult or obscure subjects, such as a convoluted scientific procedure, or to lighten the tone of a serious work. In addition, the use of the first person also reduces the distance with the reader.
There are a lot of voices in the article, not just Trump but the former House dean, the attorney general and so on. The author reports the whole story from different angles, which enhances the objectivity of the article to some extent.
While the content of news will help readers, viewers, and listeners in part, how that content is delivered frequently determines its impact (Kulkarni et al., 2022). The inverted pyramid's narrative sequence attracts more readers in a short time. The author divides the article into four parts by four subheadings. He put the reader's greatest concerns first. And he ends with the question of whether Trump is back on Twitter.
Multimedia
In this report, the author inserts a lot of pictures, but most of them are portraits of people with no special significance. In addition, screenshots from social media add to the accuracy and credibility of the story content.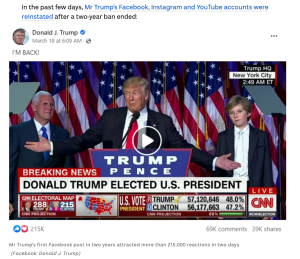 Four links have been inserted to provide context and credibility.
Compared to ABC's subheadings that string together the whole article, Axios's story is a bit cluttered. Although the author has also used bold font, the font size is not significantly different from the text.
This article uses the third person to narrate the story, which is more objective. Links are the lifeblood of the web (Bradshaw, 2017). Many links are inserted throughout the article to add credence to the source of the story. But too many links make the whole news story just a collection of other stories, not creative. Apart from the link, the article had only one photo of Trump.
---
Online delivery
To draw and keep an audience's attention, interactive elements are introduced (McAdams, 1995; Paterno, 1998). Interactive tools are also used to elicit public discourse and assemble thousands (or millions) of people in an online community (Tucher, 1997).
In the ABC story, there was a link at the beginning of the article for users to share. In addition, at the end of the article, you can also share the link to Facebook, Twitter, LinkedIn. It also supports sharing via email and whatsapp. There is no direct email contact information for the author on the news page. However, the author's contact information can be found by way of hyperlink in the author column below the title. One drawback is that only the author's name is displayed on the site, with no profile picture. This will reduce the credibility of the article.

In Axios's story, there are links to Facebook, Twitter, LinkedIn, and email at the top and bottom of the story. Axios has fewer link choices than ABC. In terms of contacting the author, it is like ABC in that it jumps to the interface of contact information by clicking the author's name. Contacting authors is easier in Axios than in ABC because it directly lists the author's email address.

---
Technical delivery
The useability factor is also an important part of online journalism.
In the ABC report, the text size is appropriate. In addition, the subheadings clearly divide the article into four parts. Text is emphasized by bolding the text. The content of the quote is also marked in grey by the author. Two-thirds of the space is devoted to news, and the other third is filled with popular stories for audience to read. Overall, the reading experience of the whole article is very comfortable.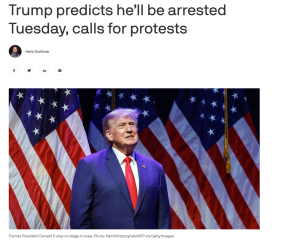 Axios's news interface is cleaner than ABC's. Its entire page is devoted to the story, and only when it slides to the end will other stories appear. Generally speaking, this kind of news interface is more popular. However, it is inconvenient that there is no way to read many news at the same time and choose the one you are most interested in. You can only slide down to find the one you are interested in. This is not particularly friendly to people who don't have the time and just want a cursory overview of the news. In addition, the left and right sides of the white space is too much. It can be appropriate to add some interaction with the audience, such as voting and so on.
The font is larger and clearer. Each point is also marked by a small circle in front of it. But compared with ABC, Axios is less like writing a news story and more like listing bullet points gleaned from various news sites. Too many links can be confusing.
Conclusion
In general, each site has its own merits. ABC involves more comprehensive and mature content. Axios is a little less impressive, but it also makes the point. Axios lacks the support of pictures and videos. In terms of online delivery, there is no significant difference. ABC can share it with WhatsApp. From a technology delivery point of view, Axios's layout is cleaner, but it may not be a good choice for those who want to sift through news at once.
(Word Count: 1461)
---
References
ABC. (n.d.). ABC History | About the ABC. About.abc.net.au. https://about.abc.net.au/abc-history/#1930s
Tucher, 1997. "Why Web warriors might worry," Columbia Journalism Review, (July/August), at http://www.cjr.org/year/97/4/warriors.asp
Bradshaw, P. (2017). The Online Journalism Handbook. Routledge.
Jolly, R. (2014). The ABC: an overview – Parliament of Australia. Aph.gov.au. https://www.aph.gov.au/About_Parliament/Parliamentary_Departments/Parliamentary_Library/pubs/rp/rp1415/ABCoverview
Kulkarni, S., Thomas, R., Komorowski, M., & Lewis, J. (2022). Innovating Online Journalism: New Ways of Storytelling. Journalism Practice, ahead-of-print(ahead-of-print), 1–19. https://doi.org/10.1080/17512786.2021.2020675
McAdams, 1995. "Inventing an online newspaper," Interpersonal Computing and Technology: An Electronic Journal for the 21st Century, volume 3, number 3 (July), pp. 64-90, and at http://www.sentex.net/~mmcadams/invent.html
Nast, C. (2016, November 30). Exclusive: Mike Allen and Jim VandeHei Reveal Their Plan for Media Domination. Vanity Fair. https://www.vanityfair.com/news/2016/11/mike-allen-and-jim-vandehei-reveal-their-plan-for-media-domination-axios
Nast, C. (2017, January 3). Jim VandeHei and Mike Allen Bring on Washington Insiders to Help Run Axios. Vanity Fair. https://www.vanityfair.com/news/2017/01/jim-vandehei-and-mike-allen-hire-washington-insiders-to-run-axios
reporter, S. (2020, May 31). From the Archives, 1947: ABC launches independent news service. The Sydney Morning Herald. https://www.smh.com.au/national/from-the-archives-1947-abc-launches-independent-news-service-20200527-p54x2t.html
Paterno, 1998. "Is anybody there?" AJR NewsLink, at http://ajr.newslink.org/lajrpaterno3.html
Sheikh, K. (2019, April 30). Journalists as Characters: Using First-Person Narration to Drive Stories. The Open Notebook. https://www.theopennotebook.com/2019/04/30/journalists-as-characters-using-first-person-narration-to-drive-stories/