ABC News: abc.net.au/news
Publishing Context
Australia's national radio and television broadcaster, formerly known as the Australian Broadcasting Commission, was established in 1932 and reorganised under its current name in 1983. Headquartered in Sydney. The highest authority of the Corporation is the Board of Directors, all of whom are part-time and appointed by the Governor-General for five-year terms. The General Manager is the executive head and is appointed by the Board of Directors. Funding is reviewed and approved by Parliament and paid for by the State Treasury.
Journalism encompasses activities that independently pursue or remark on accurate information regarding current or recent events, as well as creative expressions for public education (Malik & Shapiro, 2016). ABC News is an important part of the fabric of Australian cultural life. The ABC has been part of the Australian media landscape since 1932. For much of its existence it has competed with a small number of commercial media providers for radio and television audiences (Scott, 2014).
In an ever-changing media landscape, the ABC wants and needs to provide excellent content and services that are indispensable to the Australian public. The broader media ecology remains a relevant consideration for the ABC (Scott, 2014).
ABC News is an integral part of the lives of millions of people, with more than 70 per cent of Australians aged 18 and over using the ABC every week. to secure the future of the ABC, the ABC is determined to remain an audience-focused, content-driven media organisation. It is hoped that the ABC will become the home of Australian stories and conversations – not just on the platforms that have dominated in the past, but on the platforms that will be at the heart of the online and mobile world in the future (Scott, 2014).
ABC News: Tasmania 'vital location' in 'rewilding' efforts to rebuild native animal populations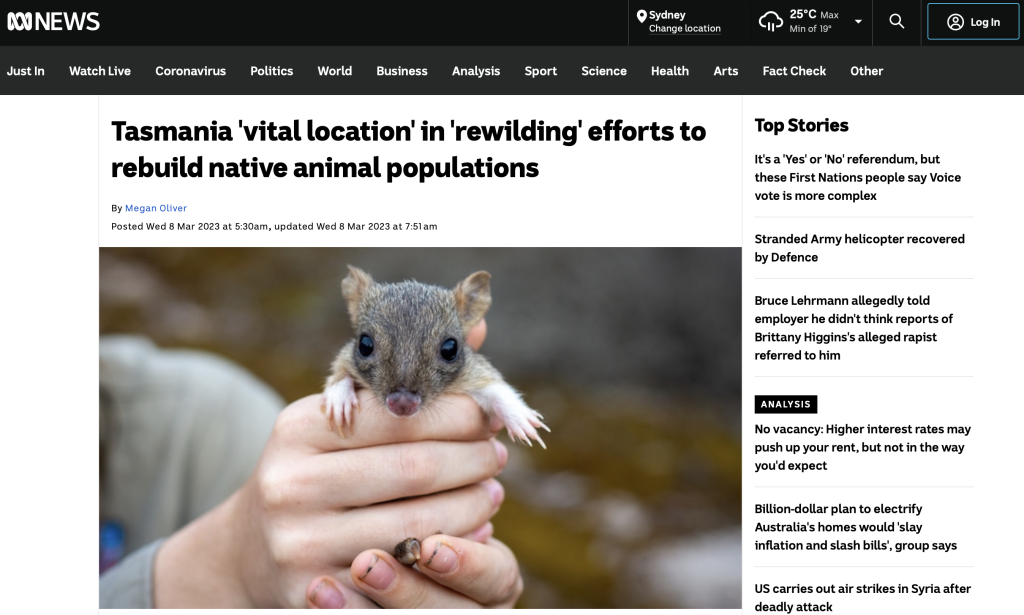 https://www.abc.net.au/news/2023-03-08/scientists-rewilding-native-species-say-tasmania-key-to-success/102048758
Tasmania plays a crucial role in rewilding efforts to rebuild populations of native species in Australia, which has one of the greatest overall rates of species extinction, and this paper describes these efforts. There are many positive aspects to this news article, including numerous images embedded on the page with text descriptions, numerous interviews as factual evidence, and social media links at the end to encourage reader participation. Additionally, it has a distinct and persuasive headline.
Journalistic writing and content production
The most recent State of the Environment report (2021) is the source of the information in this news article, so the information in this news article is accurate and credible. The story begins by describing the seriousness of the decline in Australia's overall animal population and then goes on to detail the work being done to restore the country's ecology. Pictures and hyperlinks are used throughout the article to help the reader read and understand better.
Online delivery
Journalists are only now questioning their understanding of online discourse. It recognises the need for more focused media training to better engage viewers and handle bad encounters. Thus, journalism educators must investigate the historical dichotomy between objectivity and dialogue and how conversational journalism can help professionals communicate more effectively and inclusively with their daily contacts (Martin & Murrell, 2021).
This article ends with the use of links shared to different social media, such as Facebook, Twitter, WhatsApp, etc. Good use of the interactive features of the web and mobile platforms.
Technical delivery
The ABC news pages are clear and functional, with clear tabbed categories so that users can query or find exactly what they want to see.
Zendesk is a secure data management system used to collect demographic data on all crowdsourced and labeled ABC items. Zendesk collects and stores individuals' contact information, diversity data, and inquiries or experiences. Individuals are able to provide information about their expertise and life experiences via the database. The database can be utilized and shared by ABC content producers who have received the necessary training (ABC yearly report).
Junkee: junkee.com
Publishing Context
Not only are online publications the backbone of digital news, but they also foretell its expansive nature. Since the news machine's first attempt to publish "shovel" on the Internet at the end of the 20th century, the online experience offers users new opportunities to plan their own news experience using the theme title list and mutual connections with previously reported materials. Today, the multimedia website of a typical large news organisation serves as the centre of the latest news and special reports, with a view to further dissemination through cross-platform channels and social networks. It consists of blogs and real-time blogs, digital video and news broadcasts, podcasts and photo libraries (Malik & Shapiro, 2016).
Junkee is Australia's most intelligent and original pop culture title. Junkee gives young Australians a fresh perspective on their world. Junkee covers everything from politics to film, television to technology, and everything in between.
Junkee Media publishes Junkee, inthemix, AWOL, and Punkee. Junkee was named Mumbrella Awards Media Brand of the Year in its first year for its unique, opinionated, humorous, and intelligent take on pop culture. By creating daily content that informs, intrigues, provokes, and occasionally amuses, they aim to add to the conversation rather than just noise.
They value originality in news and commentary and aim to create content that sparks conversation, adds new perspectives to old topics, and inspires young Australians to think differently.
Junkee: Tanya Plibersek Pledges "Zero New Extinctions" In Australia With New Environment Policy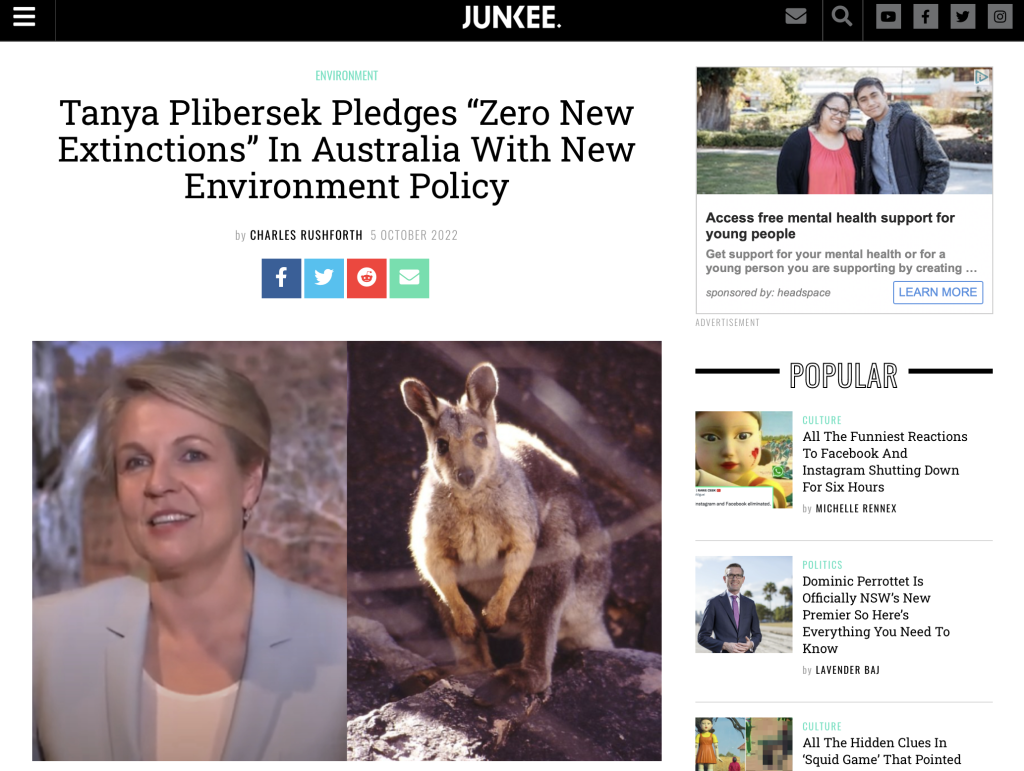 https://junkee.com/tanya-plibersek-extinctions/342541
In order to halt the annihilation of plant and animal species over the course of a decade and put an end to the practice of conservation known as "extinction hotspots," thirty percent of the territory in Australia will be set aside for this purpose. Beginning in 2022, the Australian Federal Government intends to fulfill its commitment to ensure that no additional species will become extinct as a result of human activity. Following is to discusses Australia's plans, budgets, and the challenges that it faces when attempting to safeguard endangered species.
Journalistic writing and content production
The information in this press release was obtained from official documents and the Australian Minister for the Environment and Water, so it is accurate and reliable. The article is tagged environment and includes a screenshot of Tanya Plibersek's tweet and a link to her Twitter page, as well as a link to an image of the story within the article to help the reader comprehend the news.
Online delivery
Junkee's page has iconic links at the top to jump to its own YouTube, Facebook, Twitter and Instagram pages, making full use of the interactive features of the web and mobile platforms.
Technical delivery
Junkee's official web menu shows different tag categories, so readers can select tags to get the news they want according to their needs. Compared to some of the mainstream international news media, Junkee's text is easier to understand and includes photos or videos to help readers get a fuller picture (Sam, 2022).
Junkee's primary company, Scout Research, is a platform that conducts surveys among Australians to gain a better understanding of their perspectives. After the surveys are complete, the data are compiled, and Junkee and other partners have access to the information. Both in terms of the work they do as a partner brand and in terms of the topics they are aware are of interest to their audience, transparency in how this data is used is at the core of their research. This transparency applies to both the topics they are conscious are of interest to their audience as well as the work they do as a partner brand. One of the most important competitive advantages that can be gained by a digitally created commercial news service is information about the community (Sam, 2022).
Reference:
Diversity & Inclusionannual Report 2021 – 2022. Diversity and Inclusion Annual Report 2021 – 2022. (2023). Retrieved March 20, 2023, from https://www.abc.net.au/corp/diversity-and-inclusion-2021/
Malik, & Shapiro, I. (2017). What's Digital? What's Journalism? In Eldridge & B. Franklin (Eds.), The Routledge Companion to Digital Journalism Studies (1st ed., pp. 15–24). Routledge. https://doi.org/10.4324/9781315713793-2
Martin, & Murrell, C. (2021). Negotiating the Conversation: How Journalists Learn to Interact with Audiences Online. Journalism Practice, 15(6), 839–859. https://doi.org/10.1080/17512786.2021.1907211
Sam. (2022, March 15). Research. Scout Publishing. Retrieved March 20, 2023, from https://www.scoutpublishing.com.au/research/
Scott, M. (2014, August). #OurABC. About the ABC. (n.d.). Retrieved March 20, 2023, from https://about.abc.net.au/speeches/ourabc/. 
Scott, M. (2014, October). Present challenges, future audiences. About the ABC. Retrieved March 20, 2023, from https://about.abc.net.au/speeches/present-challenges-future-audiences/