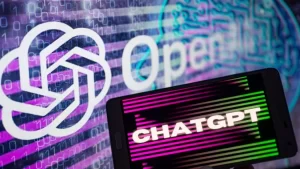 Story proposal
I am interested in writing a feature that explores what role AI tools will play in a student's academic career. I will be interviewing students, teachers, and experts who study AI to explore what positive or negative effects AI can have on students from a learning perspective, given that most Australian schools are listing Chat GPT as a cheating tool.
Story and Pitch
Chat GPT has attracted the attention of Internet users worldwide since its release in 2022. Chat GPT, a search engine equipped with artificial intelligence, has quickly attracted the attention of the academic community with its accurate search results and user-friendly answers.
In 2023, several student users on social media shared posts about their assignments being ruled as plagiarism cheating. On 9 April 2023, BBC news also reported incidents of students using Chat GPT to cheat academically.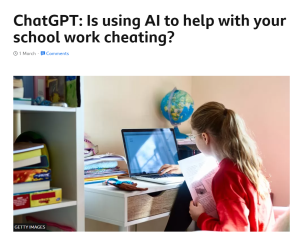 As a search engine equipped with artificial intelligence, Chat GPT can give precise answers based on the questions asked by the user. This is where students have chosen to speculate and use Chat GPT to cheat. The AI tool is gradually being banned from schools as several news media organizations report news of students using Chat GPT to cheat.
Through my feature, I will focus on the following points.
presenting students' perspectives on the use of AI tools
highlighting the use of AI in academic careers
presenting incidents where AI has helped students cheat to generate public discussion
seek the help of AI professionals to explore whether there is a compromise between cheating and learning assistance
This feature will focus on how AI tools will affect students' learning careers from the students' perspective and whether AI tools will have a transformative impact on the future model of education.
Information sources
I will consult with PhDs from the University of Technology Sydney to ensure that specialist content related to AI is authoritative. Concurrently, I will take interviews, organize information for scholarly articles, and use published multimedia to provide readers with perspective and background material.
Sources include (tentatively)
Ferdinand Shi PhD in Artificial Intelligence, University of Technology Sydney
Lishan Xie Current student at the University of Sydney
Aaron Liu 8-year veteran teacher
Preferred Publication and Target Audience
This feature will be targeted at a wider group of students and teachers and is therefore ideal for the BBC news or ABC News. As the news organization with the widest audience in the world today, BBC News can extend the reach of this story to the world. ABC news, as a local Australian news organization, could extend the reach of this story and provide some reference value for local Australian universities.
Multimedia, Hypertext, and Interactivity
This feature will include:
Audio or video recordings of interviews with the permission of the interviewer
Embedded images related to artificial intelligence.
Pointers to all available hyperlinks, including websites.
Contact details of the person mentioned in the feature.
(word count:509)
Please feel free to leave your suggestions in the comments below, thank you very much!