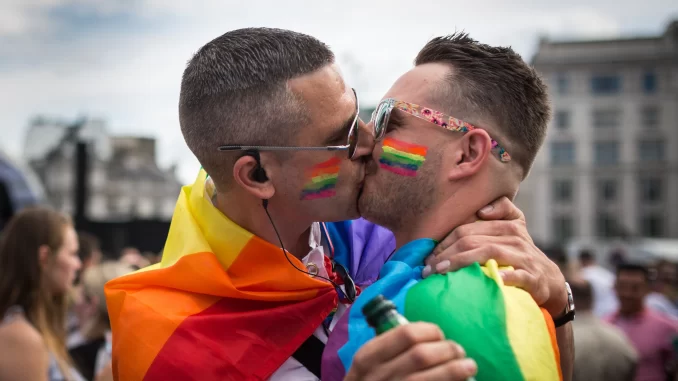 This special report features an interview with a gay couple from China who has lived in Sydney for the past ten years. Through their personal stories, we will explore the changes in Australian government policy towards the LGBTI community over the last decade, highlighting Australia's progress towards a more diverse and inclusive society.
WATCH: ABC News interview on the 2023 Mardi Gras Parade @ABC News (Australia)
Recent events, such as the Mardi Gras parade 2023, the largest LGBTI parade in the southern hemisphere, demonstrate Australia's growing tolerance towards the LGBTI community in the post-epidemic era. However, this was not always the case, with homosexuality being criminalized throughout Australia prior to 1975, leading to various forms of persecution and imprisonment.
Progress towards equality:
In 2013, Australia passed anti-discrimination laws, prohibiting discrimination against LGBT groups. The same year, the capital territory government passed a same-sex marriage bill, but it was deemed invalid by the Australian Supreme Court, who declared that the issue of legalizing same-sex marriage should be left to Congress. This setback was followed by further opposition to the promotion of same-sex marriage in 2015, which hindered progress towards legalizing it.
However, in September 2017, Prime Minister Turnbull successfully launched a postal referendum, with over 60% of voters expressing their support for legalizing same-sex marriage. On December 7, 2017, the Australian Senate and House of Representatives officially passed the same-sex marriage bill, marking a historic victory for the LGBTI community.
A Newsworthy Feature
For general audiences, this report on the lives of sexual minorities is novel and attractive. The news value of this report is human interest. People want to read stories about other people, so a human interest angle can be especially useful in helping you put a human face on a bigger story that needs to be personalized.
For sexual minorities, this report is closely related to the LGBTI group, so the news value is relevance. This report will resonate emotionally and psychologically with the public.The content of news reports is closely related to the interests, concerns and experiences of readers, and is highly relevant and practical. If a news story is closely related to readers' lives, it can arouse readers' interest, resonance and discussion.
The Star Observer is an Australian publication that provides free monthly print and online news catering to the LGBTQIA+ community. The magazine is widely distributed in Sydney and Melbourne, with copies available at various locations such as cafes, libraries, cinemas, theaters, bookshops, medical practices, community centers, gay-friendly pubs, nightclubs, retail shops, gyms, and sex-positive venues. So, I thought The Star Observer was a good fit for this story.
Sources of Information
To demonstrate hyper textuality and multimodality, the article will feature various materials including:
Audio and pictures: Authentic interviews with gay couples of a decade in Australia.
Hyperlinks to relevant reports.
How to interact with my audiences?
A question poll at the end of this article: Is this article useful? Or something else.
Embed audio or video of the respondent's partner: Do you have the biggest difficulty living together? When was the decision to confirm the de facto relationship? Do you think Australia is a country that is tolerant enough?
Vivid interviewer photos.
Hyperlinks to my sources.