(From https://www.marconet.com/)
Background:
China's National Language Resources Monitoring and Research Center has named Pig-butchering Scam one of the "Top 10 New Words in Chinese Media in 2019." Pig-butchering Scam first appeared in 2017 and was named one of the "Top 10 New Words in Chinese Media in 2019" in 2019. As of April 27, 2019, according to incomplete statistics, the number of Pig-butchering Scam victims in mainland China was 876, and the quantity of money stolen exceeded RMB 200 million. However, to this day there are still a lot of people being Pig-butchering Scam, who are usually lurking on major social media platforms such as Instagram and Tinder. Scammers steal selfies or lifestyle photos from online celebrities around the world on social media platforms to scam people and initiate greetings with the opposite sex to get their attention. Pig-butchering Scam assumes a relationship or marriage with victims and promises a bright future. And according to the information I have checked and the feedback from my friends who have been scammed, nowadays Pig-butchering Scams will not mention the money issue right from the beginning of the relationship but will talk with the victim for a week or even a month to understand the victim's situation before making different schemes to scam according to the victim's situation. They swindle people to propose their investment funds or stocks to the victims and guarantee they will gain a lot of money, tempting the victims to invest a modest sum. 80% of victims will make gains and get cash in their initial investment, but if they invest again, they will lose money or lose their funds. Not only that, but the principal invested in it will not be taken out smoothly, and all the victim's money will be cheated. According to the police investigation report, the scammers' "funds and stocks" are fake websites they set up themselves, and the scammer gangs manipulate the money inside the websites, which are not under government control, so the police cannot recover the money.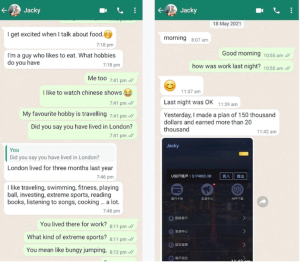 (Screenshot of a chat between my friend Ariel and a liar)
Angle:
I would like to discuss Pig-butchering Scam from two perspectives: the victim and the scamming gang. According to the BBC news report, many scamming gangs use illegal human smuggling to cheat young people who want to find jobs, forcing them to join the gang and beating and verbally abusing them if they try to leave.
Target user group:
My target audience is mainly adults who like to play social software and have the need to meet different people of the opposite sex through the Internet for relationships or marriage.
Online Delivery:
The BBC includes a combination of image text, and video hyperlinks in the stories it tells. I include these in my stories as well, as well as audio recordings of interviews when necessary.
Sources:
Interviewees:
Global Anti Scam Org (Global Anti Scam Organization):press@globalantiscam.org
Ariel Li (a friend close to me who was scammed out of AUD$3000 for a pig-butchering scam): t313472773@gmail.com
Linda Liao (a lawyer from China who specializes in solving cases for people who have been scammed):286592082@qq.com
Secondary Sources:
"Pig Killing Plate" Love Trap Demystified: "How We Scammed Millions of Dollars" – BBC News