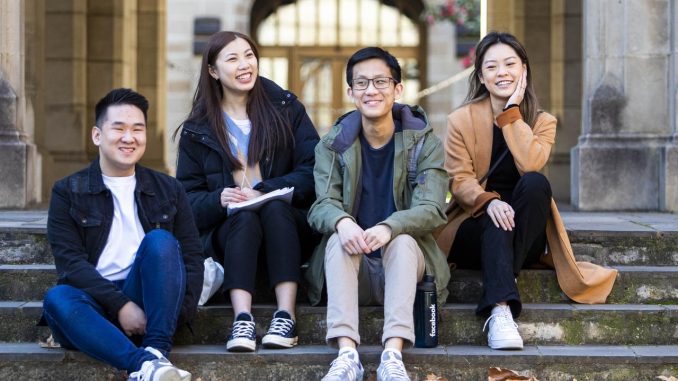 Australian universities' friendly admission policy for international students appeals to students from all over the world. However, "Australian higher education is at the lowest end of the global higher education pyramid" and "The level of Australian universities' academic quality is questionable" are the fundamental views of Chinese oversea student groups for Australian international education and higher education.
It must be admitted that Australia does take international education and higher education as the country's significant industry to develop. According to the Australian Bureau of Statistics (ABS), international students in Australia contributed AUS$ 25.5 billion to the country's economy in 2022 in total. The friendly admission policy accepts a large number of students with high variance from China.
But why does Australia have to be judged and questioned for its friendly admissions policy for Chinese students?
Watch:Chinese students flood Australia because 'standards are lower'
QS world university rankings and their implications for Chinese students
Generally speaking, the better the university, the more stringent the requirements for students to enter. While Chinese students believe studying in Australia is the best strategy to obtain the entrance qualification of the QS world universities ranking 100 with low academic results.
So we need to know what QS university rankings are, and what the implications are for Chinese students and Australian universities.
QS world university rankings are the biggest university ranking yet. The six indicators that determine the QS world university rankings are academic and employer reputation, citations per faculty, faculty/student ratio and research citations. Therefore, the quality of Chinese students does not impact university rankings.
Chinese students value the QS world ranking so much because it is widely used for referring in postgraduate university applications, employment and civil service exams for international students in China. Even China's hukou system is tied to the QS world rankings.
For instance, a civil service selection test in China's Guangdong Province specifies that international students must have graduated from one of the top 100 QS world universities. It also divides the top QS world universities into multiple grades, and various grades of universities have corresponding scores. Thus, Chinese thronged to enter the world's top universities to obtain a higher score on the selection test.
The Hukou system is household registration. It is used for population management in an area. Hukou also bonds with social welfare. To put it simply, once a resident has a Hukou of a developed city(Beijing, Shanghai, ShenZhen), they can access better medical resources, educational opportunities and other social benefits. In 2022, Shanghai announced a policy that international students who graduate from one of the top 100 QS world university would be eligible to settle down in Shanghai after working there and paying social security. Considering Shanghai is China's most welcoming city for overseas returnees, the competition for a Shanghai hukou is highly fierce.
It can be said that in today's talent surplus market environment, QS rankings, to a certain extent, determine the competitiveness of international students in the Chinese workplace after graduation.
The number of Chinese students studying in Australian universities
The most prestigious "Group of Eight" universities see Chinese students as a significant funding source.
The scatter plot of "Top ten universities outside China, by number of Chinese students" illustrates the situation of Chinese students in Australia. From the graph, we can explicitly see that five of the Group of Eight in Australia, ranked in the top 10 universities in the world with the most Chinese students. Australian universities do recruit a large number of Chinese students since its friendly-admission policy for Chinese students.
Data visualization: Top 10 universities in the world with the most Chinese students. Source:Salvatore Babones
The more Chinese students there are, the more "Group of Eight" will profit from them.
Chinese students also confirm the Group of Eight as their important target university choice since its competitive world ranking.
Are Australian universities really that bad?
Xinyang Chen was a graduate from RMIT, majoring in urban planning. While applying for the postgraduate program, she profoundly felt the worldwide acceptance of Australian universities and the difficulty of admission.
"Throughout the application season, I applied to several schools in the UK, Hong Kong, Singapore and Australia for the urban design postgraduate program. I received two offers from the National University of Singapore and the University of Sydney. Even if Australian universities don't have overly complicated processes and documents required in application, it doesn't mean Australian universities are easy for entry," she said.
Chen said if the Australian universities' admission policy is so friendly so called, why did her Hons H2A academic grade not make her get the offer from Melbourne University? If the real quality of Australian universities is so bad, why did she apply for the National Universities of Singapore successfully?
From Xinyang Chen's answer, it seems that her experience is insufficient to prove that Australian universities have lax admission policies and low-quality academic recognition.
So why are there so many allegations against Australian universities if the actual situation of Australian universities is so intricate
Frank Hu is an employee working in an overseas agent. He believes that people's attitudes towards studying in Australia are dependent on subjective factors of people. Chinese students believe studying in Australia is "low investment but high return." The imbalance of interest and result distribution intensify the allegations.
However, the difficulty of applying to Australian universities cannot be generalized either.
"The actual difficulty of applying to Australian universities varies from program to program. Programs that accept interdisciplinary applications tend to be more friendly in terms of difficulty," Hu said.
"We can not one-sidedly think that the friendly admission policy of Australian universities is equal to the low academic quality.It may injure many Australian university teachers' efforts."
Lastly, we can not conclude that the large number of Chinese students in Australian universities is equal to the low academic quality of Australian universities. Australia's academic standards and quality of teaching are in the hands of every student who attends an Australian university.