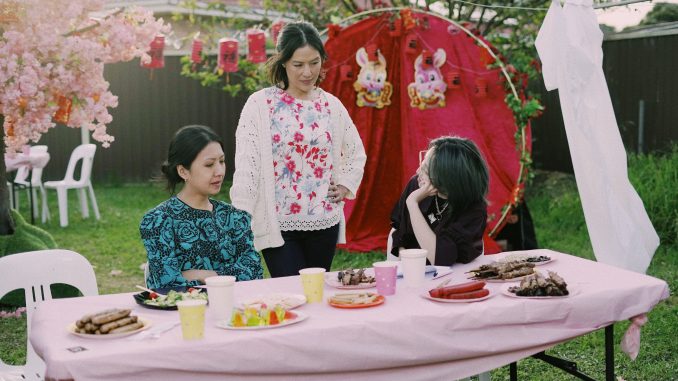 With the explosive success of "Everything Everywhere All At Once" at the Oscars, Asian-American actors and filmmakers have entered the public eye with a new attitude.
"I remember, I was at home in Singapore with my mom watching the Oscars. And when Ke Huy Quan won the Oscar Best Actor in a Supporting Role. My mom and I actually were crying. It was just that joy that we felt from seeing an Asian actor on screen and my parents are not in the arts," Asian actress Deborah Faye Lee said.
Deborah Faye Lee is a Sydney-based actor, writer, and voice-over artist. She participated in a short film produced by genuinefake production last year, and its cast and crew were 90 percent Asian.
The short film Happy New Year, Ms Luna had its world premiere at this year's Mardi Gras Film Festival and won an award at Queer Screen.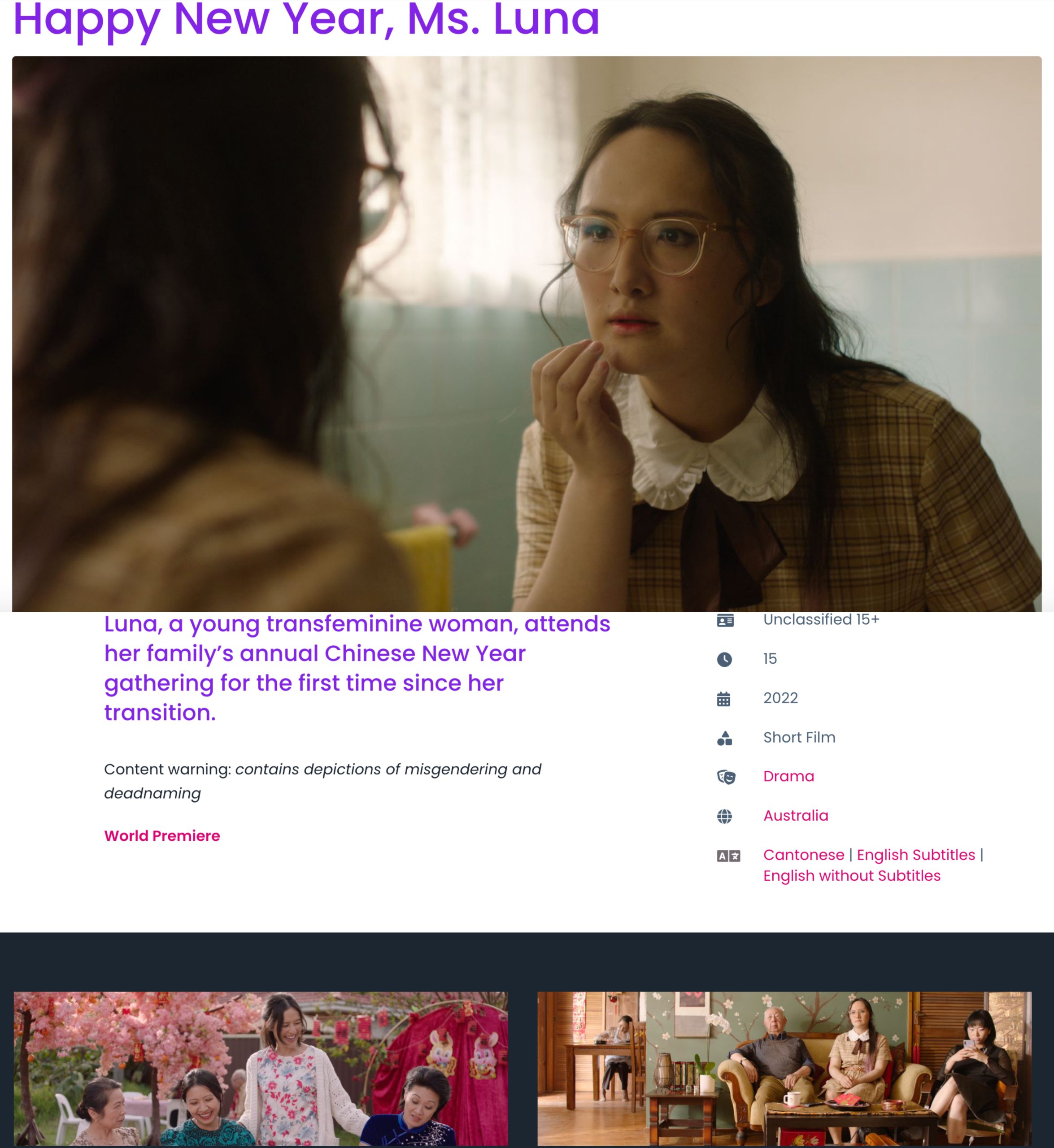 "Turning up for the shoot every day just felt like coming back to a family," Lee said.
"It's kind of common understanding of our behaviors, or our mannerisms, or references in the culture or in the script that we all understood, or we had some form of understanding of."
Deborah Faye Lee talks about her thoughts on the Australian film and television industry (podcast)
Andy Diep (They/Them) is a Cambodian-Australian Non-Binary director. As a young Asian-Australian filmmaker, they also think that there will be a sense of intimacy when they are with staff from the same race. They believe that even if there is diversity in Australia's film and television industry, there is still much room for improvement.
"Working with Asian crew members, there's definitely this feeling of when you see them, it's almost this feeling of family and this feeling that there's someone there that gets you," Diep said.
"There were so many Asian voices and eyeballs on set to look at the set and to contribute to it that it wasn't just me alone trying to tell the story. And I think that's a really beautiful thing."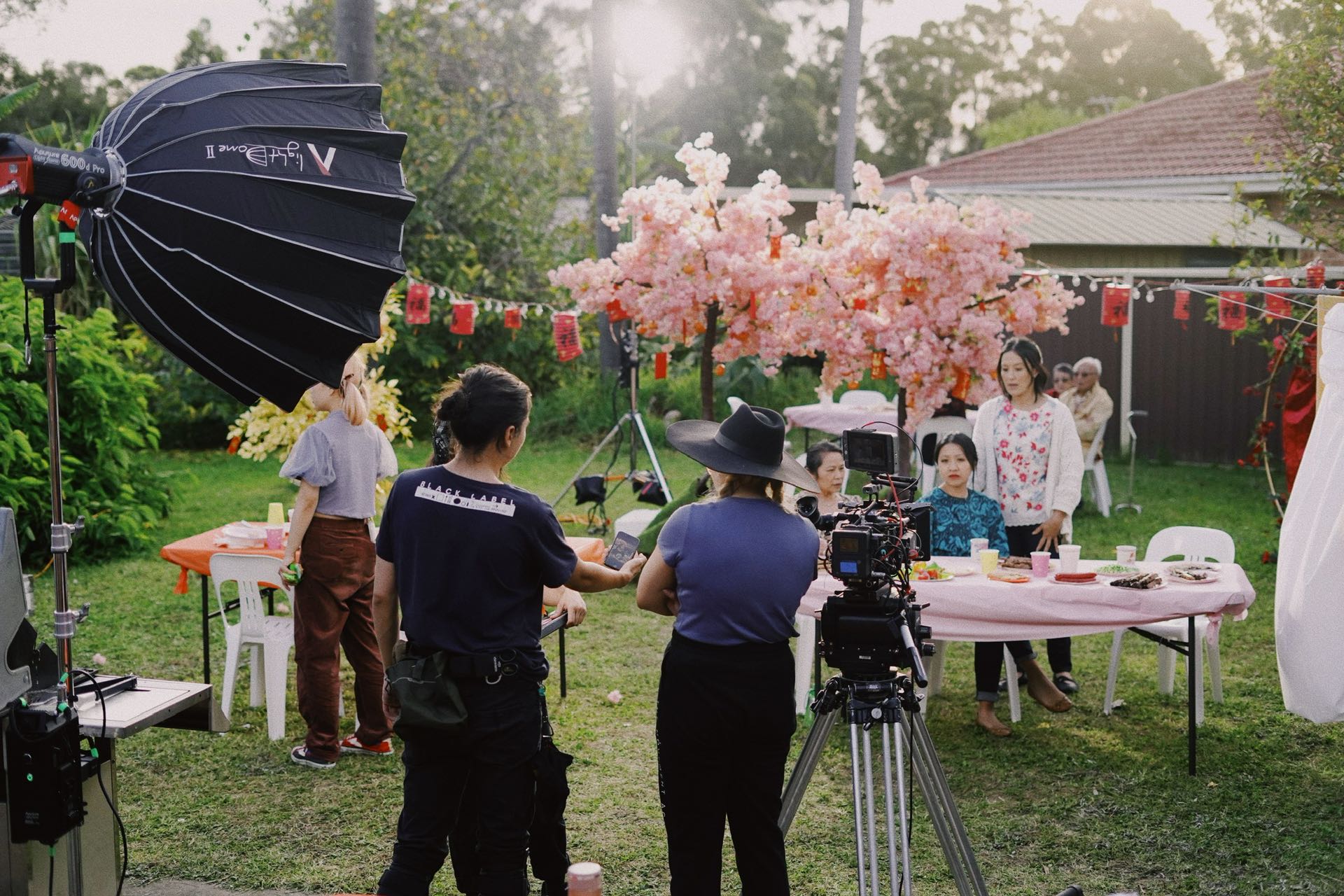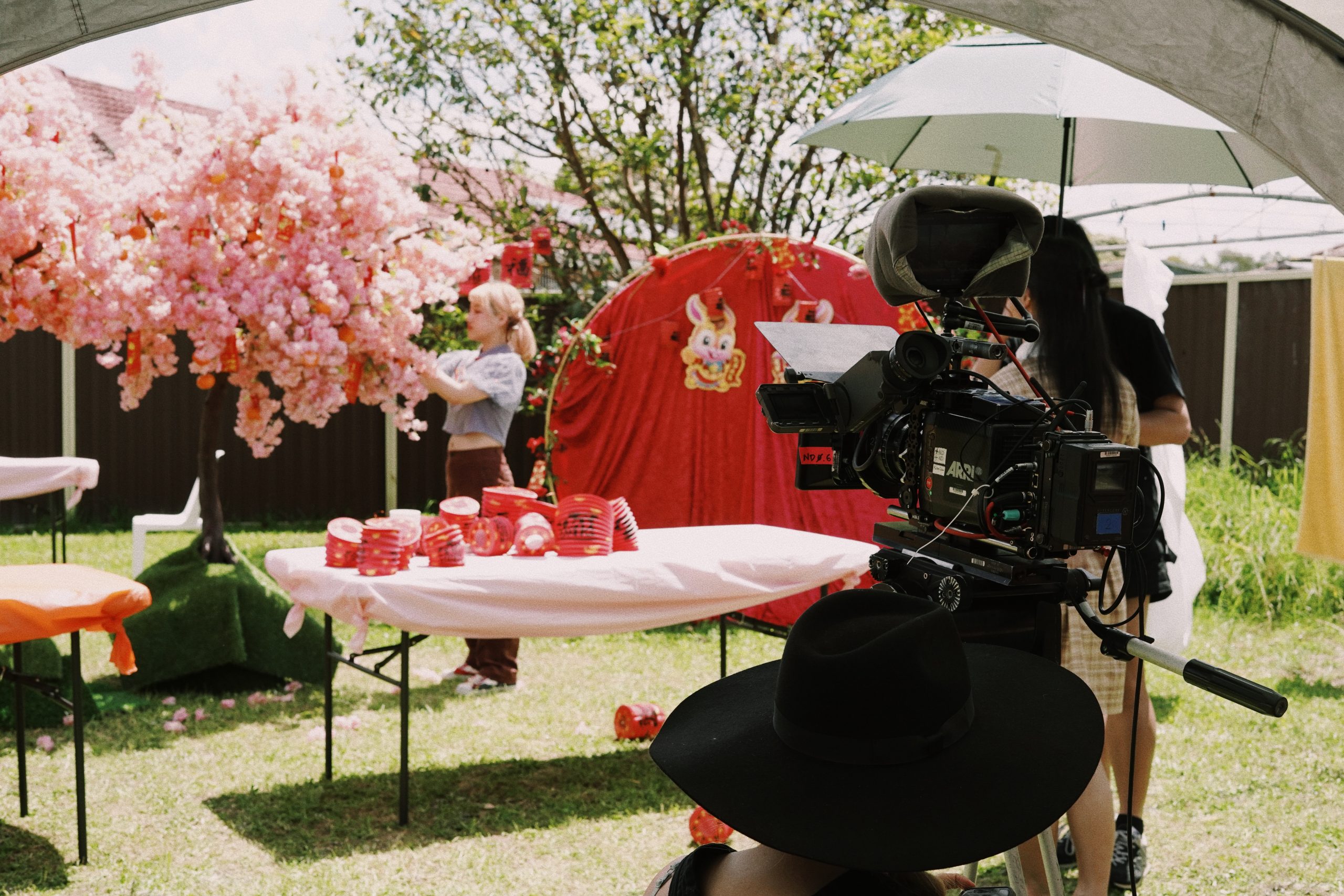 Happy New Year, Ms Luna set.
(Photographer: Wenmiao Xin)
The Marvel films Shang-Chi and the Legend of the Ten Rings, released in 2021, were filmed in Sydney. Andy was lucky to be a member of the camera department and became one of the few Asians on the set.
"It was interesting to be in that situation because, despite the fact that it's very much an Asian narrative and a narrative about an Asian immigrant, I didn't really see that many Asian crew members on set. And I don't think that was a fault of Marvel or anything," Diep said.
"I wasn't the first choice. The first choice was very much a Caucasian camera assistant. And if it wasn't for me, I think the entire camera department would have been white," they said.
"It's the responsibility of other producers to potentially look past cultural differences that they might have with crew members instead of just hiring the same friends or same group of people that you're used to maybe take."
Actors of Asian descent make up 9 percent of cast and crew roles in Australia, compared with about 17.4 percent of the wider population, according to findings in an interim report by the Screen Diversity Inclusion Network for 2021-2022.
Before the trend toward racial diversity, Asian actors would often play the roles of prostitutes or cleaners. They are the only characters, written for a group of people who want to play fair and be able to showcase their talent, so it makes Asian actors unfairly play the stereotype.
The Australian film and television industry is at a very interesting time of transition, with a lot of Asian filmmakers coming up. In contrast to the ubiquitous all-white setting, the number of Asian crew members has increased.
Research by Deloitte suggests there's profit to be made in racially diverse screencasts.
"If a network were to announce a network slate for television it's always like there is the one Asian TV show or there's like in a festival, maybe they'll outline that there'll be like one or two Asian shorts. I don't think it quite reflects the overall look of the outlook of Australia and the diversity in the Australian demographic," Diep said.
"I think that a lot of the media tends towards or tends away from young Asian Australians and is often targeted towards white audiences."
To increase the proportion of Asian Australian filmmakers and actors, Andy thought the Asian filmmaker itself needed to make some changes. They see a need to remove the stigma that acting is not a viable career option for Asian Australian talent.
"I think it's more about the number of crew members available and the need to see more Asian Australians coming into the film industry", Diep said.
"I think there needs to be more support because I don't think we can wait for the studios to mandate it, we need at least 25% Asian Australians", they said.
"As long as we can give chances for Asian cast members to go from doing shorts to then go to independent productions, then to go to larger scale productions, then if we can see how that pipeline works, then that is a good way of encouraging more Asian talent to come on board, to consider education, to consider going to Nida, and to consider it as a career choice."
Andy believes there are no specific episodes or films that relate to the average Asian experience that currently exist on Australian screens. Most of them are about trauma and focus on the immigrant experience rather than the daily lives of young Asian Australians.
"In the future, I hope to see more stories that are about the young Asian Australian experience. Not just what it's not just what it's like being an immigrant, but also how do they interact with the rest of the world, how do they party," Diep said.
The Australian film and television industry is developing towards diversity by learning more from Hollywood, but there is still a lot of room for progress in diversity.
"There's still a lot of Asian crew members who are standing there on set and they'll get talked down to because they seen as less experienced or seen as bit more other and it still happens to this day. It's definitely improving. "
Andy Diep's views on Asian Australian talent entering the Australian film and television industry (Videographer: Wenmiao Xin)