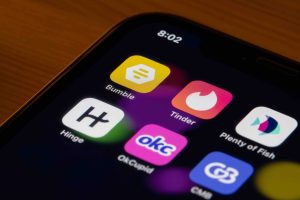 Somehow, the dating app Tinder has been around for ten years. There is no denying that dating apps have revolutionised the way we date and are becoming increasingly popular. Meanwhile, the terrifying stories surrounding Tinder have "stigmatised" it.
Her story
"When first downloading the app, I was fascinated," Calla said, a 21-year-old girl who has just arrived in Sydney from Thailand to study her bachelor degree.
Slide to the left for someone you dislike, slide to the right for someone you crush. This kind of simple, straightforward and gamified dating model seems to help men and women quickly sift those who don't meet their criteria.
"Sup, what you doing?" The first message came from Calla's match. when seeing her ideal type of guy reach out to send her a message, it is hard for Calla to hide the frenzy and excitement she felt.
At the same time, Calla is worried. She wants to find a boyfriend to start a serious relationship, but does the 'FWB' on the guy's profile mean that he's only looking for a girl for hoop-up? Or maybe he sent a 'hello' to every girl he matched with at the same time?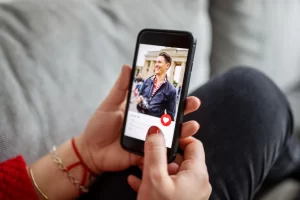 The advantages of online dating
In the online dating market, beside Tinder as most people know, also Bumble, which listed shares on Nasdaq in 2021, and Hinge, which is owned by Match.
According to Statista, 3.2 million Australians are using dating apps such as Tinder, Bumble and Hinge in 2021, making online dating the most common way to find a partner. The largest segment of the population is between the ages of 25 and 34.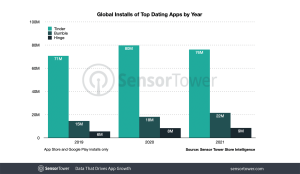 Traditional dating models, such as meeting someone through the network of family and friends, have been interrupted by online dating.
Various online dating platforms help users to find their desired partner by different dating models, like finding romantic relationships and relationships to carefully select the other's profile photos, or by setting requirements such as interests, hobbies, and other criteria.
The popularity of these apps illustrates some important advantages that the online dating market brings to users, particularly in terms of opportunity and empowerment.
"Without dating apps, it would be difficult to have more chances to meet your type, in the absence of mutual friends and working in different professions," Calla said.
(Interview with Calla: How to match on dating apps)
No matter the aim is to simply satisfy their physical need, to find a friend or to find a serious relationship, users on dating apps have more chances to meet their like-minded partners. Also, they have more freedom to agree or refuse requests from potential dating than in the past.
Being straightforward to express your needs and offering transparent requirements and details on the dating market will help you select the right date faster. All of this demonstrates that dating apps bring the more open, equal and respectful relationships that people expect.
Problems implied by online dating software
However, this does not mean that the authenticity and safety of dating apps can be absolutely guaranteed.
"When we met in real life, I found that he kept receiving message beeps and phone video requests, and later he confessed that he had a girlfriend in his country while he was dating me,'' Calla said with a sigh.
(Interview with Calla: Cheating experience on dating apps)
The endless possibilities and opportunities of potential partners brought by dating software make us more greedy. When hundreds of interested potential partners come to you for conversation, the question is whether you will choose to settle down because of someone.
While being asked why the relationship ended, Calla was a bit emotional. "He forced me to continue the relationship with him in self-abusive way, threatening to hurt my family, which made me so scared. I've never been in that situation before." She cried and wiped her tears with tissue.
(Interview with Calla: Toxic relationship on dating apps)
Deception, rape, violence, stalking and intimidation against dating apps for meeting partners is one of the social issues that is increasingly becoming visible. Since 2012, reports of crimes committed as a result of dating apps have risen by 2,000%.
(Dating App Killers: The Monsters of Online Dating. Credit: wavywebsurf)
For example, Christopher Collins met a Melbourne woman on Tinder and scammed thousands of dollars out of her. Former Western Australian police officer jailed for 30 years after drugging and sexually assaulting a dozen women.
Do dating apps save or ruin this generation?
It has to be admitted that these so-called "dangers" existed long before dating apps became popular.
However, the advent of dating apps has increased the likelihood of crimes such as these occurring. Meeting strangers in person after short online chatting, the reliability of the results of which often cannot be overstated.
After all, dating apps as a tool to fulfil people's emotional needs, it is important to know who is using it and how it is being used. While it has changed the way we date and brought us more opportunities for marriage and relationship, it leaves much to be desired in terms of both user censorship and self-judgement.
(Interview with Expert Tang)
Therefore, an essential skill for dating app users is the ability to recognise potential signs of "danger". Not only the user but also the various players in society need to contribute to their safety and security.
Measures for the security of dating software
Software developers have made upgrades to the functions themselves in order to make the apps safer to exist in the dating market.
On Bumble, female users are required to send their first message to start a conversation, otherwise the match will be automatically unmatched after 24h. This has helped to reduce the chances of female users experiencing sexual harassment to some extent.
To improve the quality of matches, Tinder is offering a more carefully curated service for women. A "Healthy Dating" guide has also been released to help users spot red flags in their profiles and to reduce risks.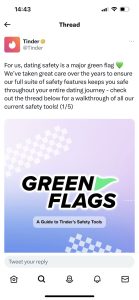 Experts have made proposals to protect more Australians from meeting partners online, by targeting the registration of dating app users, suggesting that dating apps should block predators from using dating apps. Also, it is essential to arrange virtual meetings, choose a safe location to meet, etc.
Lastly, it is very important to know how to use dating apps correctly. We need to be clear at the start about what our intentions are, what we are looking for and whether the other person matches our intentions, so that we don't lose ourselves in what seems like multiple opportunities, or fall deep into toxic dangers that we can't get out of. 
If you or anyone you know needs support, please call Lifeline on 131 114 or Beyond Blue 1300 224 636. 
(Word count: 1096)