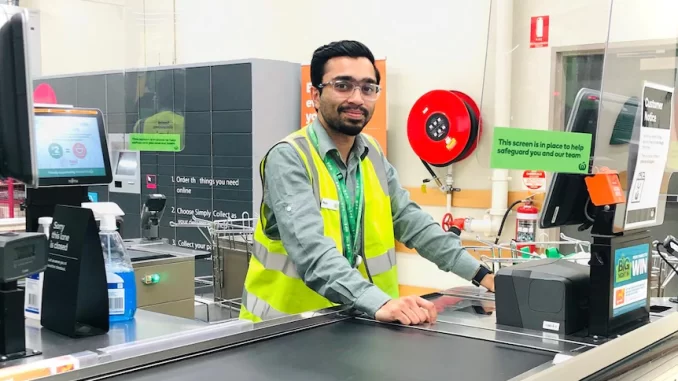 The Australian Government has recently announced that eligible international tertiary education graduates will be given the right to work for an additional two years after graduation. In addition, there are extra eight hours of work per fortnight for student visas.

According to study in Australia, 26 per cent of Australian university students are from other countries. The proportion of international postgraduate students studying for a master's degree is even higher at 49.8%. The enactment of this policy affects not only international students but also local students and businesses.
For international students, it means they will have more chances to experience a foreign culture and get the opportunity to apply their education and technique in a real-world environment.
Jiashu Wang, a graduating IT student from the University of Technology Sydney, said: "The original two years was a short and awkward length of time for me to work, which probably wouldn't have allowed me to stay in Australia. But the new policy of four years will allow me to gain more work experience and be relatively stable, so I can have more plans. "
On the other hand, it has also helped improve the attractiveness of Australia among international students to some extent.
76% of international students said they chose to study in Australia with a view to obtaining a work visa after graduation.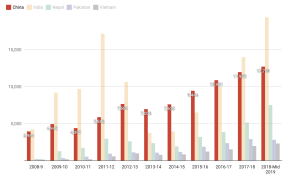 Professor Bostjan Kobe at the University of Queensland said, "The extended right to work provides Australia with a competitive advantage in the global education market, attracting top talent from around the world."
The impact on international students
According to the report, only 58% of international graduates will find full-time employment after graduation by 2022. China, the largest group of international students in Australia, accounts for 23 per cent of all international students in Australia. However, the undergraduate full-time employment rate for international graduates from China is only 52 per cent, which is lower than the average for international students overall.

Jiashu Wang said, "Finding a satisfying job in Australia is not an easy task."
"Although the extension of the 485 visa has eased my job search to some extent, the job market is still not promising."
Jiashu said few local companies accept international students on 485 work visas.
"I have applied to dozens of IT companies and so far, I have only received one offer from a Chinese company in Australia."
"Every time I get to the last part of the interview with a local company, they express confusion about the visa I hold. They only accept graduates with pr and citizenship status," he says.
Jiashu says, "In our profession, there is too much pressure to go back China, so I want to stay in Australia."
The voice of the locals
The survey shows that the employment rate of domestic graduates is achieving steady growth since 2021, with 78.5% of students finding full-time employment within four to six months after graduation.
However, there are still concerns expressed by local students about the extension of the 485 work visa.
Ethan Schubert who is an engineering student from the University of Sydney said, "There are more and more international students, even the professors are Indian."
"I'm becoming very stressed when I with them (international students). They are very smart and I have to worry about getting a job in the future."
Jack McKay, who has been working for an IT company for two years, expressed the same concern.
He says, "I really like my Chinese colleagues, they are very enthusiastic and hardworking, but I would also be afraid of being replaced because of that."
"From the boss's point of view, I would probably choose them as well, with average salaries but creating great company benefits."
What employers think
Despite the extension of work visas, many local companies are still reluctant to hire international students.
According to the report, many employers are unaware of the visa policy for international students.
Altis Consulting's director, John Shim, said, "If I'm going to hire international students, I'm going to have to look at new alternatives in a few years."
"If they don't have the means to live in Australia with long-term stability, why should I expend the effort to train them."
He expressed a preference for hiring domestic students over international students with complex identities, even though they may not do as well as some international students.
The IEAA has prepared a document for Australian employers to correct the misconceptions that some employers have about international students. In the document, it explains to employers the nature of the 485 work visa and how the true purpose of most international students working in Australia after graduation is to obtain permanent residency.
Advice from the University of Sydney Careers Office
Many universities have specific career planning services such as interview skills and CV revision. However, some students have reported that much of this help is offered to domestic students, and while they don't turn down enquiries from international students, their CV revisions and advice is aimed at domestic students.
Daisy Lin from the University of Sydney's careers and employability office says, "With the introduction of this policy, the number of enquiries from international students has increased rapidly."
"Many students are scared of being asked about their internship experience, which is something that sets them apart from domestic students. Compared to domestic students, international students don't have a lot of practice."
She says, "Many international students lack confidence, but being confident is an important personality to look for a job."
In addition to this, Daisy also gives advice on choosing a major.
"For international students, they need to plan early and whether to emigrate or return original country is an important issue."
She said that when choosing a major, apart from considering interests, there are also prospects and life plans.