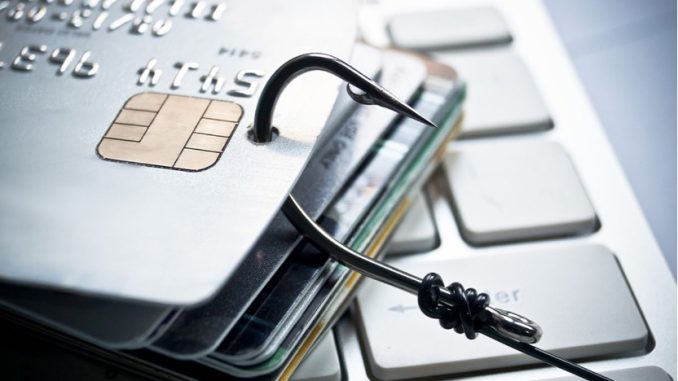 Fraudulent activity on telecommunications networks has had a significant social and economic impact on Australians. Frighteningly, the scale and impact of this activity have recently been gradually increasing.
According to the Australian Consumer and Competition Commission's (ACCC) latest Targeting Scams report, Australians lost a record $3.1 billion to scams in 2022, which is an increase of almost 80% on the total losses recorded in 2021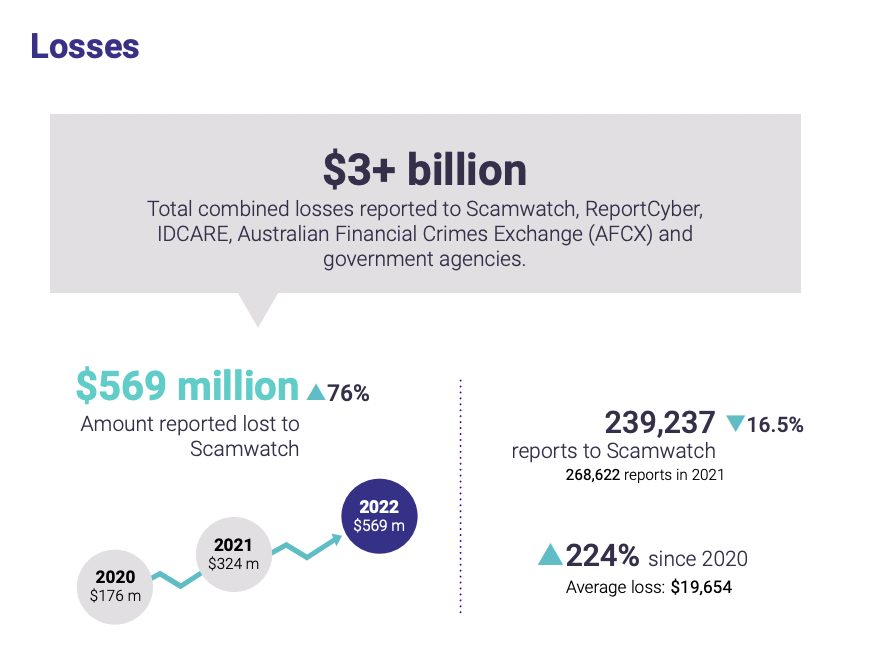 The total loss by scams in 2022. Credited by ACCC
Behind these appalling figures, 94% of all frauds are committed through telecommunication networks. Text messages, phone calls, and emails are the top three methods of contact used by fraudsters.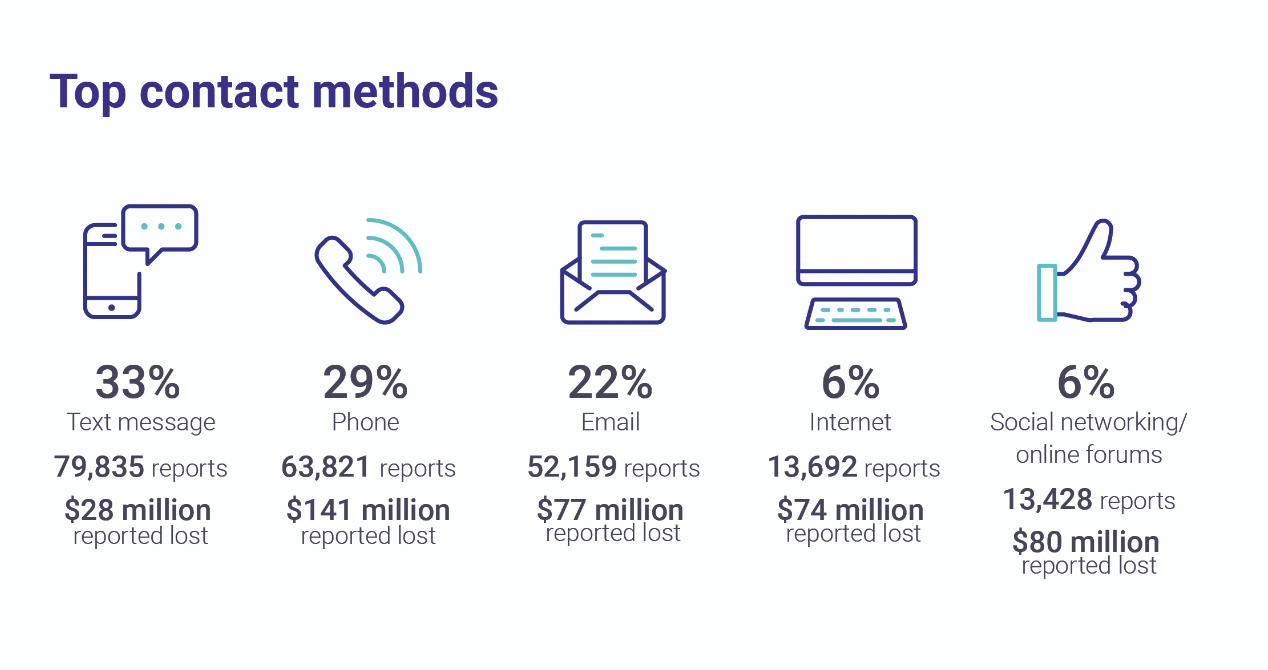 Top contact methods by scammers in 2022. Credited by ACCC
As these scam activities become more and more frequent, the 'traps' that are set up are incredibly realistic and difficult to detect. For example, the 'Hi Mum' scam cost Australians at least A$7.2 million in 2022. Therefore, being aware of what is telecom fraud and learning some common types of telecom fraud scams is what people need to do to protect themselves nowadays
What is telecom fraud? What are the common types of telecom fraud?
 Simply put, telecom fraud is any activity designed to misuse telecommunications products and services for illicit gain. It is the 'Negative heritage' of the digital age where mobile network technology is becoming more and more prevalent and where electronics and communications technology are constantly being updated.
Educational video on fraud prevention. Credited by ACMA.
In Australia, some common types of telecoms scams include phishing scams, recruitment scams, investment scams, and romance scams. Among them, "phishing scam" is by far the most frequent form of fraud that people encountered. It involves tricking people into giving out their personal and banking information via email, SMS, or phone calls. The messages or calls appear to come from legitimate businesses and are often disguised as banks or other financial institutions or telecommunications providers. The scammers try to obtain information such as bank account numbers, passwords, and credit card numbers, which they will then use to steal your identity. According to ACCC, reported losses from phishing scams have surged in the past year, with their numbers jumping by 469% in 2022, for a total loss of A$24.6 million.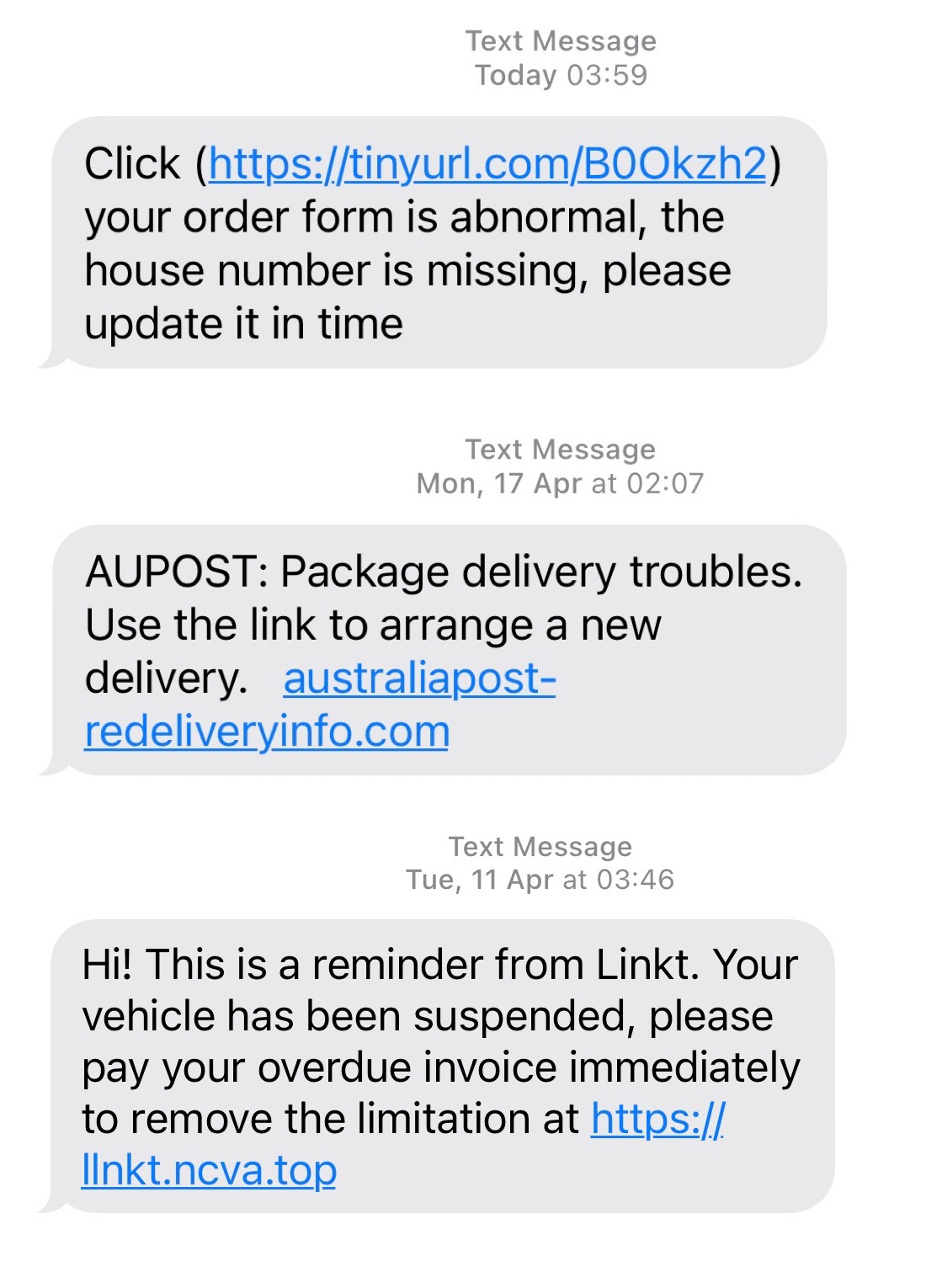 Examples of phishing text messages. Credited by Hazel Tang.
The international student population may become the biggest victims of telecoms fraud
 Under the barrage of scammers, more and more people are paying the price for cleverly designed scams. But in addition to the financial cost of the scams, they also cause emotional distress to the victims and their families. International students, who are non-native English speakers, are particularly vulnerable to scammers and have become the main victims. Scamwatch has received a number of reports of scams targeting Chinese students in Australia.
Examples of fraudulent phone call recording. Credited by Hazel Tang.
Janelle Zhu, a current graduate student at the University of New South Wales had to come to Sydney in February this year to attend an offline course due to the cancellation of her online course.
As a newcomer to Sydney, she was unaware of the local post office's delivery timelines and processes. One day, after waiting anxiously for almost a month, she finally received a text message from the "post office".
"I was very panicked at that time. Because I received an SMS notification claiming that they are from Auspost and telling me that my package is facing a delivery problem. And I need to click on the link below to arrange a new delivery" Janelle said.
"I was in a panic. I received a text message claiming to be from Auspost telling me that my parcel was having delivery problems and that I needed to click on the link below to arrange a new delivery," she said.
Simulation of Janelle's operation process. Credited by Hazel Tang.
However, the "lucky link" that seemed to save her from delivery problems was unfortunately a phishing link for scammers.
"When I clicked in, everything on the page looked super official, then it made me believe it's an official website. And the time frame shown on the page happened to be similar to the time of my parcel, that's what convinced me," she said.
"Realism" is a key reason for many victims to let their guard down, and many realistic scams make it difficult for people to detect, which is a common tactic used by scammers to lure and deceive victims.
"Then I followed the instructions and paid A$1 as the redelivery fee, that is the time when I entered my e-banking password. By the time I realised it was fraudulent, my account had been swiped by an overseas account for A$492," Janelle said angrily.
After that, under the guidance of friends around her, Janelle quickly locked her bank card, which prevented fraudsters from stealing more money from her account.
"Later, I had no choice but to reissue a new bank card, but my money could not be recovered. This is not a small amount for me," she sighed.
How to detect and prevent telecom fraud?
Scams like this happen all the time. Communication operators, banks, post offices, and other organisations that are closely involved in the daily lives of the international student community are the most common "official identities" used by scammers to commit fraud.
In reality, however, the official websites of these organisations are constantly updated with information about recent scams, but people never really pay attention to them.
Suggestions from manager of Commonwealth Bank. Credited by Hazel Tang.
Faced with such a situation, Sonny Wu, the customer service manager of Commonwealth Bank, said: "Scams are deliberately designed to deceive you, if a message is legitimate when contacted by a third party, it's always a good suggestion to be overly cautious."
Moreover, Sonny added: "Please never tell your net bank log-on details. Never tell your password and your net code to anyone else."
That is the key reason why Janelle was defrauded, giving out her bank details as well as her password, thus allowing the fraudsters to successfully use her personal information to steal money.
In the face of the phishing scams that are rampant today, Sonny gave the following advice: "You can visit the branch or contact our customer service or even visit our website for more information to understand if it's our company that contacted you or the scammer. We encourage you to visit our website to find out the latest scams and frauds."
Have you ever been a victim of fraud? Tell us your story!
Contact us by the following ways.
Email: Hazzelltx@gmail.com
Tell: 0420888888