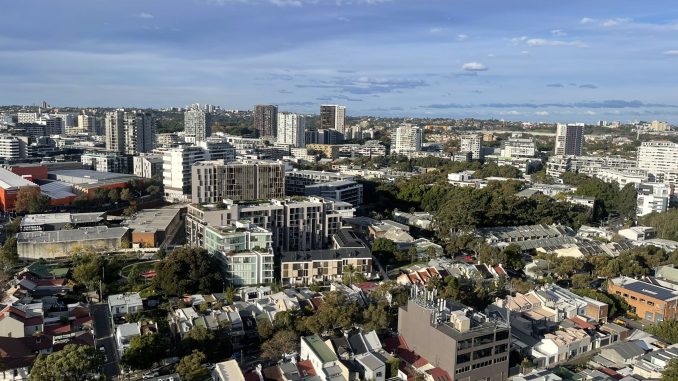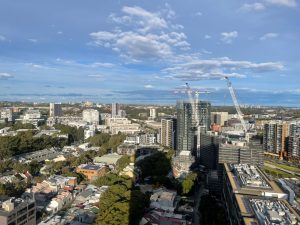 An apartment under construction in the Rosebery area,shot by Kexin Yan
 This year has been a very difficult year for Charles Meng, as he is a Chinese student facing high rents in Sydney.
"I came to Sydney this semester, and even though I lived in Melbourne before, it was obvious to me that the cost of renting has been rising since the opening of Australia's borders. "
"I was even faced with a lot of competition for a house when I was looking for a house, and it was hard to imagine that we were just looking for a suitable living environment.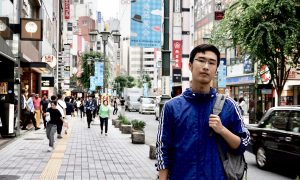 Charles Meng. Picture credit to Charles Meng
With new policy in China indicating that international students need to return to offline campuses for their studies, many of them returned to Australia earlier this year.
This has caused the number of apartments to fall far short of the demand from Chinese students, and apartment rents have risen.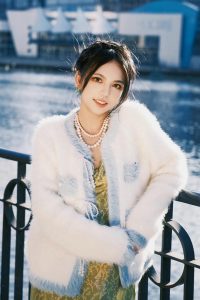 Shisi Luo. Picture credit to Shish Luo.
Shisi Luo, who just entered her freshman year at the University of Sydney, said she spent two weeks in a hotel when she first arrived in Sydney a few months ago because she couldn't find a suitable apartment.
"Staying at the hotel was really a very special study abroad experience that I found very memorable," Luo said.
Luo said that firstly, after the end of the epidemic, the number of international students has increased, and secondly, the new policy introduced in China, where the largest number of international students come from, has caused many international students to return to Australia, and the demand for rental accommodation can be said to exceed the supply.
She said,"In such an environment, the rent also rises, and many international students will increase the price or sign a one-year contract in order to rent the apartment of their choice to increase the success rate."
Luo said the house she is currently renting is also on the rental site real estate every day to refresh the listings, and the landlord to raise the price to rent the house.
The March 2023 REINSW Vacancy Survey indicates that Sydney's residential rental vacancy rate is at its lowest level since April 2011.
This also proves that there will be a gap in demand for housing between the scarce housing stock and the increasing number of international students.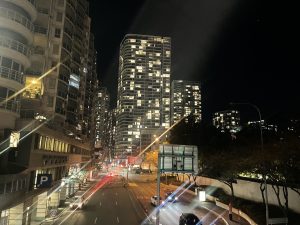 Darling Square Apartments. Shot by Kexin Yan.
As one of the most popular cities for international students to study in, apartment rents in Sydney are consistently higher than in several other Australian cities
The preference of Chinese students in Sydney for housing is also surprisingly consistent, with Darling Square and Zetland becoming the most popular areas for international students to live.
According to Capstone reality real estate agent Pizhuo Sun, international students prefer to rent apartments along the train line, and the closer to the city the more popular the apartments are for international students.
"Another consideration for international students choosing an apartment is that it needs to be close to the school and the suburbs need to have supermarkets and lots of restaurants. Therefore, Zetland, Waterloo, Burwood and City are the most popular areas for international students to live,"he said.
According to real-estate website, the median rental price for a two-bedroom apartment is $820 per week. The median rental grows 26.2% in the last 12 month.
The median rental grows 26.2% in the last 12 month. In April 2023, there are 318 two-bedroom units available in this suburb, and there are 1428 two-bedroom units be leased.
"If oversea students know how to use Domain or Real-estate these local websites, they can rent an apartment easily," Sun said.
Wenqi Yan, a graduate student from the University of Sydney, is lucky compared to other new Chinese students because he signed a one-year lease for his current apartment last year.
Yan said he is satisfied with his living environment and the rent is reasonable and Mascot's location is convenient.
"Although I am satisfied with the apartment I am living in, I rented the apartment a year ago and am more worried about the uncertainty of the next contract, such as a rent increase or the landlord not renting the apartment to the public anymore,"he said.
"If I can't renew this apartment, I'm afraid I'll be in the trouble of finding a room too,because the rent is really expensive now," he said.

       A Apartment in Mascot. Credit to Pizhuo Sun.
Under the pressure of fierce competition for rentals, student apartment brands, such as Iglu and Scape, have also become an option for Chinese students.
Meng said: "I would choose a branded student house because first of all, branded student houses usually organize a lot of social events, which means that I can meet other international students more easily, which will help me a lot in my social life."
Indeed, for Chinese students who are new to Sydney, these branded student apartments can not only solve their accommodation problems, but also help them to socialize better and adapt to their new living environment.
"Branded student housing usually provides more comprehensive and high-quality facilities, and my personal safety is better protected,"Meng said.
Compared with ordinary apartments, most of the branded student apartments have receptionists and security guards, which provide security for international students.
Meng said: "Living in branded student housing usually has a certain reputation and credibility, which means that their management will be more professional, and the prices and quality are open and transparent and more guaranteed than in ordinary apartments."
However, the price of student accommodation has also increased a lot over the year, for example, the price of a double room at Scape in Darling Square has increased from A$450 per week in 2022 to A$669 per week this year.