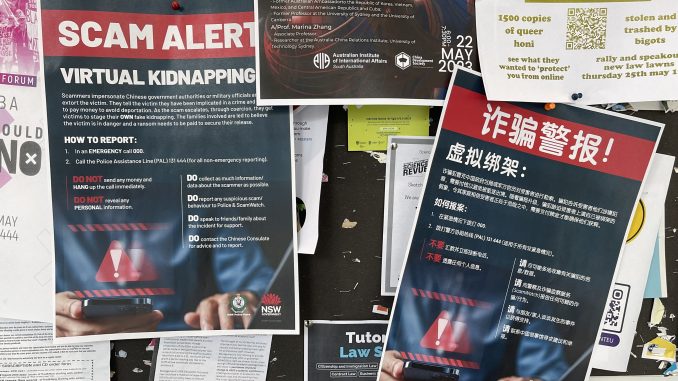 A strange phone call, a long-planned scam.
In the 21st century, we live in an Internet era of information sharing. The Internet has facilitated the public to learn, work and live, but it has also allowed online fraudsters to take advantage of it.
Palin is a Chinese international student living in Australia.
One day she received a phone call from what appeared to be a legitimate telecommunications company.
It was a man's voice, who claimed to be from the Etel team and to be able to communicate in Chinese.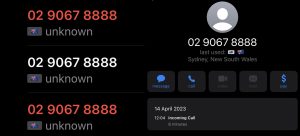 "He gave detailed personal information about me including name, email, phone number and address. This made me feel that he was very convincing", Palin said.
During the call, the man told Palin that a number in her name was illegally sending illegal text messages to multiple users.
He asked her to log on to a website to fill in specific details to prove that there was no connection to the illegal number.
"I was very nervous at the time. When I was going to log on to the website, my roommate walked by and asked me what was going on. Then she told me it was a scam call", Palin said.
Palin stated that she still felt scared when she recalled the matter a long time later.
"If my roommate hadn't stopped me, I could have lost a lot of money after logging on to the website and filling out the information".
Scams are on the rise
According to the latest figures released by the Australian Bureau of Statistics 2023, nearly 65% of Australians (approximately 13.2 million people) have experienced a scam.
Scamming is the illegal act of tricking victims to obtain money or personal details through platforms such as phone calls, text messages, emails and social software.
Phishing, false billing, identity theft and online shopping scams are the most common types of scams in 2023 to date.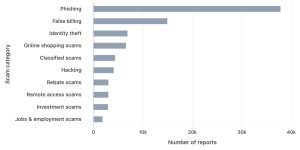 Palin's experience is a typical phishing scam. Scammers often pose as legitimate companies. Victims are contacted by phone, text or email to obtain personal information or to take them to fraudulent websites.
In April 2023, the Australian Competition & Consumer Commission (ACCC) released a summary report on the fraudulent activity that occurred in 2022.
The report showed that Australians lost 3.1 billion to scams in 2022. The most significant financial loss from fraudulent phone calls was $141 million.
Although these figures are already shocking, they are probably only a fraction of the damage caused by scams in Australia.
Scamwatch, a fraud prevention website, reports that almost only 13% of victims have reported having suffered a scam.
"It's time to speak up."
Palin later shared the incident on the Chinese student social networking app Xiaohongshu.
In the comment section, many Chinese students commented that they also had experienced the scam call.
"It happened to me too! It was ridiculous! Said the number I applied for was a scam and knew my personal information exactly too. Thank goodness I saw the post otherwise I would have been scammed."
The University of Sydney has also issued an email reminder to all Chinese students about the "serious scam targeting the Chinese student community".
When you receive a similar call, hang up promptly and avoid communicating with the caller. Do not engage with the scammers or comply with any requests.
If you have also experienced this, report it to Scamwatch for help and to alert others.
Reporting scams to Scamwatch helps us warn others about the latest scam trends.
Did you know you can submit a report on someone's behalf and even report anonymously? Every report helps, so please report here https://t.co/pTH1SBhja9 pic.twitter.com/CttJcLck1Q

— ACCC Scamwatch (@Scamwatch_gov) June 1, 2023
In addition to the common telephone and SMS scams, the anonymity of social media and its wide audience also provides an excellent crime base for fraudsters.
According to the ACCC report (2023), scams on social media resulted in $80.2 million in losses compared to the previous year.
Love cheats on social media
"I felt like my life was falling apart," Joy said excitedly. "I thought I had met a good guy not realising he was actually a scammer. Not only did he cheat my relationship, but he also made me lose money."
Joy, a Chinese student studying at Sydney University, experienced an online love scam on social media in February 2023.
After two months of sharing life and chatting, scammer Mike said his bank card exceeded the limit of exchange money and hoped Joy could help.
After transferring the money, the scammer blocked all of Joy's contacts.
"Till then I realised that I had been scammed. I didn't dare to tell anyone because I was sad and humiliated and felt bad for a long time", Joy sighed.
International students studying abroad often feel insecure because they are far from their family and home. In such situations, it is easy for them to place their trust in caring strangers. Emotional scammers exploit the emotional needs of international students to commit their crimes.
" It's not your fault."
Online scams not only cause monetary losses and can even cause psychological problems for the victims.
A survey of fraud victims revealed that almost 63% of victims said that the fraud had had a negative psychological impact on them.
They often believe it was their fault and remain in a state of chronic self-blame. In the long term, this can lead to depression or anxiety, and in severe cases, even self-harm and suicide.
Prolonged self-blame will not solve anything, and taking a proactive approach is the most effective way to solve the problem.
What is the Government doing?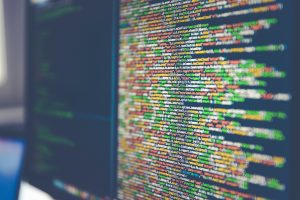 To combat the incidence of scams, the government has provided funding to the ACCC to establish the National Anti-Fraud Centre. This will provide expertise and resources to help protect the Australian public from the dangers of online fraud.
ACCC Deputy Chair Catriona Lowe said the National Anti-Fraud Centre would combine financial, telecommunications, and digital platforms to create cutting-edge technology to interrupt fraud in real-time to protect the public.
In the future, it may also use ID registration policies to disrupt scams as much as possible. Working towards making Australia the hardest target for scammers to attack.
If you want to report a scam to the relevant authorities or for information on preventing online scams, visit the Scamwatch website or subscribe to a scam alert email.
If you are suffering from depression, anxiety or suicidal ideation as a result of a scam, please contact 1300224636 OR 1300659467.
Are you confident you won't be scammed? Here's a test, try it.
If you have a similar experience want to share with me, please get in touch with me.
XuejingShe