I analysed a story about the wave power firm Carnegie published by The Australian. Comparing with the same news story published by ABC, it needs to be improved regard to headline, image and…
Lack of keywords in headline
The headline Administrators appointed to wave power firm Carnegie is not attractive enough. Audiences cannot know where the event occurred or realize what does the administrator's replacement mean.
Lack of lead
ABC gives a clear and summative lead to audiences which could help them to get the most important point in this news story.
Lack of images
There is only one image of a Carnegie wave unit posted at the beginning of the news. More images, such as graphs and figures, could be used to give viewers a more intuitive feeling about the company's profit and loss situation.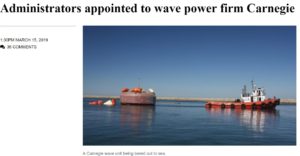 Lack of links
There is only one link, which is link to another news post, in this article. The link of the statement to the ASX mentioned in the story could be added to provide more information.