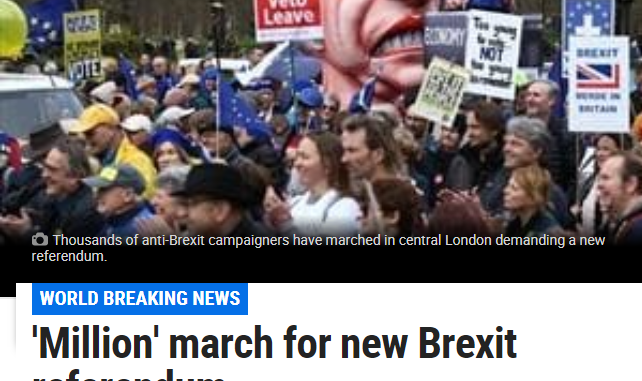 I am analysing a Daily Telegraph story about Brexit referendum.
The headline of the news is brief and concise which will attract the audience' attention and allow them to get the story quickly, but there is no image for the long text to break down apart from one blurred picture at the start of the story. So I suggest it add one more picture of the 'March' and a picture of the interviewee Gareth Rae and Phoebe Poole. Images will be a good window to show protesters' feelings.
As for the content, it has a quick review of the history of anti-Brexit march and mentions people's different opinions on Brexit, but it fails to describe the scene of the "March" and people's feelings on it.
Also, the story has no links to relevant stories about Brexit for the audience to understand the background of it. So I suggest it link to stories such as "Labour prepared to back new Brexit referendum" and "EU agrees to Brexit extension as petition to revoke article 50 exceeds one million signatures"  for the audience to get to know the story and rather than just link to MOST VIEWED stories which are irrelevant and do not open a new page for readers so that they are not likely to go back to the original story.