The news article I would like to analyze is "Gun Shop says Christchurch suspect bought weapons online" from Reuters.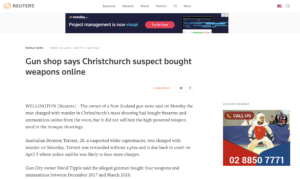 First, the headline does not have enough keywords to represent key concepts. To capture readers attention and boost SEO ranking, I would change it into "New Zealand Gun City sold weapons to Christchurch shooting suspect online". Instead of the suspect "bought", having the weapons "sold" could attract more readers. Keywords like the location and shop name are included. Also, it emphasizes him as a "shooting suspect".
Second, the story does not have a subheading. I would use the gun shop owner's quote "We detected nothing extraordinary about the license holder. He was a brand new purchaser with a brand new license." Using quote increases authenticity of news.
Also, the story does not have any attribution to sources. Below shows phrases that should be linked to sources.

The phrase "New Zealand gun laws" in the above text should be linked to a source as proof, for example, to another piece of BBC news about New Zealand gun law.

The phrase "Fifty people were killed" in the above text should be linked to other news about the shooting, be it from Reuters or other news channels.
Furthermore, below shows the news does somehow include a video in terms of multimediality.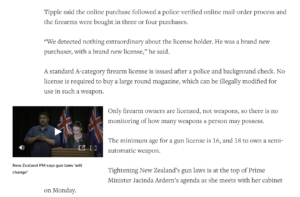 However, the video should have been placed in a higher position instead of being at the end of the news, in this way, it keeps readers move down the page and increases engagement.
Lastly, the news shall include comments box to increase interactivity.