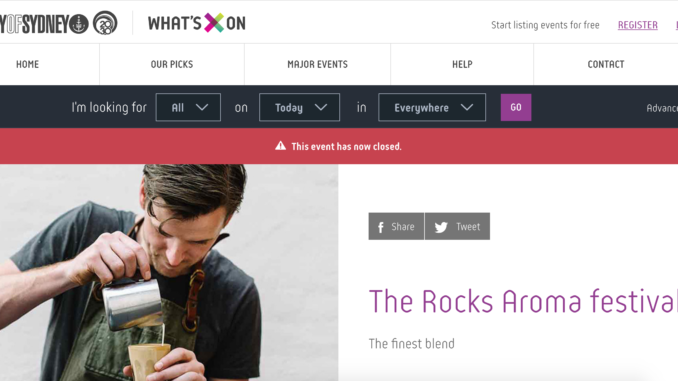 Topic, angle and genre
In terms of topic, Australia is recognized as a country where coffee culture is second only to Italy. Among them, Melbourne is recognized as the "Coffee Capital", but through the market survey in recent years, Sydney people's demand for coffee is also increasing. And, the annual The Rocks Aroma Festival provides a great communication platform for baristas and coffee lovers. The Rocks Aroma Festival takes Sydney's coffee culture to the limit. Therefore, my news topic is about The Rocks Aroma Festival and coffee culture in Sydney.
The Rocks Aroma Festival is Australia's largest coffee festival and the most popular festival for Sydney and foreign visitors in July each winter. However, from the annual Rocks Aroma Festival, which was born in 1998, this year's event was cancelled. I think this has great news value, so I decided to choose interview and investigate the understanding and expectations of local barista and coffee lovers about the Sydney coffee culture in the choice of borrowing holiday cancellations as my angle.
I chose News Feature as my genre for this news, because I will learn about the significance of the coffee culture in Sydney by the coffee lovers and baristas.
Publication and target audiences
I will use Sydney Morning Heralds (SMH) as my preferred online publication. As one of Sydney's largest news media, SMH has a huge influence on Sydneysiders.
Refer to my news target audiences should be all coffee lovers in Sydney. Because, in the eyes of Australians, coffee is not only a fast-food product, they also choose their favorite barista and grasp a set of ways to drink coffee. Only by understanding the true coffee culture of Sydney can the identity of Sydney coffee lovers be recognized.
Interviewees, source and multimedia
I am currently planning to interview one of the Best Café in Sydney.
Interviewees: Baristas and coffee shop frequents at the most popular coffee shops
Possible interview questions:
About The Rocks Aroma Festival (with or without attendance)
The impact of the Coffee Culture Festival on a city (Sydney)
Coffee: Share personal coffee habits
Barista: Talk about the ideal way of coffee culture communication
My resources include existing research materials:
Background information on The Rocks Aroma Festival
Https://www.timeout.com/sydney/things-to-do/the-rocks-aroma-festival
Https://whatson.cityofsydney.nsw.gov.au/events/the-rocks-aroma-festival
Sydney residents' coffee habit survey and Australian coffee market report
Https://squareup.com/au/townsquare/2018-australian-coffee-report
Https://www.mordorintelligence.com/industry-reports/australia-coffee-market
The most popular café in Sydney
Https://www.broadsheet.com.au/sydney/guides/best-coffee
Multimedia: Join the interview pictures and small video clips. The content of the picture can be the moment the interview is conducted by the barista or coffee. Video content can be a way to learn coffee knowledge, coffee bean tasting, cooking, and pulling flowers with a barista.
Word count: 455