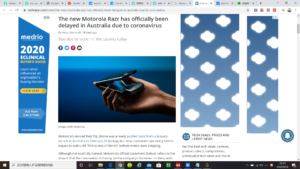 Links: https://www.techradar.com/news/the-new-motorola-razr-has-officially-been-delayed-in-australia-due-to-coronavirus
This article is published by TechRadar on 25th Feb 2020,  which is an old technology-related news website since 2008. Similar news can be found on the Daily Telegraph. It comes with 425 words. In TechRadar, this article comes with 8 hyperlinks which relate to the appraisement of the phone, or comparison with other similar products on the market. It also offers some videos about this phone, but they are in the middle of the website, not as clear as other news websites.
Additionally, Interactivity is good. the sharing clickable links are on the top of the page, and they are very easy to find. However, users have to log in and subscribe if they want to leave comments.
As for SEO, this article has no hashtag to introduce the keywords of the article, but I think using hashtags might be a good way for users to find their interests. Users can also search for relevant news more effectively.
What's more, the website designers should try to simplify their website. One principle for Interface design is simplicity, but there are a lot of adversitisements on it, and only half of the page belongs to the main content. The editor can make some improvements in this area.