Bush mailboxes inspired by Aussie backyard items, and each with a story to tell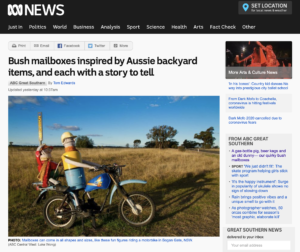 Source: https://www.abc.net.au/news/2020-03-12/australian-outback-mailboxes-australia-post-toilet/12043874
The title is inaccurate and not completely consistent with the content.
The headline says that each mailbox has a story to tell, but the news doesn't mention the mailbox's story. Stories about mailboxes should be included to make the article more interesting.
Poor interactivity, no place for reader's comments.
There is no place under the news for readers to interact with the article, and readers are not allowed to comment on the content of the article. Poor interactivity may lead to a decline in future readership.
The media form is single, the content is a little monotonous.
The media form of the whole article is single, with only  photos beside each paragraph. Now more and more people will watch the news more likely to browse photos and videos, dynamic and vivid content will be more able to stimulate the reader's interest in reading.
There are few links throughout the content, making it difficult to provide readers with relevant backstory.
There are no links in the article that are sufficient to explain the back story of the current content. In order for an article to be more credible, it needs to have sufficient background so that the reader can grasp the context of the whole article more clearly