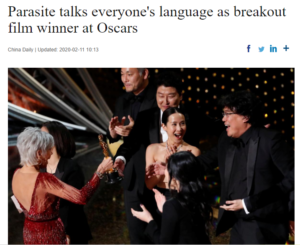 News source: https://www.chinadaily.com.cn/a/202002/11/WS5e420dc7a310128217276965.html
Headline
To improve SEO, I will try to put two keywords – " parasite" and "Oscar" forward, for example, Oscar-winner Parasite talks everyone's language.
Content
The full news is more like a copy and paste from the printed media: one picture, no hyperlink, no video, and only some quotation from the director, South Korean president Moon Jae-in and a professor in Korea Soongsil Cyber University. No subheading which will be easier for readers to search for information on the site. No fresh content that would be deserved to be shared via social media to increase the exposure and build relationship with audience.
Interactivity
There has no technique use, that is, fail to take the advantage of online journalism and i do not think it will appeal the attention of the public and keep them further reading if there is a full page of text. I will add a hyperlink such as some more details about the film, or some other information about the films which also gain popularity in Oscar. Hyperlink like these could be added in the middle of the news. This facilitates audience to interact by clicking through to related information. However, i even did not find a "related news" or "read more" section on the page. At the same time, there is no box for readers to make comment.