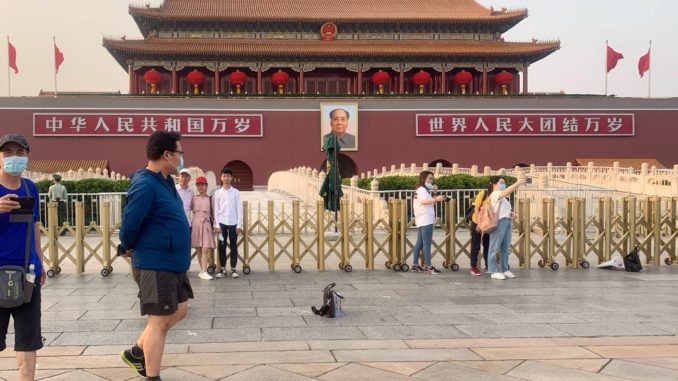 With the easing of coronavirus, more and more people choose to visit scenic spots in Beijing.
China was the first country to break out coronavirus. Since the outbreak of coronavirus in China in January, the total number of diagnoses has exceeded 80,000 and the death has exceeded 4,000.During the outbreak, lockdown policies were implemented in many places in China. The company requires employees to work from home, the school is closed, domestic travel is not allowed, and indoor public places such as museums and libraries are closed.
Now the coronavirus in China has gradually been brought under control, and the number of new people added every day is controlled in single digits. As the capital of China, Beijing has a resident population of 20 million. With the alleviation of the epidemic, more and more people in Beijing choose to visit scenic spots and dine in restaurants.
However, there are still a growing number of confirmed cases and asymptomatic infections in China. The accumulation of large numbers of people still increases the risk of infection with coronavirus.
Beijing Botanical Garden
Beijing Botanical Garden, located in the Haidian District of Beijing, is one of Beijing 's most famous attractions.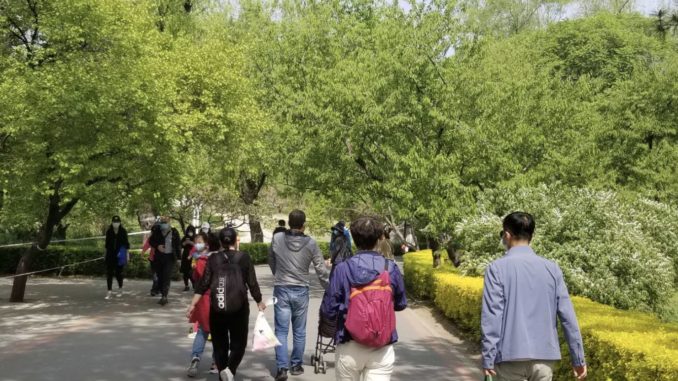 "I brought my children and stayed at home for several months, it was really boring," Mr. Li, a tourist in the Beijing Botanical Garden said. "Now the situation in Beijing is getting better and better. When I come out and wear a mask, I don't worry about getting infected. "
Spring is the season for flower viewing. In previous years, spring should be the most visited time in the Botanical Garden, but the number of tourists has decreased due to the epidemic.
A manager of the botanical garden Mr. Gao said:" Now passenger traffic is much less than before. Compared to previous years, this year's passenger traffic is only 30%. Passengers have to book online to come."
As a key park in Beijing, the Botanical Garden has very comprehensive prevention and control measures.
The manager Mr. Gao said that they have token several measures to reduce the risk of infection.
First, the whole park have been divided into five areas for management, organizes more than 300 employees to conduct inspections.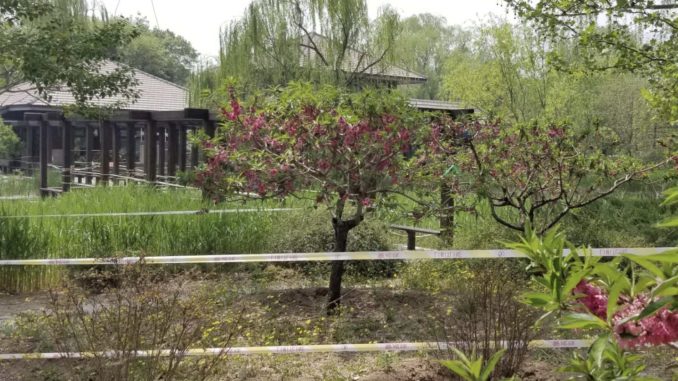 Second, thirty-three places that are likely to cause tourists to gather are closed.
Third, flow control. When the number of tourists in the park is close to 30% of the usual daily carrying capacity in previous years, the Beijing Botanical Garden implements flow control to orderly guide tourists.
Tiananmen Square
In addition to the Beijing Botanical Garden, Tiananmen Square, located in the center of Beijing, has attracted many tourists from other parts of China.
"I came to Beijing from Jiangsu to travel," Mr. Liu, a visitor in Tiananmen Square said. "I stayed at home for two months during the epidemic and did not go out. While the epidemic improved, I came to Beijing to see Tiananmen Square!"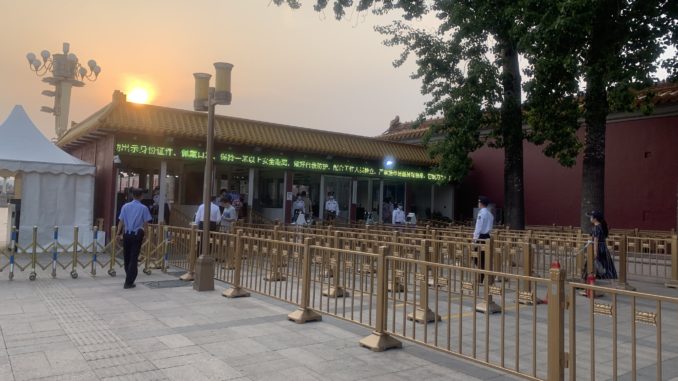 As a key protection unit in China, Tiananmen has stricter security measures than the Beijing Botanical Garden. Every visitor must present his ID card, measure his body temperature, and check the items he carries before entering. There are armed police patrols from time to time in the square, and there are sentries on guard every 10 meters.
For those like Mr. Liu who come to Beijing from other places to travel, he said that there are still some worries about visiting Beijing this time, especially when he comes to take a train. He needs to spend a few hours in a confined space with a person in a compartment, and he wears a mask throughout the process.
"I think the current epidemic situation in China has been basically controlled. You need to measure and ask questions when entering various public places. If you have a fever, you will be checked out immediately," Mr. Liu said. "Now I mainly listen to the country. I wear a mask when I go out. I hope the epidemic will end soon."
Xidan Shopping Center
Compared to outdoor attractions, indoor air is less circulated. Some famous shopping centers also gathered a large number of people. Xidan Shopping Center, located on Chang'an Street, is one of the largest shopping centers in Beijing. During the May Day holiday, a large number of people gathered here.
"Our store has a complete anti-epidemic mechanism," Mr. Zhang, a manager of the center. "Everyone must wear a mask. Every day, we will register the physical conditions of the employees in the mall. If there is physical discomfort, we will arrange to go to the hospital for inspection."
"In addition, some entrances and exits of our mall are closed, leaving only the main entrance. Every guest who comes here needs to take a temperature measurement before entering. In addition, we have posted a 'one-meter noodle' on the ground to remind customers to keep a safe distance when queuing for payment. "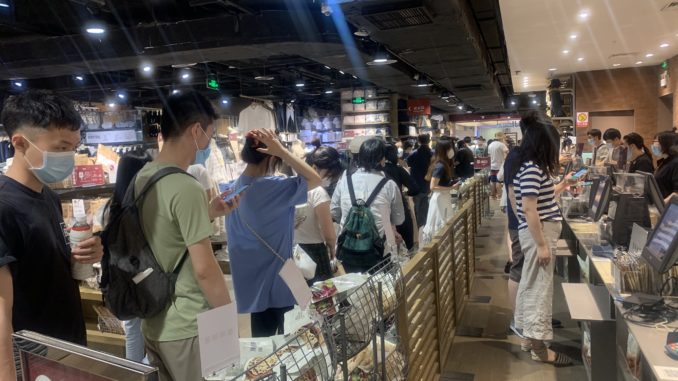 However, due to the intensive passenger flow, customers who lined up at a store did not follow a safe distance. The internal passenger flow is very large, many restaurants are open normally, and many people choose to dine in the mall. At the same time, there are many drink shops in the mall, many customers will buy milk tea. Holding milk tea in his hand, he took off his mask and went shopping.
Taking off the mask in the indoor public place made Ms. Huang very uneasy.
"I didn't expect that there are so many people coming out to go shopping now, and it feels quite dangerous," Ms. Huang said. "If I knew there were so many people, I wouldn't be here. When I finished shopping, I went back. People were too close to people."
"I will not eat out for the time being, because I have seen a lot of news that Jilin now has a concentrated coronavirus spread, which is caused by eating out. If it is dinner, it may have to wait for the epidemic to stabilize."