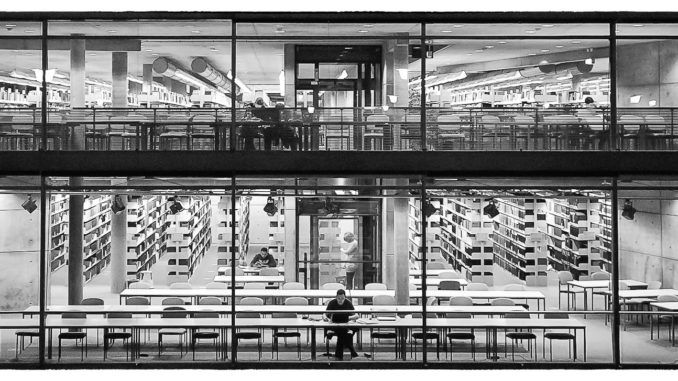 International students are experiencing a challenging time by the economic and mental impacts of COVID-19. Lack of financial and mental support sap their confidence to stay and study in Australia and they can't afford flight tickets to go home.
Figures from the Department of Home Affairs show there were 2.17 million temporary visa holders in Australia in 2020. A quarter of whom were students, amounting to 570,000.
Arrivals from China Blocked
Sherry Shi, Master of Commerce student from China. Since the outbreak of Coronavirus, she was worried about Australia will shut the border, and rescheduled her fight from 20th February to 2nd February.
But Australia announced the travel ban on one day before Sherry's departure.
On 1st February, the Federal Government banned anyone arriving from, or transiting through, mainland China.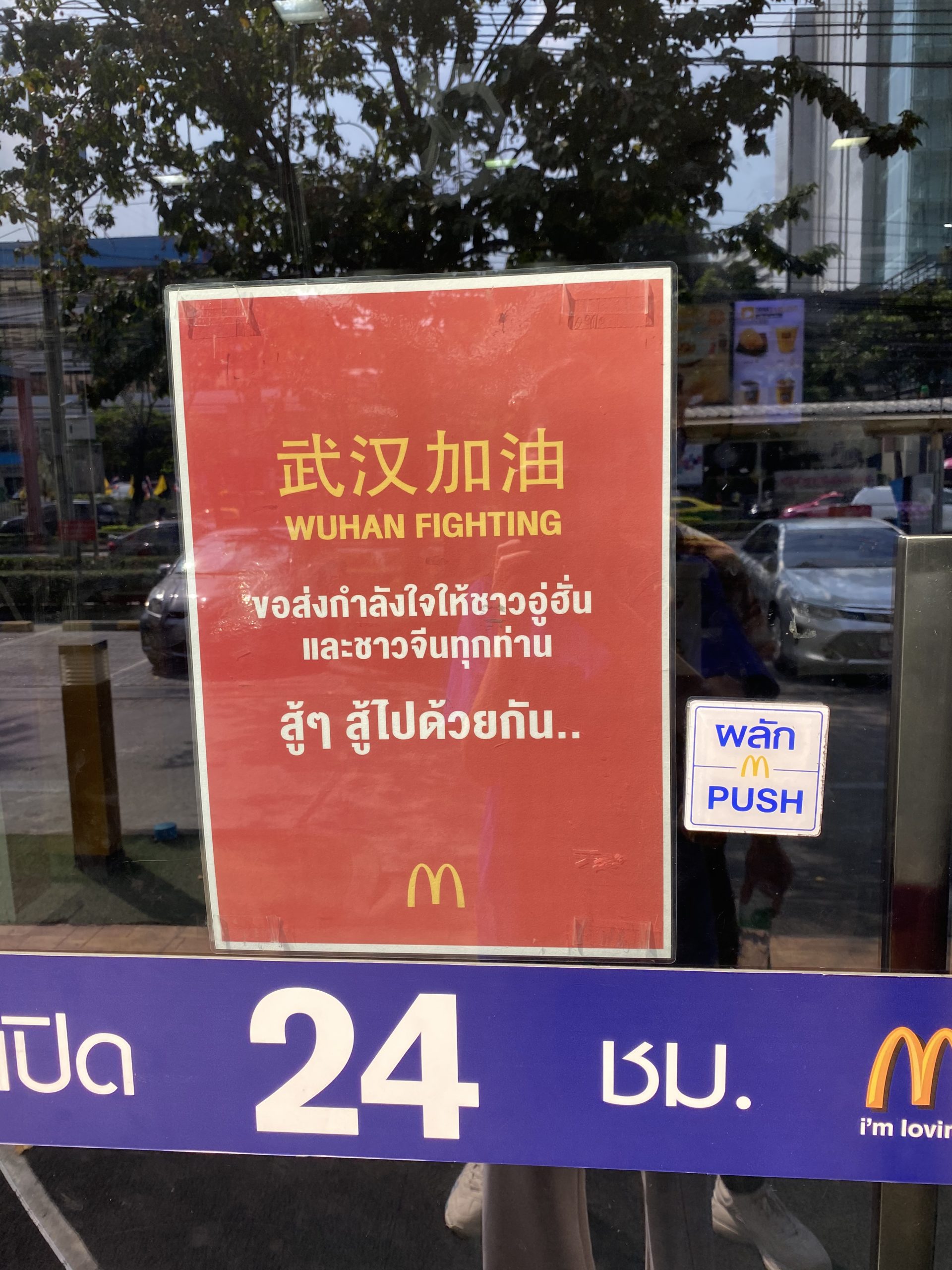 "I understand I shouldn't travel to Thailand at that moment. But if I can't come back to Australia and continue my study, no one but me is going to pay for the consequences." Sherry Shi said.
Like other 10,0000 offshore Chinese students, Sherry was frustrated when she heard the travel ban.
"When we were blocked out from Australia, a lot of universities said they desperately want to see us in face.
"The Vice-Chancellor of the University of Sydney even send us a video in Chinese. I was so touched. But when I came back, I was suggested to go back by the Prime Minister."
Sherry is one of the 31,000 Chinese students who spent a fortnight in a third country to make the way back to Australia.
When she arrived in Australia, she found the situation was not what she had expected.
International students Question Prime Minister
Since March, the federal government has issued Economic Response to the Coronavirus worth $320 billions to help affected workers, businesses and the broader community, and has kept Australians in work, and businesses in business.
International students and other temporary visa holders are not eligible.
Sherry Shi is not the only international students who rely on a part-time job to cover the living cost.
"I pay taxes legally for my work, but when it comes to a crisis, the government only treats me as a resident for tax purpose and cannot give me any protection." She said.
Vietnamese student Jayden Ng, Bachelor of Accounting student of UNSW also lost his job due to the COVID-19 pandemic.
"Standing the perspective of the Prime Minister, I can actually understand why he suggested international students come home. It is fair enough for him to put Australian citizen on the priority.
"If I'm an Australian, I will feel safe by hearing that. Since I can't get help from the government, I'm counting on the financial support from my uni." Jayden Ng said.
International education generates an export income of $34.9 billion a year for Australia and supports more than 240,000 jobs across the country in 2019.
"We should be taken more care." Sherry Shi said. "International students contribute a lot to this country. Pandemic means not just Australian are suffering."
Survival and Psychological Problems
The sudden outbreak of COVID-19 brought unexpected changes to international students and temporary visa holders.
Although the NSW Government has implemented an evictions moratorium to release renting pressures, international students are still facing tremendous survival pressure.
"My landlord didn't offer me an official contract. It's difficult to get legal assistance in that situation, so there is not much space for negotiation." Sherry Shi said.
"I've considered going back to China, but the problem is due to the flight was reduced, the fare too expensive to afford."
With unprecedented global travel restrictions in place and airlines grounded in every corner of the world, flight prices have increased by as much as 150% since March.
"Even if I am willing to buy an expensive ticket to return home, I can't afford to leave my apartment here. My roommate reduces the rent to half price, and still, no one wants to take over."
Jayden Ng faces the same situation but even worse.
"Quarantine period is a disaster for me." He said.
"I move to a shared apartment this semester. At the most time, I stay in my room to reduce the contact with my unfamiliar roommates because I don't know who they got in touched with. I didn't talk to a real person for a long while."
Meanwhile, a sense of racism is growing.
"Because I am an Asian with a mask, I was scolded for bringing the virus. It's all adding to an atmosphere of increased racial tension.
"I really want to be protected. I don't know whether I should go home or stay here." Jayden Ng said.
Student Organization Efforts
The University of Sydney is one of several universities that provides financial assistance to international students.
"I uploaded my application as soon as I returned to Sydney from a third country, but so far, I have not received any response." Sherry Shi said.
"Some students who uploaded the application on the deadline got the grant. I was told that the order of processing applications is from back to front, which is very unfair. I was not asked for uploading a bank statement, which is a piece of crucial required evidence."
According to data provided by SUPRA (Sydney University Postgraduate Representative Association), the school received more than 7,000 applications for Travel Ban Hardship.
By 13th May, 1038 had been issued, with a total amount of A $ 2.2 million.
There are still 600 copies that have not yet been distributed and are expected to be distributed between May 18 and 22.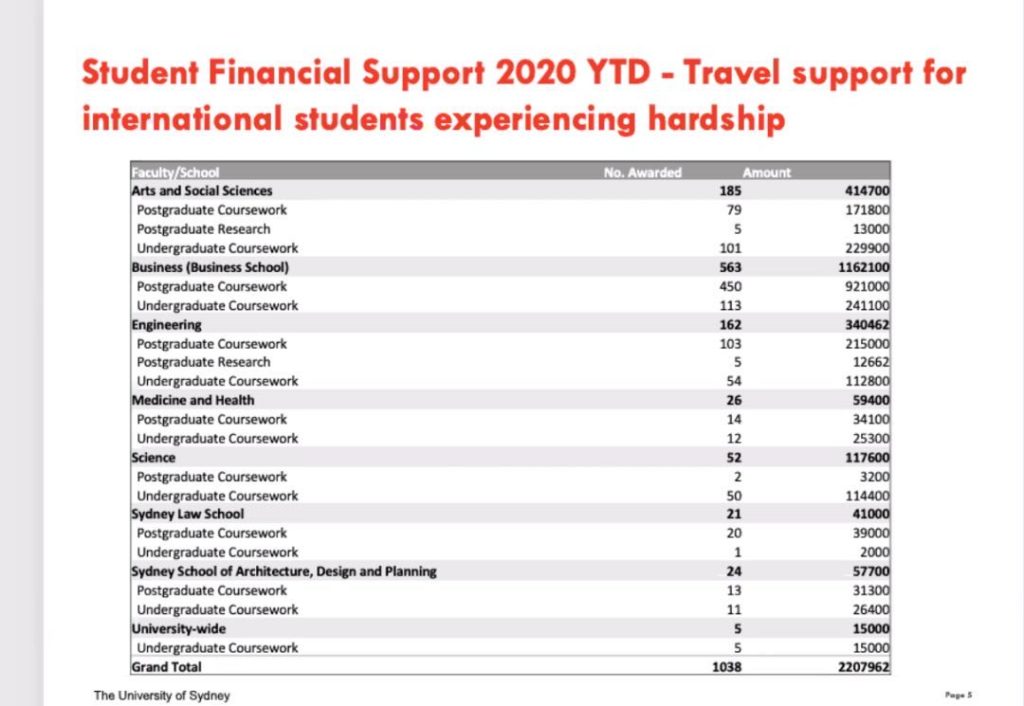 "A series of problems were exposed during the processing of the application." Xuning Feng, the International Officer of SUPRA said.
"The school 's failure to provide a transparent standard has led to many students being refused subsidies due to insufficient material uploads or extra costs."
Not only SUPRA, other student organization like USU (University of Sydney Union) and SUCSA (Sydney University Chinese Student Association) also take actions on the financial support of the university.
Most of the universities in Australia announced that next semester will still keep courses online and consider returning to face-to-face teaching, which brings uncertainty to the study of international students.
The International Officer Xuning Feng said, "Firstly, we have distributed 200 health kit to students, and we are going to prepare more to ensure the safety of students.
"Secondly, we will continue to communicate with the university about the situation and suggestions of students formally."