The Sydney Moring Herald:
'We try to be pretty frugal': What households are cutting as rates rise
Written by Kate Burk and Melissa Heageney-Bayliss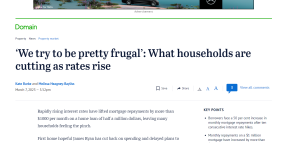 Headline:
Proper use of quotes in the headline can deepen the reader's impression and achieves an effect that can be forwarded more. (Bradshow, 2017, P113) But I think it may be a digression. Only a small part of the article mentions what expenditures the family is being cut, and most of the content revolves around the embarrassing period of housing loan growth due to the recent rise in bank loan interest rates. I want to change to the headline 'We try to be pretty frugal': Under the pressure of high-interest rate growth.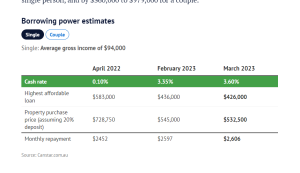 Images:
The two tables in the full text clearly record the growth and difference of monthly interest rates in different years, which are very convincing.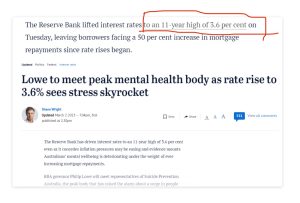 Link:
The content of the link is roughly consistent with the meaning of the text itself, and it is also expandable. What this article wants to express is that the bank loan interest rate has been raised to 3.6% this year, the highest point in 11 years. The link I followed not only mentioned the incredible growth in lending but also the mental health of people under a lot of stress.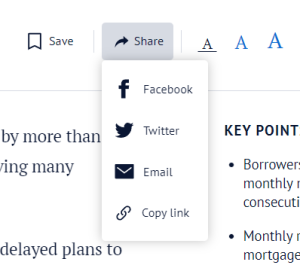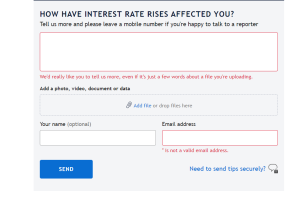 Interaction & Usability:
It is worth mentioning that in terms of interaction with the audience, in addition to basic sharing on Facebook, Instagram, and Twitter, the news also adds questionnaires to the article, which improves the degree of participation and interaction.
Reference:
Bradshaw, P. (2017). The online journalism handbook: Writing for social media and chat apps. Chapter 5. Taylor & Francis Group, pp99-133.