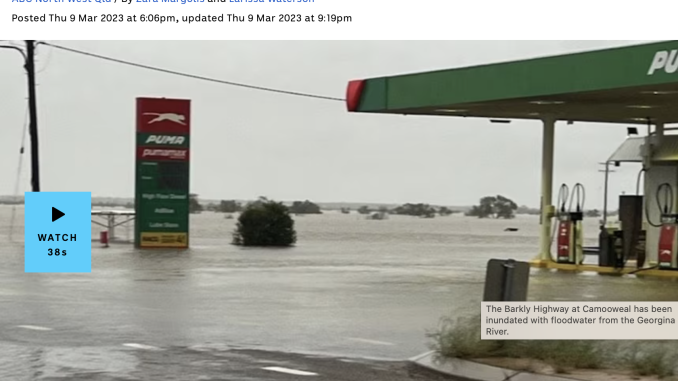 This news about flooding and evacuations in the Bay of Carpentaria, North West Queensland was posted on Thursday, 9 March 2023 and was updated on Thursday, 9 March 2023 at 9:19pm on ABC NEWS website.
Search engine optimised:
The headline of the news contains a precise and concise description of what where and why, and two sub-headlines on the consequences of the floods and how to deal with them. In addition, on the right-hand side of the introductory paragraph, there are three key points that briefly summarize the main points of the story. At the end of the story, there are two links to related content, mostly with the same keywords in the headline. So this part of this news is very good.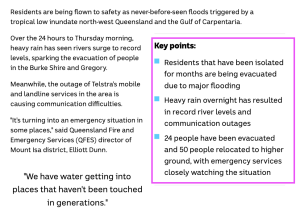 (The screenshot of the news' introduction and key points in news)
Multimedia:
The news is interspersed with video as well as pictures, which is very good. However, the aerial video above the news only shows the flooded section of the road in Barkly, Carpentariade. If other areas of Carpentariade had been filmed in the video, the reader will have a more complete understanding.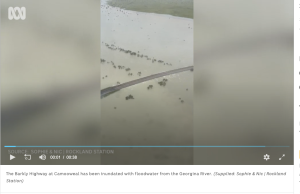 (The shooting picture of the video in news)
Apart from the first picture in the news, the other three pictures and the video show the corresponding subheading and paragraphs well. The first image is annotated with "some residents at Burketown were evacuated to higher ground due to flooding", but the picture shows a flooded road, which is not relevant. So the image should be replaced with a diagram of the inhabitants on the higher ground, which is associated with the annotation.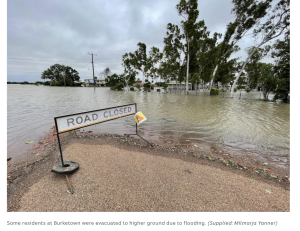 (The screenshot of the first image and its annotation in news)
Hypertextuality:
The shortcut for copying and sharing this news URL is located in front of the Introduction of the news. However, people usually decide whether to copy and share it after scanning the entire story. Besides, there are four great share shortcuts at the end of the news. If the URL copy shortcuts are laid out with them, reader interaction will be increased.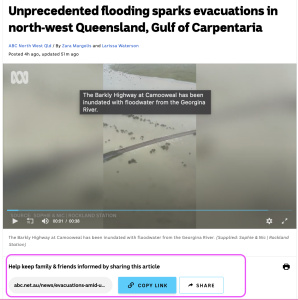 (The screenshot of the shortcuts in front of the whole news)
Posted Thu 9 Mar 2023, updated Monday 13 Mar 2023