By Wang Kaihao, journalist from China Daily, 2023-03-09 :17. Source: https://www.chinadaily.com.cn/a/202303/09/WS64091776a31057c47ebb32be.html
Headline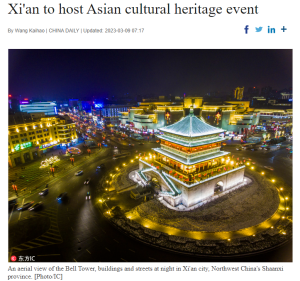 The headline mentioned keywords like "Xi'an", "Asian", "Event", which was good and could make it seach engine optimized. But there are still some words that could help draw readers' attention and thus attract more audiences, such as "China", "Acient Civilization Capital". Although most Chinese people are familiar with Xi'an as an acient civilization capital city in China, foriengers might not even heard of this city. Therefore to quickly draw more attention on this news, it is valuable to add explanatory words in healines.
Multimedia
As there is no other pictures or videos other than the picture of Xi'an's famous drum-tower , which is also the landmark building in Xi'an, more pictures of representative buildings, scenic spots could be added. This could draw more attentions and be more attractive, especially for those potential audiences who have been to Xi'an or had plans to visit there.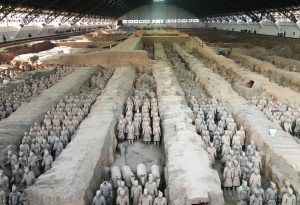 Above is a picture ofthe famous scenic spot of Xi'an, the Terra-Cotta Worriors, most visitors would spend time visiting there when they arrived in Xi'an. And that scenic spot itself represented cultural heritage, so it was symbolic and consistent with the contents of the news.
Hyperlinks and content
There is no hyperlink in this news to provide more information or lead readers to other related reports, and the storytelling was quite official.
I would add links to other reports or news that could offer more information to this event, and also reports related to Xi'an's travel, lifestyle, local foods, I believe this improve it by making it more informative.