https://www.bbc.com/news/uk-politics-64907772
For my first post, I decided to pick a story that was very much at the forefront of the British news agenda.  In the last few years, the number of small boats carrying migrants crossing the English Channel has risen, and comparisons have already been drawn between the way The Australian Government has handled this (Operation: Sovereign Borders) and the (lack) of action taken by the UK.
Given that the UK Government has decided to push legislation through Parliament to combat this, I decided to choose the most recent story that the BBC has published, which concerns a radio interview that Suella Braverman, the UK Home Secretary gave to a podcast/BBC Radio 4 programme on the matter.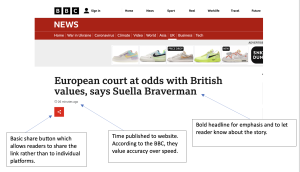 Ok, so far so good.  Conscice, albeit 'clunky', but it's standard BBC.  Right.  What does Part 2 look like.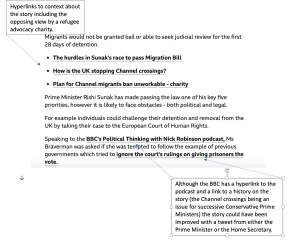 After examining this, I then moved down to the ending of the story.  And truth be told, I expected at least a few tweets from Government ministers or Opposition MPs.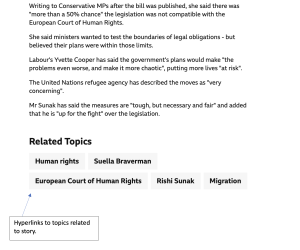 Overall, a good story, and a standard length news item as well.  I would say though that, the BBC does need to invest in it's digital journalism, particularly as it formats itself away from linear broadcasting towards a digital first corporation (in the words of it's director general).  Having said that, compared to some upstarts that have an explicit political leaning, such as GB News (which is supposedly a digital first outlet that has opted for a linear television and radio station) or Huffington Post, this is impartial and I would choose the BBC or the ABC over a digital first partisan outlet for my news!