Razia Muradi: The Afghan woman who won university gold in India
On March 10, 2023, Cherylan Moran published this article on the BBC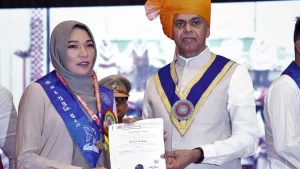 Heading and Subheading:
The title of this news on the main BBC page is different from the title when you click on it. The title on the main page is The women using education in India to defy the Taliban. In contrast, when you click on it, Razia Muradi: The Afghan woman who won university gold in India. The headline on the main page is more concise and gives the reader a clearer idea of the story, while the headline, after the click-through, details the woman's name and where she won the medal.
News content:
The news is a narrative story about why Razia Muradi was thrilled to receive the award and about the suffering of Afghan women living under the Taliban regime, where women's power and freedom are severely curtailed. The principles of 6 elements of writing, 5W and 1H were used,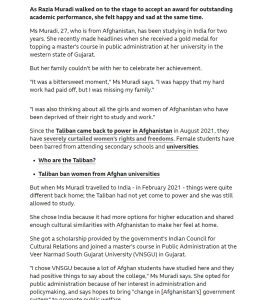 Hyper textuality:
Many hyperlinks are used throughout the text, for example, Who are the Taliban? The Taliban banned women from entering Afghan universities and other hyperlinks; hyperlinks can be clicked to view related news, which is very convenient and clear, so readers can understand this news more quickly.
Information media:
This article only put a few picture, and no relevant video, I suggest putting a video of less than a minute to increase the diversity of the news.
Interactivity:
Less interactive, with no news commentary at the bottom of the news and no way for readers to voice their opinions and ideas.