https://www.abc.net.au/news/2023-03-09/kevin-rudd-warns-risk-of-accidental-war-with-china/102074010
In this blog post, I will critique an article on ABC news Australia published on 9 March 2023 and authored by Sarah Ferguson.
First, the site needs to be optimized to be more mobile-friendly and have a better user interface. This will require a page redesign to reduce the amount of information on the side when the reader wants to focus on the selected article. This could be achieved by using white space and reducing the information shown on each page.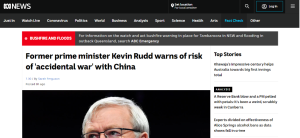 Second, the article should have a print function and the option to listen to the audio version of the article. Third, the magazine should adopt more visually appealing colours, as the light blue dots are not as engaging as they could be.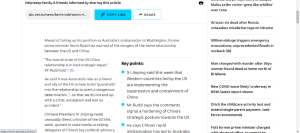 The article could have benefited from the addition of structured data and the use of a video as an artifact to help in the story. Using a sitemap could help optimize the SEO ranking of the site. The post could also indicate the average time it would take someone to read it thoroughly. There could also be attractive calls to action designed to encourage readers to engage with similar content to understand the topic better.