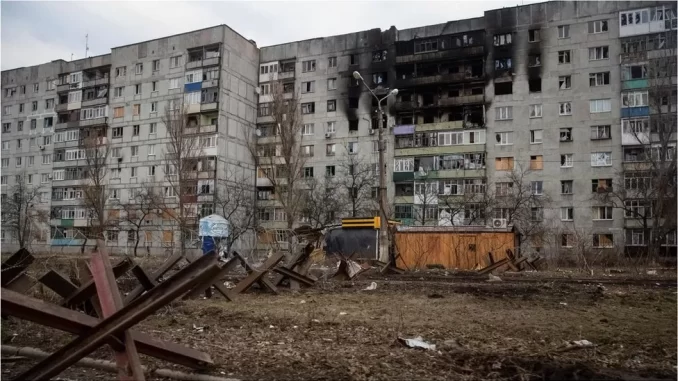 Comparative online journalism analysis
Student name: Litian Shi
Student number:520095555
Word count: 1569
Link to blog post: https://www.meco6925.dmu.net.au/2023/03/29/comparative-online-journalism-analysis-3/
Introduction:
In this report I am going to compare two different types of online news publication platforms. Analysing these two online news platforms with two news about the same topic from each website. The topic I work with is the Ukraine War. There are significant differences in the layout of new, target audiences, and the way of running the company. The mainstream media I work with is BBC News, a very outstanding platform that started its company in 1922 and has been working until now. Nowadays it not only serves the British but also provides an online news service with more than 40 languages. The digital born media I work with is Axios, an online news website from America.
Background: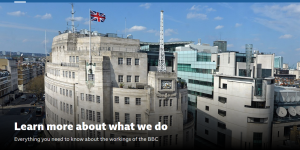 Pic.1 BBC building overview. Screen shot from BBC website.
The abbreviation 'BBC' stands for British Broadcasting Corporation, the main responsibility for this public corporation is to provide impartial public service broadcasting in the UK, Channel Islands and Isle of Man. This is defined by GOV.UK, This company is obviously supported by the government, and it works for the government. Back in 1922, there were no standards or rules for the BBC to follow but they did have a great start in radio services. The first edition of Radio Times was established in 1923. In 1997, BBC rolled their TV news service and one month later the BBC website was launched. On its online news website page also affirms BBC is 'established by a Royal Charter, the BBC is principally funded through the licence fee paid by UK households. Our role is to fulfil our mission and promote our Public Purposes.' (BBC,2023) In other words BBC do not need to worry about profit it can make. Their goal is to become one of the global icons, officially, 'the most creative organisation in the world.' This means the main revenue of BBC News is not getting from their target audience, very different from most digital born media.
Axios is an American news website that launched in 2016. As a digital born media, Axios only provides news online. This company drew my attention because of its statement. The Politico co-founder and former C.E.O. Jim VandeHei pointed out that nowadays in America too many media companies have fallen into the traffic trap. On the other hand, VandeHei believes that the most famous have deep partnerships which make Facebook, twitter, etc. filled up with fake news. Like Donald Trump likes to do. The word Axios means worthy in Greek, and he wants to build a news website that is a worthy audience to trust.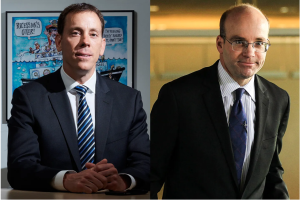 Pic.2 Picture of Politico co-founder and former C.E.O. Jim VandeHei and Mike Allen. Screen shot from website.
Before VandeHei is able to deal with the distrusted issue in online journalism, he needs to work out how to fund instead of getting 'eaten' by these digital media 'giants.' VandeHei believes relying on posting advertising to audiences is 'short-term revenue,' the new business model should be online subscriptions. This is the advantage of digital born media that the interaction only happens in one type of media so the company only needs to range one type of business model.
The difference in target audience:
Sign up or Sign in is optional for the audience to review news content. Audiences are able to subscribe to the website but optional. There is also no limitation on how many news audiences are free to review before they subscribe to the website.  The goal is to attract more global audiences and potential audiences who just started to enjoy online journalism content.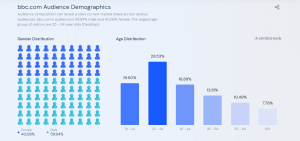 Pic.3 Audience analysis from similarweb.com about BBC News.
The BBC News speaking in the role of the U.K government, all the news is well structured and double checked because of this role. If there is miss leading concept on the news, it has a possibility of causing the government trouble. The advantage of this role for BBC News is it has high credibility because we know the news material is checked by the U.K government. (GOV.UK, 2023)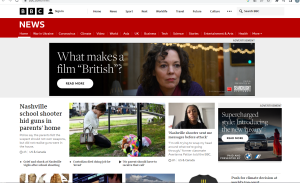 Pic.4 The screen shot of the BBC News home page.
But compared with the traditional mainstream media, online journalism brings a huge impact on its way to broadcasting news. For the online website it has its own algorithm on what is hot news for today. On the home page it will be a 'live broadcasting' news at the top about the topic audience would likely click to check it up. I did some research on the Ukraine war, so the hot news on my BBC News home page was about politics and war. In the main page, there are different sections such as World, Asia, UK, business, video, giving audiences a simple classification on what type of news they would expect on that section. It can help audiences who are not U.K. find the news they are interested in quickly in this way.
This is a digital age, mobile devices are popularized, 5G data, allow each one of the audiences to become a blogger. Each one of us is able to become an online journalist and produce news material for digital born news websites. The chemical reaction between online journalists and digital born media is exploding right now. (Paul& Liisa, 2017)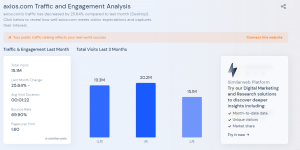 Pic.5 How much time audience spend time on reading news.
Compared to BBC News, Axios has a specific group of audiences, most updating news are about America, and Axios stands for citizens instead of the American government. Axios is taking the role of a friend of citizens. This website wants to build a heavy bond with its target audience and get their trust. The other reason is that more than 50% of Axios's income is based on subscribers. (Sarah, 2016) Axios needs to attract the audience to keep reading more and more news on its website to earn money.
News heading: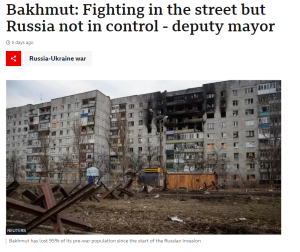 Pic.6 The title of BBC News and futured image.
I picked two news articles about the Ukraine War within a month's time. Analyse all the differences and any reasons for these differences. Start by comparing these two titles. The title for the Ukraine war news from BBC News is called 'Bakhmut: Fighting in the street but Russia not in control – deputy mayor' which is a quote from an interview. This title does not reflect the information from the news article, but it is attracting the audience to read it.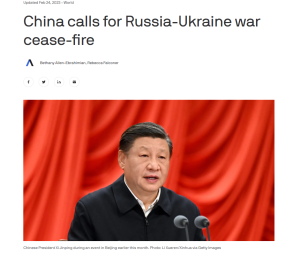 Pic.7 The title of Axios News and futured image.
The news from Axios named 'China calls for Russia-Ukraine war cease-fire' clearly summarizes the news article. They all come up with a featured image to make the news more attractive.
News content/body part:
BBC news is reporting the current situation of Ukrainians based on an interview. It keeps each paragraph no longer than two or three sentences which make it look clean and nice. There are journalists from London who wrote this story, they used a very official tone when they came up with this news. This news is about Ukrainians having a bad time because of street fights inside of the city. Ukraine's President Volodymyr Zelensky said that the situation in the area was becoming "more and more difficult". In this news they mentioned UK military intelligence, but carefully not disclose whether they will help Ukrainian or not.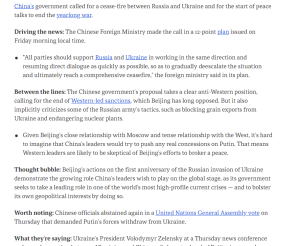 Pic.8 screen shot on body paragraph.
When I read Axios's news, it did not give me a good first impression because of its format. The news does not look like a complete article, but rather a list. It chops down the raw news into pieces and then shows the audience. The advantage would be easier for the audience to pick up the key information and benefit the audience who do not have a lot of time reading news. It allows audiences to finish a reading on their fragmentation time.
Hyperlinks:
In this news story there are several hyperlinks that link to other news stories in BBC News about the Ukrainian War, follow up the timeline and also help the audience understand the situation of the Ukrainian War if they only start reading news about this war. The way I found this news is from a hyperlink in another Ukrainian War news story that I read.
Axios uses less hyperlinks and most of them are not really helpful for the audience to understand the news. These are keywords that go to the search engine to let the audience learn more news about China, Russia and Ukraine. The news is written by an online journalist finding news for Axios all over the world, it is a different employment relationship. She is only able to add hyperlinks based on her knowledge of news on the platform.
Interactivity:

Pic.9 The share button in the start of the news article.

Pic.10 The share button at the end of the article.
BBC News is doing kind of poorly in interactivity, there are no comments, and no combination with any other social media platform. It only allows you to copy the link and the audience needs to paste the link to generate the portal manual. Axios does not have a comment section, but it is doing much better on shareable links. At the start of the news and the end of the news, Axios provides a quick portal to share links, and if the account for that platform is already logged in, it is able to make a post for the audience, what they need to do is a simple click in posting.
Conclusion:
From the history of BBC News and Axios, their role is to decide how they run the company. All these differences are trying to satisfy their target audiences and clearly online journalism is bringing a huge impact for both mainstream and digital born media. BBC News is quickly developing its online platform as it has live streaming and is good at external access between linkable news. Axios work on reliability and well-designed its format for its target audiences.
Reference list:
Ali Salman, Faridah Ibrahim, Mohd Yusof Hj.Abdullah, Normah Mustaffa and Maizatul Haizan. (2011) The Impact of New Media on Traditional Mainstream Mass Media Retrieved from http://innovation.cc/scholarly-style/2011_16_3_7_ali_saman_media-impact.pdf
BBC (2023) About the BBC. Retrieved from https://www.bbc.com/aboutthebbc
BBC. (2023). History of the BBC. Retrieved from https://www.bbc.com/historyofthebbc/timelines/2010s/
Bethany Allen-Ebrahimian (2023) China calls for Russia-Ukraine war cease-fire. Retrieved from https://www.axios.com/2023/02/24/russia-ukraine-war-china-cease-fire
Briggs and Mark. (2008) Visual storytelling with photographs. Retrieved from file:///C:/Users/leonard/Downloads/Briggs_reading_week5_visual-storytelling_chapter5.pdf
GOV.UK (2023) BBC has a separate website. Retrieved from https://www.gov.uk/government/organisations/bbc
James Landale and Laura Gozzi. (2023) Bakhmut: Fighting in the street but Russia not in control – deputy mayor. Retrieved from https://www.bbc.com/news/world-europe-64846666
Karina Horsti (2016) Visibility without voice: Media witnessing irregular migrants in BBC online news journalism. Retrieved from https://doi.org/10.1080/23743670.2015.1084585
Paul Bradshaw and Liisa Rohumaa (2017) The Online Journalism Handbook : Skills to Survive and Thrive in the Digital Age Cheaper 2: Histories, futures and the changing business and technologies of journalism Retrieved from https://ebookcentral-proquest-com.ezproxy.library.sydney.edu.au/lib/usyd/reader.action?docID=4912836
Sarah Ellson. (2016) EXCLUSIVE: MIKE ALLEN AND JIM VANDEHEI REVEAL THEIR PLAN FOR MEDIA DOMINATION. Retrieved from https://www.vanityfair.com/news/2016/11/mike-allen-and-jim-vandehei-reveal-their-plan-for-media-domination-axios
Similarweb. (2023). axios.com Traffic and Engagement Analysis. Retrieved from https://www.similarweb.com/website/axios.com/#ranking
Similarweb. (2023). bbc.com data. Retrieved from https://www.similarweb.com/website/bbc.com/#traffic