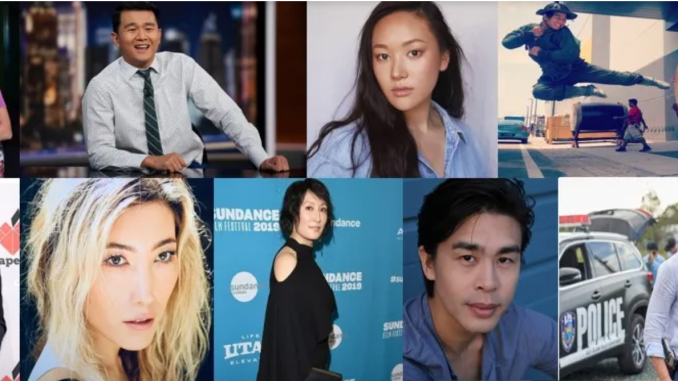 TOPIC: The status of Asian actors on screen has come into new focus after Malaysian Chinese actress Michelle Yeoh became the first Asian actress to win an Oscar. In this news feature, my goal is to focus on the status and visibility of Asians on screen in the Asian community living in Australia and in the Australian film and television industry.
Keywords: Diversity, Asian Australian, screen industry, Australia's Television and film industry
PUBLICATION FORMAT: This will be a text story.
TARGET PUBLICATION: My story will be sent to SBS News for publication.
INTERVIEW: I'll have two expert sources. I plan to interview two Asian people working in the Australian Film and television industry, one is an Asian actor who graduated from NIDA and the other is an Asian Australian director who won an award at the Mardi Gras Film Festival. I plan to invite them to interview with ten questions and express their views on the status of Asians in the Australian film and television industry. And I'm going to interview a couple of people watching Australian television, and don't have to work in this industry. And I will interview them face-to-face.
RESEARCH:
"Everything Everywhere All at Once swept the Oscars, but actors and filmmakers say Australia needs to catch up on diversity "is a feature article from ABC calling for diversity on Australian screens. In the article, actors of Asian descent make up 9 percent of cast and crew roles in Australia, compared with about 17.4 percent of the wider population, according to the Screen Diversity Inclusion Network's findings in an interim report from 2021 to 2022. In 2019, Diverse Arts Australia led a survey of 9% of nearly 200 arts leaders identified as culturally and linguistically diverse. Half of the cultural organizations do not have anyone from a diverse cultural and linguistic background in leadership positions, including board members, executives, and chief executives. According to the 2022 A Wider Lens report, 13 percent of photographers in Australia consider themselves non-European. The report described the sector as "whiter, older, and more male than the rest of the working population".
'Pendulum has swung': Asian-Australian film and television community welcome on-screen diversity is an SBS article published in 2021 about Asian Australian actors, writers, producers, and directors wanting more diversity on screen. In the article, research shows that children as young as seven in OECD countries limit what they can do as a career because of what they see and don't see on screen as role models. Before the trend toward racial diversity, Asian actors would stereotypically play the roles of prostitutes or cleaners. They're the only characters that are written to a group of people who want to level the playing field in terms of being able to showcase their talent, so it allows Asian actors to play that stereotype in an unfair way. But with the exponential growth of Asian productions and Asian faces on screen at this stage, Australian screens tend to follow.
PHOTO: I plan to use my DSLR camera, it can be for I took photos of the interviewees, and I will use social media screenshots.